APE came and went in a flash!
October 23, 2009
Super amounts of fun were had, in spite of a low turnout.
Here's a swell Flickr set of the APE Aftermath Party at Isotope. Will Dinski won the award for Best Mini with his excellent, Covered in Confusion.
Sarah Morean at Daily Cross Hatch made a terrific short film of the event. (In addition to her chronicle of the entire weekend.)
• Speaking of APE, it was a pleasure (as always) to speak with the dynamic duo of Mark Todd and Esther Pearl Watson. I finally picked up Esther's massive Unloveable book. I'd previously only read a handful of the original mini-comics. In any case, the pair will each have a piece in a galley event tomorrow night: True Self, a group exhibition at Jonathan Levine Gallery in NY this Saturday, October 24th.
Esther Pearl Watson:
"Gene Watson Walked Home (with Dreams of Ion Force-Field Motors and Visions of the Future.")
Acrylic, enamel and glitter on panel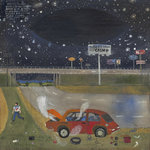 Mark todd:
"Civilizations Most Iconic Collective Wisdom."
Mixed media on panel. 12"x16"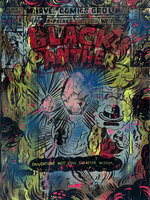 • Bill Kelter has a new piece up on the Veeps Blog!!
• Dodgem Logic, Alan Moore's new underground newspaper, sounds pretty rad. Here's an excellent short interview with Alan on the subject and other items at Mustard Magazine.
Kristi Turnquist profiles Ben Saunders and his Superhero exhibit at Jordan Schnitzer Museum of Art at my alma mater University of Oregon.
"Faster than a Speeding Bullet: The Art of the Superhero" runs through January 3rd.
• Jesse Reklaw's band Fun Yeti is playing here in Portland on Saturday, with:
The Tagalongs & the Punk Rock Collective
Tonic Lounge, 3100 NE Sandy Blvd.
Rock starts around 9pm, $5, 21 and over.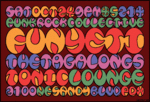 • Sweet! Mike Dawson and Chris Radtke's hilariously funny comic series Gabagool! is now entirely available online... for free! This shit is awesome. If Judd Apatow fucked Kevin Smith and their love-child made comics, this is what they would be like.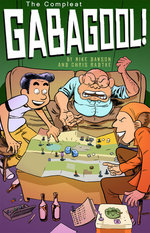 • Hells yeah... this might be the most anticipated comic i've been jonesin' for in the last decade. Now with a funky YouTube trailer! Afrodisiac In The House!
• And yet another ingenious short film, Principal Skeleton, drops from Graham Annable. Links to his other macabre short films abound. Every one of them a little gem
• Dame Darcy has some wicked cool dolls like this for sale online.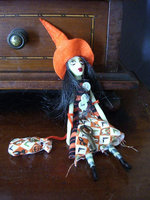 She's also playing a gig next week here in Portland.
10/29 /09 THURSDAY
DXD at the Woods
6637 Milwalkie Ave in PDX
Doors open at 8:00 $5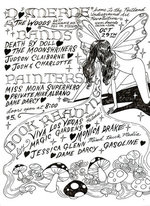 • Food for thought, from the great Greg Palast. On Health Care.