i'm not one to bring attention to myself,
October 30, 2009
but this short film by Sarah Morean at Daily Cross Hatch is pretty awesome. It shows me making a scratch margarita at the Isotope APE After party last weekend. Yummy...
hey, bartender! with Brett Warnock from Sarah Morean on Vimeo.
• Steve Lafler gets the Mixtape Treatment at Inkstuds!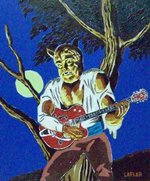 • Dean Haspiel serves up his Top 5 non-comics influences at Graphic NYC. Good stuff all.
• We asked James Kochalka to write a brief intro to his collected SuperF*ckers, which kicks off our 2010 schedule in the Spring. It's so fucking awesome i just wanted to run it here.


• I don't think Jeremy Eaton sleeps. Or else he's created a clone. He now has a new blog of, as he says "pop-infused psycho-babble," called Popular Madness.
"Popular Madness, appearing every Monday through Friday, will utilize a vast collection of old comic book panels, acting as springboards for my stream-of-consciousness contemplations, ruminations and cultural criticism – all spiked liberally with touchstones from our shared popular culture."
• My neighbor and friend Vanessa Veselka (who also has a cameo in my film Road To Insignificance) is serializing her novel Zazen on the Arthur Magazine website.
From Jay Babcock:
The Story: It's the very near-future, somewhere in the Pacific Northwest—or a neighborhood near you. 27-year-old Della Mylinek has suffered some kind of breakdown after failing to stop the construction of a local Wal-Mart. In an attempt to regain psychological, financial and emotional stability, she's moved in with her brother and his pregnant wife and taken a job waiting tables at a vegan restaurant. But her anger remains, and one thing leads to another…
"Zazen" Keywords: geology, veganism, the apocalypse, urban planning, yoga, sex parties, bombs, anarchism, aging new-left revolutionaries, strip malls, paleontology, dark hippies, transcendentalism, lavender hair dye.
The Author: Vanessa Veselka is a writer and musician living in Portland, Oregon. She has been, at various times, a teenage runaway, a sex-worker, a union organizer, a student of paleontology, an expatriate, an independent record label owner, a train-hopper, a waitress and a mother. Her work has appeared in Bust, Bitch, Maxmum Rock 'n' Roll, Yeti Magazine and Tin House. Zazen is her first novel.