It's been a crazy busy movie-centric two weeks for this bartender.
October 3, 2009
First off was our trip to the red carpet outside El Capitan in Hollywood for the Surrogates premier. This was one of the most excellent nights of my entire life. Something i'll never forget. Also had a long overdue conversation with Top Shelf friend Louise Nemschoff. The premier was last Thursday night, and i had to wake up at 5:15 the next morning to get back home to Portland, where my collaborators (Mike Lay, Bill Kelter and Wayne Shellabarger) and myself spent three days doing pick-up shots for our own film, Road to Insignificance. This mockumentary is based on the actual book by Bill and Wayne, Veeps: Profiles in Insignificance. We also did some sound-recording, which was blast. And one of the voices was none less than Cherry Poppin' Daddies frontman Steve Perry! Cool.
(I will post my iPhone pics to our Flickr page asap.)
• Jeff Lemire is interviewed by our good friend Andrea Warner for Vancouver B.C.s Westender. And make sure to check out Jeff's blog where Blair Butler gives the collected Essex County serious props on an embedded Attack of the Show link.
Jeff is an invited guest at next weekend's Wordstock Literary Festival here in Portland, and will also have a signing at Floating World Comics Friday, the 9th, at 6:00 p.m.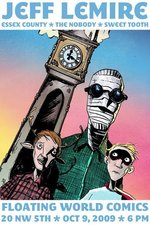 WHO: Jeff Lemire
WHAT: Artist reception and book signing
WHEN: Friday, Oct. 9th, 6-8pm
WHERE: Floating World Comics, 20 NW 5th Ave #101
• Inkstud Steve Lafler has self-published the excellent Self Employment for Bohemians. This is swell reading and well worth your time.
• Here's a pic of Jeffrey Brown and Noah Van Sciver at SPX. I missed the show this year for the first time since i started going in 1996 (except for the canceled 2001 show, of course)... For a slew of picture links check out the SPX Collected Memory section at The Comics Reporter. And speaking of Jeffrey, check out his blog, where he has a screen-grab of a recent episode of Heroes, featuring no less than his first graphic novel, Clumsy!!!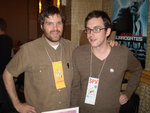 • Matt Kindt has updated his blog and has all manner of cool shit available, including this bitchin' Giant Man mini-comic Spy Capsule. Sweet! Click on the "shop" link, and it's all yours for a mere six bones.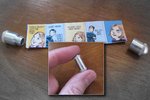 • Grant Reynolds and Jeremy Tinder are doing a show the weekend of APE at Giant Robot San Francisco, called CHIP BEEF, CHIPPED TOOTH. Ha! Grant will be on hand pimping his new Top Shelf comic called Comic Diorama.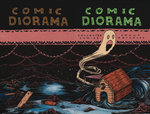 Chip Beef, Chipped Tooth
Drawings and Painting by Jeremy Tinder and Grant Reynolds
GRSF
622 Shrader St, San Francisco, CA 94117
6:30 PM, October 17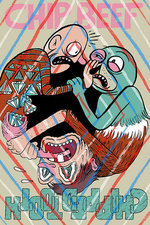 • Finally, here's what i'll be checking our from this month's Diamond Previews, for books scheduled to ship in a few months. (Which, i should add, on page 292 lists our new Jeffrey Brown documentary dvd Drawing Between the Lines, and James Kochalka's new cd James Kochalka Superstar: Digital Elf.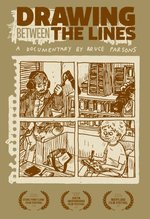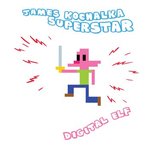 At the very very top of my wish list here is Brian Maruca and Jim Rugg's Afrodisiac HC. Much of this material has been sporadically published here and there. This is as close to a comic book equivalent as you can get to circa 1970s sexploitation / blacksploitation filmmaking. From AdHouse Books, i can pretty much guarantee this book will be in my short-list of favorite books from 2009. If you go NOW, AdHouse has a free PDF preview download, so check it out.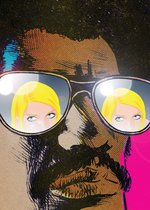 From Marvel Comics:
- Thor: Tales of Asgard, by Stan Lee and Jack Kirby. (I think i might be one of a mere handful who actually loved the modern coloring when i was looking at the floppies on the rack.)
From Viz Media:
- Vagabond (VizBig Edition) Volume 6, by Takehiko Inoue. These fat collections are getting me to pick up manga series' i wasn't about to buy in tiny and too-numerous editions before.
From Simon & Schuster:
- Mercury, by Hope Larson. I'll be honest, i much preferred her magic realism stuff with AdHouse (Salamander Dreams) and Oni (Gray Horses) way more than her more recent book Chiggers, but then again, i don't think i was the target audience for that book. Hopefully Mercury will see a return to form, and that she'll be allowed to utilize her incredible skills.
From iDW:
The Complete Milt Gross, edited by Craig Yoe. I can say with utter conviction that if Craig Yoe is involved, it will be worth checking out. And having read an older edition of Gross' He Done Her Wrong i'm sure to pick this up.
Winterworld, by Chuck Dixon and Jorge Zaffino. Again, to be frank, i think there's waaaaay too much lame material (especially from the 80s) being dug up for repackaging and reprinting in an already glutted industry, but i've always wanted to read this. Zaffino is a bitchin' artist, way underrated in North America.
From Drawn & Quarterly:
- The John Stanley Library: Thirteen Going On Eighteen. D&Q — along with Fantagraphics, Sunday Press, and iDW among others— has been releasing some long lost gems these last few years. I can't wait to put my hands on this!
From DC Comics:
Preacher Book 2 HC, by Garth Ennis and Steve Dillon. Ennis' masterpiece. 'Nuff said.
The Creeper, by Steve Ditko. Oh shit!! FINALLY (thanks in no small part to Blake Bell's excellent Strange and Stranger Ditko biography) we're seeing a resurgence of attention for Ditko on par with Kirby. This is some crazy mad work, folks.
From Dark Horse:
- Jet Scott, by Sheldon Stark and Jerry Robinson. Unfortunately Dark Horse has been a major disappointment with their treatment of archival materials. With the exception of their Harvey TPBs, Kubert's Tarzan, and the excellent Warren HCs, they seem to have decided that cheap and easy is their method of operation, yet they still charge a standard 50 bucks a pop for some of this. I don't mean too sound harsh, but their production on the Russ Manning Magnus Robot Fighter was atrocious. (I'd even sold some vintage back issues of these glorious comics, only to be horrified when the first "deluxe" HC rolled out.) Needless to say, with archival materials and Dark Horse, i play the wait-and-see game. Stay tuned, true believers.