November 4, 2009
Scott Morse turned me onto this, and it's pretty much bending my brain.
This dovetails nicely with these incredible images from NASA's Hubble Telescope.
• Floating World Comics is hosting yet another bitchin' First Thursday event tomorrow, November 5th. This time around: NEGATIVE BULGE – ART & ZINES BY ISLANDS FOLD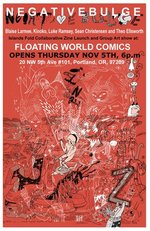 "Luke Ramsey came down for the Zine Symposium this past July to represent the Islands Fold art collective that he started in Pender Island, British Columbia. One night after the fest he was hanging out and participated in a drawing session with local artists: Blaise Larmee, Kinoko (from Seattle), Sean Christensen & Theo Ellsworth. Little did they know, the collaborative jam session would result in a zine of ultimate greatness, Negative Bulge! We are very pleased to present original art from the legendary jam session as well as the new zines from Islands fold."
WHO: Islands Fold, Blaise Larmee, Kinoko, Luke Ramsey, Sean Christensen & Theo Ellsworth
WHAT: Negative Bulge zine release + art exhibit
WHEN: Thursday, Nov. 5th, 6-10pm
WHERE: Floating World Comics, 20 NW 5th Ave #101
• James Kochalka has two Little Paintings gallery shows coming up.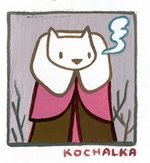 - Monastiraki Gallery in Montreal, opening Friday, November 6
- Giant Robot in San Francisco (GRSF), opening Saturday, November 14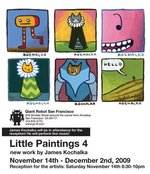 • Barack Obama Names Alan Moore Official White House Biographer!!