APE is looming large.
October 12, 2009
Top Shelfers Nate Powell, Grant Reynolds, and Jeremy Tinder will be on hand. Working the booth will be Leigh Walton and myself. And once again i'll be mixing cocktails at the Isotope Comics Lounge for APE Aftermath Party on Saturday night. I'm also one of the judges for the Seventh Annual Isotope Award for Excellence in Mini-Comics.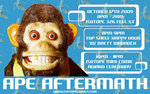 • Also at APE, i would highly recommend checking out the great R. Sikoryak's slideshow in support of the recently release Masterpiece Comics, from D&Q. And this ain't hyperbole, folks... the book is amazing.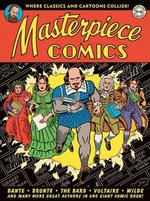 • Yet another APE attendee this year, Scott Campbell sent out his newsletter, and as per usual, the guy blows my mind. He'll be exhibiting with Double Fine Comics. Plus, Gallery Nucleus has released limited edition prints of the Ninja House from his HOME SLICE show back in the earlier part of this year.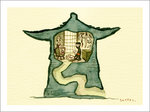 And finally, Mr. Campbell let it be known to me — a lifelong video-game non-layer, because of addictive personality traits — the release of THE video game which i fully intend to buy. Literally my first ever. Brutal Legend, with Jack Black, on which Scott has been working for five years, doing concept and production designs. Be still my beating metal-head heart.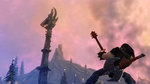 • Here is Jeffrey Brown's stellar Mixtape [with custom art] at Ink Studs.
• And speaking of ink-studs, Matt Rota has a new blog. This kid can flat out draw!! Here is a piece he did for the New York Times, on the Anniversary of the Tet Offensive.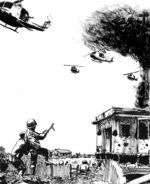 • Tim Sivert has some new pages posted for an upcoming issue of Intrepideers, a fantasy comic he's been cooking up with Brett Von Schlosser.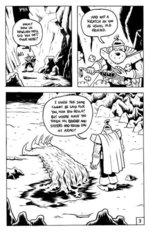 You can purchase the first two ass-kicking volumes here.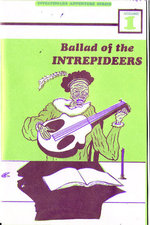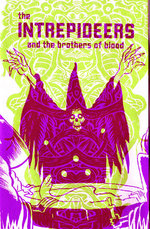 • Go Keith, go! Keith Olbermann's hour-long Special Comment on Health Care is must-see t.v. (Or streaming internet.)