November 20, 2009
Last couple of weeks have been busy busy busy for this bartender. My son, his mom, and myself all trekked to Disneyland and, of course, had a mind-blowing time. The only ride that freaked Carter out was Space Mountain. It was pitch black, fast, and jerky, and he said he'd "never ever ride that again." I do suspect though that had we taken him on some (relatively) mellower roller-coasters first, he'd have been o.k. Oh well. One superb lunch was spent with Chris' parents Mr. and Mrs. Staros, his new nephew troy, and his delightfully precocious niece Sophia. As these photos will attest, they got along smashingly, and are pretty damn cute. Carter was seriously smitten.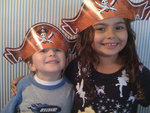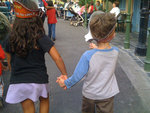 Here's Carter and Lisa on the classic tea-cup ride.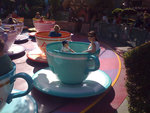 And here's a self-portrait of me geeking out at the Star Wars: Holiday to Endor simulator ride. I could do this every day of my life and never tire of it.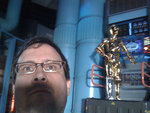 A very special weekend followed with a friend, and here i am busting my balls to catch up after a great deal of fun.
Many people can't really wrap their brains around this, but at this moment in mid-November, before Thanksgiving, i'm more or less freaking out over a giant workload for books scheduled to come out in March, April, and May. Yikes!
Moving right along:
• T. Edward Bak is coming into his own and has a new website. I really dig this guy and his work. Check it out!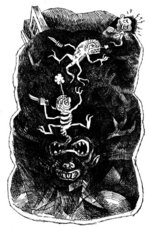 • Christopher Diaz sent me this Flickr video of James Kochalka performing at GRSF.
James Kochalka Super Star, baby!!
• This is why we hired Leigh Walton!
• Nice promo for the Brazilian edition of Box Office Poison!
• Matt Kindt makes another ridiculous "free art with purchase" offer!
"From now until December 11th for every 3 Story: The Secret History of the Giant Man book order I will make an original 5x7 ink and water color piece of art and include it for free with your book. So, if you already have a copy, order one for a gift and keep the art for yourself, or order the book for yourself and gift the art to a friend.
"The cut-off for orders will be December 11th so that I can guarantee delivery before December 25th. The quantity is limited to the first 300 orders (there are only 300 copies left).
"Help 3 Story sell out -- get the last of the 1st printing -- and get free art to go with it! Click here to get it."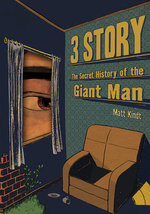 By the way, i read this on my Disneyland trip and it's outstanding. It's really really really awesome to see Matt kicking ass, and his star on the rise, after paying his dues for a long long time.