July 7, 2010
If anyone is in Santa Cruz, this Saturday, July 10th, Johnnie Arnold will be celebrating the release of BB Wolf and the Three LPs (written by Johnnie and drawn by Rich Koslowski) with a book signing and party at: Comicopolis, 829 Front St., from 4-8 pm. Free food, drink, and entertainment for all! In addition to the book, we will be debuting the CD, BB Wolf and The Howlers, The Lost Recordings. Deluxe BB Wolf coasters and shot glasses will also be available for sale.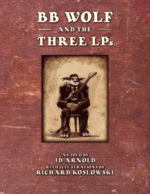 • Top Shelf alum Steve Lafler is coming back to America (from Oaxaca, Mexico) to do two new book release events, promoting his incredible new book El Vocho.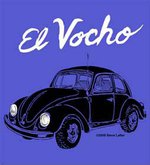 Steve writes:
First, I'll be at Reading Frenzy, 921 SW Oak St. in Portland, Oregon on Thursday, July 15th at 7 p.m.
One week later on Thursday July 22, I'll be in San Francisco at the Mercury Cafe, 201 Octavia St. at 7:30 p.m.
I'll be signing books and showing some of the original art from El Vocho too.
I'll also be performing a short stack of my Oaxacabilly tunes (Oaxaca + Rockabilly) -- this graphic novel emerged in conjunction with a bunch of country punk hillbilly music, so it makes sense to present it all together!
Yup, I've gone all cow punk with a motley crew of expats down south of the border, and I can tell you it's just as much fun as slingin' ink.
If you can't make it, you can purchase a copy of El Vocho here for $12.00 plus postage.
One of the tunes is the them song for El Vocho, entitled "Ballad of the Bug" -- give it a listen!
This version was produced and recorded by Bill Stair, one of my music making friends in Oaxaca.
• Finally, i'm off to catch the rest of the World Cup semi-final between Germany and Spain. My pal Gregory Benton is responsible for this "footbal" enthusiasm, and even my 5-year old son is into it. If anyone can make a dvd of the final for me, i'd be much appreciative, as i'll have to miss it. In any case, here's one of the many pieces Gregory has been sending me in his drunken World Cup-fever emails.