mighty mike dawson on the mic
June 16, 2010
Mike Dawson sent me issue 4 of his hilarious mini-comic series Troop 142, an ensemble piece about a Boy Scout Summer Camp. I'm really loving this. Mike's ear for dialog is right up there with our own astounding Alex Robinson, and his situations are so relatable, every issue i read takes me back in time to my own sad-sack youth, and the cast of characters that included. Ass-hole adult, bent on forcing his will on fellow adults and kids alike. Check. Wussie adult, willing to acquiesce and look like a tool. Check. Misfit kids ranging from dick-head bullies, fat nerds (that was me), and all stripes in between. Check. Crazy side characters, like the camp nurse. Check.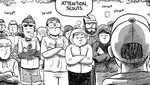 Do yourself a favor and check it out at Mike's website.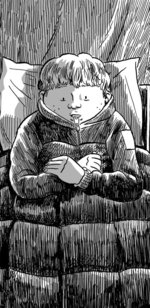 And speaking of Mike Dawson and Alex Robinson, their bitchin' blog The Ink Panthers reaches episode 50, this time out featuring a 2-part interview with (i think recent Portland transplant?) Matt Fraction, whose Invincible Iron Man is required reading for fanboys like myself.