MPLS
August 30, 2010
Sorry for the long wait, true believers! (Don't sue me, Stan!) Just back from Minneapolis for the new indy comics show MIX. [Minneapolis Indie Expo.] Simply put, i had an amazing time. Big ups to organizers Sarah Morean and Andy Krueger for a very fine debut. They have a swell slideshow on their homepage (embedded below); which also has pictures of the book signing with Will Dinski, Aaron Renier, and Zak Sally at the astounding Big Brain Comics (run by the affable Michael Drivas).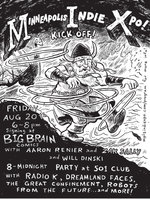 There was a massive local comics contingent at this show, including: Will Dinski, Kevin Cannon, Tim Sievert, Vincent (King Mini) Stall, Lars Martinson, Tom Kaczynski, Sam Hiti, Zak Sally, Brett Von Schlosser, Tyler Page, Reynold Kissling and a bunch of the students i saw at MCAD as well. Special thanks to Barbara Schulz for bringing me to MCAD, and to Ursula Murray Husted... thanks for the ride! . People, i don't know if you're seeing a pattern here, but this is one helluva scene!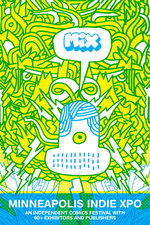 Also in from out of town were Aaron Renier, pimping his brand new (and incredible) book, The Unsinkable Walker Bean, Jeremy Tinder, comics legend John (King Cat) Porcellino and Noah Van Sciver. Nice to meet Noah! Jon (True Swamp) Lewis and Karen Sneider had a table. (I picked up Karen's Gags For Kids mini-comic, and i love it!) JP Coovert and some CCS kids were out. This place even had vegan donuts, courtesy of The Donut Cooperative!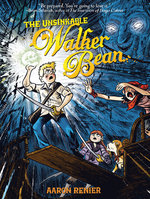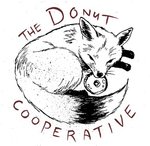 Dylan (Sparkplug) Williams and BT Livermore made it out from Portland. I partied with boss Brian Heater from Daily Cross Hatch! Brian's got lots of coverage from MIX at the site, don't miss it! His recap is excellent.
Here's a couple pictures of Michael Drivas as we rode bikes across the mighty Mississippi River! I was riding one of their new Nice Ride 3-speed bikes. Pay with a credit card, and i rode ALL around the city, picking up and dropping off bikes all over, for about $5 a day. It's no wonder MPLS recent usurped Portland in the ongoing Best Bike Cities contest. What a super cool piece of city planning that works.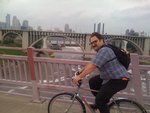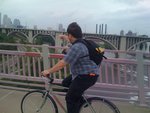 Here's Tim Sievert, Tom K., and Aaron Renier looking for trouble!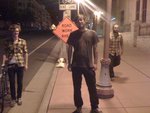 I also ate at some VERY good sustainable eateries all weekend. In uptown i had an unbelievable avocado sandwich at Tao Natural and Organic Foods Cafe. The next day i had a great burger at Common Roots Cafe. And then on the last night, i fabulous veggie sandwich at Brasa. All places had a good vibe too.
And finally, ultra-mega thanks to Sarah Morean and Will Dinski for making, hands-down, THE coolest signage Top Shelf has ever had. Feast your eyes, folks. (Note: these hand-made letters are at least 12" tall!)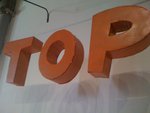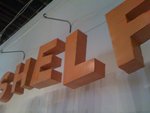 • An important announcement from Jack Crack. (Adults ONLY!)

• Our friend Myla Goldberg has a spiffy new website. She's a terrific writer — in fact, let's let her tell you all about it:
"After years of dedicated Luddism, I have made a decisive step into the late-twentieth century with a spiffy new website, www.mylagoldberg.com, which tells you all about my soon-to-be-released novel, the old books, the upcoming tour, and other tidbits intended to be amusing.
"Not only that, but I now also have a public Facebook page, which I believe brings my technological savvy to roughly 2004. Visit me there at www.facebook.com/MylaGoldberg, where you can say that you 'like' it, and we can 'talk' to each other on the 'wall.'"
• The fine folks at Blank Slate sent me Mawil's newest English-language release, Sparky O'Hare: Master Electrician. This is some super fun comics, about a diminutive little rabbit who's very presence seems to fritz out any gadget he's near. And true to Mawil form, the girls in the office where Sparky works are entirely sexy and cute. Mawil is a cartoonist who is woefully under-appreciated in North America, so do your part, read his work, and spread the word. Also worth note is his Top Shelf book Beach Safari.