September 9, 2010
It's time again for the epic, astounding, transformative, delicious and delightful 2010 Isotope Award for Excellence in Mini-Comics. Submissions will be accepted until October 1st at midnight.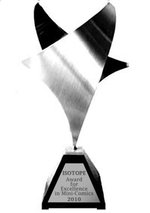 Take it away James: "It's my favorite time of year, when we get an opportunity to help spotlight a creator who is toiling in the underground making something wonderful," said Sime, "I consider whoever wins this award to be the comic industry's Miss America for the year, and it's my job to get their work out there to the comics press and reviewers. And I'm proud to say that often winning this award has helped these folks get noticed and published by some of the best publishers in the industry. So don't be shy... I know that many of you out there are hand-crafting some mini-comics brilliance, let us help share that work with the world!"
The Isotope Award for Excellence in Mini-Comics has helped bring attention to the likes of Joshua W. Cotter, 2004's winner who has just had a new printing of his brilliant SKYSCRAPERS OF THE MIDWEST from AdHouse Books, and 2006's winner Danica Novgorodoff who now has two amazing graphic novels out from First Second Books, including SLOW STORM and REFRESH, REFRESH. And the timing couldn't be more perfect, last year's winner Will Dinski was quickly scooped up by Top Shelf and his new original graphic novel FINGERPRINTS goes on sale this September 15th.
The five comic professionals who will serve as this year's Isotope Award judges include:
Jann Jones - Former Editor at DC Comics and Viz Media. The driving force behind some of the best all-ages comics of the 21st century, including BILLY BATSON & THE MAGIC OF SHAZAM and TINY TITANS.
Brett Warnock (HEY, THAT'S ME!) - Co-publisher and art director of Top Shelf Productions. Last year Brett secretly used his judging of the Isotope Award as an opportunity to scout new talent... and we don't mind if does it again this year!
Ed Luce - Author, artist of the brilliant WUVABLE OAF series. His "Scott Pilgrim of Gay Comics" is our absolute favorite self-published book right now. Read more about it atwww.wuvableoaf.com.
Kirsten Baldock - The Isotope's Special Projects Director. Kirsten is also a Librarian, bartender, and the author of the SMOKE AND GUNS graphic novel with Fabio Moon.
James Sime - Proprietor of Isotope - the comic book lounge in San Francisco.
To enter this competition, simply send five copies of your mini-comic to Isotope's address (326 Fell St. San Francisco, CA 94102) before the October 1st deadline. The award will be given out at the grand ceremony during APE AFTERMATH at the Isotope in conjunction with San Francisco's ALTERNATIVE PRESS EXPO. Because of the nature of this award, the winner will be contacted in advance and must be present at the Isotope at 9 PM on Saturday, October 16th for the award presentation ceremony.
For more information contact the Isotope at (415) 621-6543 or at isotopeaward@gmail.com
• Whitney Matheson's Pop Candy collected some pics from Read Comics in Public Day. Good stuff... and Top Shelf is represented by James Kochalka's Johnny Boo and Jeffrey Brown's Undeleted Scenes.
• Here's a great little number edited by our old pal Kike Benlloch.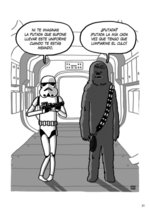 • Robin McConnell interviews Steve (El Vocho) Lafler at Inkstuds.
• Just read James Sturm's Market Day. Outstanding! James is nothing less than a master comics storyteller. If you like good comics, this is a must-read graphic novel. Trust me. If you can't find it at your local comics store, they suck. Ask them to stock it. If they won't, then head over to the D&Q website and buy it from the source. They even have a preview posted here for your edification! How nice is that?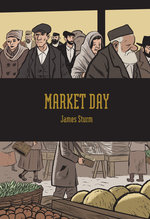 • Finally, i received Lloyd (Troubletown) Dangle's newsletter, and it seems he's now in the "Visual Recording" business. I'll tell ya, kids, if anyone's qualified to do this, it's Lloyd. So ifs ya gots the need, he's the man ta call.
"My new thing is making real-time visuals for companies and organizations to aid in their planning, brainstorming, and decision making. It's called graphic recording.
"If you're interested, here's an article about graphic recording from Harvard Business Review.
"I'm looking for some client juju. If you are a facilitator, meeting planner, organizational guru, or someone who could benefit from visuals to aid your problem solving, I'm your man. And please think of me if you know somebody like that and can throw me a referral!"
Check out this sweet example he did for the Passion Fish Sustainable Seafood conference earlier this summer in San Diego.