convention season is upon us
January 24, 2006
Yes, people, it's that time of year. The air miles start piling up. The long road-trips on the odometer. The junk food. The drunkenness. Rabble rousing with the peers. Laughing at the ponytailed mullets and full-length, black leather trench coats. I LOVE convention season!
Oh, and there's the comics. Between Chris Staros, Rob Venditti, and myself we'll be hitting upwards of 20 conventions this year. Chris and Rob do the bulk... since they live in Atlanta, they can hit up all the east coast shows, most of which they drive to.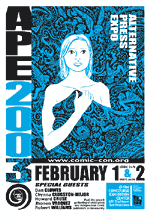 Smaller shows we can separate out one man at a time to represent Top Shelf, while others … big guns like Chicago, San Diego, SPX, and MoCCA … demand a staff. We're a few shows down from some previous years, but we've whittled them down to the one's that are either "must-attend" shows, because of their history, and/or conventions that can turn a profit. (Comics conventions do take in almost a third of our gross income, after all.)
We hear a lot of grief from some in the retailer community who claim that we're "stealing" money from them by attending conventions, more specifically by launching new books at them. Forgive me, but i beg to differ. The truth is that if Chris and myself had not been attending these trade shows so aggressively since the minute we started publishing (even before we teamed up to form what is now Top Shelf) … meeting the fans, making the connections, and pimping our wares… we literally wouldn't today have any books of whatever value for the retail community to sell. We simply would not have survived as long as we have, the cons are so key to us.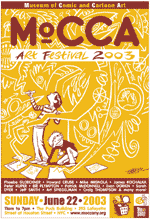 Moreover, for each one of the world-class retailers we have in this biz (to whom i'm eternally grateful and most of whom i'm pals with), there are fifty who have never even heard of Top Shelf, let alone ordered any of our books. These are the people who think that Neil Gaiman's Sandman is "alternative comics." And it's because we don't get the volume of support on our advance orders to often times even cover the print run on a given book, that we are obligated to launch certain books at conventions. This not only helps cover up-front costs, but i would posit that it ultimately helps retailers by building buzz around certain books. Buzz that might turn a one-time sale into a perennial seller.
To the retailers who know from good comics, i salute you. You know who you are. If you're scratching your head, wondering "who the hell is Top Shelf?," then i invite you to swing by our booth at any one of the following conventions and talk shop. We've got some pretty good stuff. And we're always makin' deals.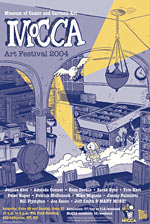 Here's a list of all the shows we plan on attending in 2006. topshelfcomix.com/news.php?type=2
Meanwhile, i'm gearing up for the first of two 10-hour drives i'll be making from Portland to San Francisco this year, for WonderCon, February 10-12. comic-con.org/wc/
I'm looking forward to this show. Last time i went was pretty fun. I got to meet Robbie Robbins at iDW, a swell guy, a hoops fan, and a heck of a designer. (Although i do believe recently he's been promoted.) Also, i shared a room with, and partied my ass off with, Charles Brownstein, the main man at the Comic Book Legal Defense Fund. Charles knows all the haunts, and is a tour guide supreme. cbldf.org/
After WonderCon i'll be driving up to Seattle for the Emerald City Con (April 1 & 2), then the following weekend (April 8 & 9) i'm driving back down to San Fran for APE. (Which i've been to since APE II, way back in 1996.) Said road trips behind me, i'll be flying to MoCCA, San Diego, Book Expo, and SPX. Last on the slate is the Stumptown Comics Fest, right here in Portland, sometime in October.
A great link to info you might need for almost any convention you can imagine:
comicbookconventions.com/