so much going on
February 2, 2006
Lot's going on in comics right now. First, my condolences to the family of exquisite cartoonist Seth Fisher. This guy's work was simply astounding; a cross between Moebius and Geof Darrow. Besides the tragic loss for his loved ones, his work will be sorely missed in comics. Read more at Comics Reporter.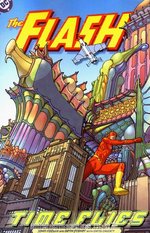 *********
One of my very favorite comics columnists is Steven Grant over at Comic Book Resources. I've mentioned him before already, but i don't mind... the good stuff is worth repeating. I'm not sure what else Steven does for a living, but his Permanent Damage columns are so lengthy, and more importantly, well considered, they are what i would call vital and indispensable comics blogging, and make my blog look like so much luke warm dishwater in comparison. He covers comics, television, film AND politics, all with equal aplomb.
At any rate, this week he talks at length about economic models for comics companies, and comes to a unique conclusion … that growth per se (in the publicly-owned scale, adding gobs of employees sense) is secondary to maintaining a stable sustainability in the long term, especially as it pertains to a unique economic environment like the comics industry. Recommended reading if this sort of business stuff interests you.
Would that Top Shelf had this problem. As i mentioned in a soon-to-be posted interview at the Pulse, for the first several years of Top Shelf, we DOUBLED our gross income every year. This is incredible. Now however, almost ten years later, it seems that we've somewhat grown into what the market can return for us, given our own limitations, and this is where Steven's "long-haul" theory more closely mirrors our own state.
Barring a minor miracle (on par with another Blankets or From Hell, the type of books that come along once in a decade), we're at the point where we've established relationships with the 100-200 stores that reliably stock not just Top Shelf, but a solid range of products in general, and are now making the store-by-store relationships with the rest of the retail market. Those 2,000 - 3,000 rest of the stores, who don't generally buy non-spandex comics, but will if and when we get to know them. Yes, this is crucial, but it's not what you would call a real growth market.
All of which is to say, that perhaps Steven is putting the cart before the horse. Before you can even think about real growth, just surviving in the market is a son-of-a-bitch endeavor that any new publisher needs to consider, before dropping their life's savings into it.
As for the Hollywood dream... i won't lie … we certainly dream about getting a piece of this pie as much as anybody else. (But ALWAYS we think of the comics as an entity unto themselves, as the first priority.) But unless someone has a very large trust fund, and/or other fat stashes of cash in the bank, i'd hardly hold out for movie money as a way to fund your start-up publishing company. The dream would otherwise become a nightmare. Hollywood is a bitch. Ask anyone who's been there.
*********
On a different note, a lot of talk is being made about a venture by some pals of mine, called ACT-I-VATE. A new online comics site by some of the best talent in the biz, including my buddies Dino Hapiel, Josh Neufeld, Nick Bertozzi, and Leland Purvis. I'm not generally a big comics-on-the-web guy (i really MUCH prefer reading a comic in my hands), but this is great stuff.
*********
Lastly, from The Washington Post, here's some news that will certainly further endear Herr Bush to The People. Headline says it all. Budget Cuts Pass By a Slim Margin: Poor, Elderly and Students to Feel Pinch. (God knows that a gazillion dollar defense budget is more important that the health and welfare of the citizens.)