August 19, 2006 / More →
• First, some pics snapped by Alex Robinson's fabulous wife Kristen, at the Eisner's this year.
Andy accepting his award for Best All Ages Comic, for Owly.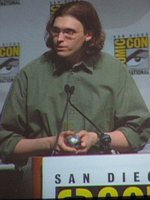 Aaron Renier running onstage to stop Chris Staros from accepting his award for him. (Aaron and myself showed up a little late, and Chris didn't realize we were there!)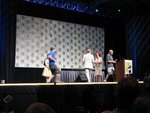 Aaron's drunkenly awesome acceptance speech, for Talent Deserving of Wider Recognition. (That's presenter Anina Bennett, standing behind him.)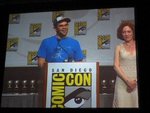 Rob Venditti, our one employee, and writer of our sci-fi book The Surrogates, enthusiastically enjoying the ceremony.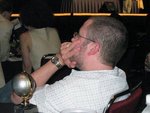 •Â And now for a few more books i've read, starting with editor Robyn Chapman's superb zine devoted to eye glasses and the people who wear them, Hey, Four-Eyes! Actually, this is the second issue, featuring a great wraparound cover by none other than Aaron Renier.
In addition to fine comics and/or drawings by Leela Corman, Cole Johnson, Nicole Georges, Aaron Renier, Kazmir Strzepek, Liz Prince, and Robyn Chapman, there are many stellar essays, overviews, and even a pictorial history of Antique Safety Glasses by Mr. Jeff Sharp. Plus, there's a totally unexpected, and yet fully deserved interview with zine legend Sean (Craphound) Tejaratchi.
If you wear glasses, you will LOVE this zine.
•Â Next up: the newest issue of POX, by the cheeky duo from Australia, Carol Wood and Susan Butcher. Their comics are almost zine-like in layout and attitude, channeling National Lampoon, classic undergrounds, and the Church of the Sub-Genius. Stories range in length from 1 - 5 pages, and combine bathroom humor with a scathing and astute intellect. These girls are VERY smart.
My favorite strip in this ish? Easy... Bizar-O-Christ. Best line, "Blessed am those who do, um, the opposite of all earthly things! Blessed am those who hate beauty! Blessed am those who love ugliness!" Sadly, i don't see a url listed, so i'm not sure you can track this down. Sorry.
•Â Ganges, by Kevin Huizenga. This is one of the volumes in the newish Fantagraphics/Coconino line called the Ignatz Collection. And it is so brilliant, that i almost thought my brain was going to explode while reading it. I've mentioned in a past blog how Kevin treads the razor's edge between formalism and commercially viable comics. What i may have forgotten to add to that, is that it's really actually irrelavant. His ability to convey the inner thoughts of humankind, to literally use comics to take us places in our hearts & minds, borders on shamanistic. I'm not kidding. Really. Stylistically, Huizenga hasn't particularly raised his own bar or anything, but that's because he's been a fully-realized cartoonist for years now.
Kevin Huizenga is arguably amongst a very small handful of North American cartoonists under 30 years old (i think he's under 30?) whom i would consider "world class." He's really that good.
•Â Finally, a nod to the newest volume of the Finnish anthology, Glomp #8. This anthology began modestly enough, and looked rather "normal" in earlier volumes. (We even did a little sub-distribution with them.) But with this newest volume, it seems as if the editors have been sucking down large bong loads of Kramer's Ergot for inspiration. Not a bad thing, actually. And this volume is ALL Finnish artists. Super duper cool stuff. (Images all ripped from their website, which has ordering info.) I picked my copy up at Portland's newest comics retailer, Floating World Comics. Thanks, Jason!
---
August 17, 2006 / More →
•Â Not sure if i've mentioned my current interns who've really been busting ass for me here in P-Town. Only my very first real intern, Carlos, has been of this much value to me, and it sure is nice; almost like having actual employees! (Carlos, by the way, is still doing production work and design for us, and occasionally shows up to work the Top Shelf table at a convention here or there. In fact, we had a blast together at the Emerald City Con earlier in the year.)
Intern Chris (Ross) was found through the Portland State University's Publishing Program, headed by Dennis Stovall, via Bernadette and Gretchen from Bakers Mark, whom i met at last Fall's Stumptown Comics Fest. (Whew.) Chris knows his way around a Macintosh like nobody's business, and is a production whiz. Man, if only i could do a Vulcan Mind Meld on this guy...
Anyway, Chris' last official intern gig for us is doing production on Austrian ink stud Nicolas Mahler's new book for Top Shelf, Lone Racer …Â the story of a down-on-his luck, has-been race car driver, who makes a move to come back in a newfound glory. Not unlike a shorter version of the classic James Garner race car flick Grand Prix.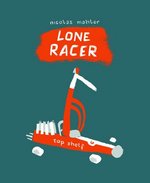 Chris rocks and will indeed be doing some more work for us, in freelance production and design.
My newest intern, Jacquelene, is the hardest working intern i've ever had, working full-time doing sales & publicity, events & promotions, and not a small amount of Personal Assistant stuff, like running errands, post-office runs, retail delivery, and what have you. (Which is particularly awesome, since this frees me up to have more time hanging with Carter. See fig. 001.)
Fig. 001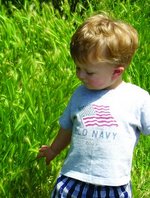 Jacq came to Top Shelf via an author signing we did with Jeffrey Brown, Renee French, and Alex Robinson during APE this year, at Joe Ferrara's classy comics shop Atlantis Fantasyworld, in Santa Cruz. Needless to say, as much help as she is, Jacq is one intern i don't want to see go anytime soon.
• Jacquelene's background is in music (managing bands, concert promotions, etc.), but a newfound love of comics has her considering comics as a possible career, so i'm introducing her to as much of the local comics world as possible. Last Friday we met up with Joe, James, and Randy (and intern Doug!) for a tour of the Oni Press offices, then off to lunch, where we discussed a (keeping fingers crossed) joint party we're hoping to throw here in Portland in the not too distant future. And as we usually do, we did a big ol' comics swap. I picked up some excellent new books, and actually already read a few, including:
•Â Scott Pilgrim vol. 3, by kid genius Brian Lee O'Malley. I think i've mentioned earlier volumes here on this blog, with large amounts of fanfare. In case you missed the memo … this is one of my favorite funny books ever! Brian's manga-influenced chops deliver on tasty young-punk fight-comics, which supposedly incorporates a lot of video game culture. I really wouldn't know, because i haven't played video games in almost 20 years, but it doesn't matter, because i'm hooked enough as it is. Scott Pilgrim is THE bomb, and O'Malley is THE complete package.
•Â Gray Horses, by Hope Larson. Hope Larson is Brian Lee O'Malley's wife, and the odds that two cartoonists of very high caliber hooked up like this are astronomical. And yet, it's true. Larson's first book, Salamander Dream (AdHouse Books) was a delicious little treat that hinted of great things to come, and Gray Horses continues that trend. Both books use the formal language of comics in a way that adds non-linear layers to her narrative, which require a little thought, and can benefit from a second read. There's a bit of metaphorical poetry happening here that is mysterious and magical. And her artwork is lush and beautiful. Hope is doing amazing work, and is one to keep your eye on.
•Â Next up, Banana Sunday, by Colleen Coover and Root Nibot. This is the most recent collection of material by one of my all-time favorite cartoonists. (I raved about Colleen's strip in the smashing new Tugboat Press anthology Paper Cutter #2, in a past blog too.) Banana Sunday is a delightful teenage romp of a book, that reads like an Afterschool Special as conceived by Joss Whedon. Talking monkeys, intrepid reporters, Alpha Female uber-bitches, and lots of flirting. Oni has this book labeled for 7 Years Old, plus, but honestly, i'd say it's skews more towards early teens. While not quite up to par with Coover's sublime Small Favors (very few things in life are, for that matter) Banana Sunday far exceeded my expectations... kudos Paul and Colleen for yet another fine piece of work.
•Â So much to catch up on, but for later. Including more reviews of recent reads, plus a few pictures of the Top Shelf crew at the Eisner Awards a few weeks ago (as taken by Kristen Siebecker), and some sketchbook pages from my old pal Ulana (ulanaland.com/) Zahajkewycz. Here's a Ulana teaser.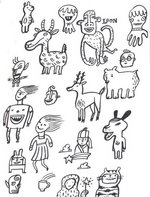 ---
August 11, 2006 / More →
PRESS RELEASE
Beginning Monday August 14, Tom Hart's Hutch Owen comic strip will run in the free daily METRO in New York and Boston.
Hutch Owen is an outsider and sort of philosopher of the street, crying out in a corrupt wilderness against the rampant greed, cynicism, and worship of the almighty dollar in today's culture. The "Hutch Owen" strip reflects the current American mood.
Born in Kingston, N.Y., Tom has been a popular underground/alternative cartoonist since the early '90s. He has been nominated for all major comic book awards … including the Harvey, the Eisner and the Ignatz … for his Hutch Owen books and "The Executive Hour" from his Hutch Owen: Unmarketable was recently re-published in the Best American Comics 2006.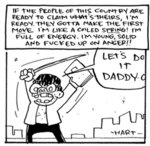 • Hutch Owen is one of my favorite characters that Chris and myself have EVER published. Wearing his bleeding heart on his sleeve, ever so intent on talking down The Man, Hutch is (warts and all) one of my heroes. …Brett
---
August 6, 2006 / More →
Renée French's work will be part of a group show called Telling Tales, curated by Dan (The Gansfeld) Nadel at the Adam Baumgold Gallery, from September 6 to October 14, 2006.
The gallery is located at 74 EAST 79th STREET, NEW YORK.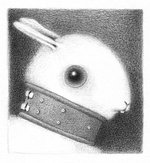 To see more of Renée's work go here.
Lifted straight from the website:
Adam Baumgold Gallery presents Telling Tales: Contemporary Women Cartoonists from September 5th through October 14th. Telling Tales is a subjective look at the last four decades of comics drawn by women.
Long a boys club, comics have, since the rise of the late 1960s underground, opened up to women as a medium like any other. Unfortunately, most current historical surveys are notable not only for the absence of women artists but also the absence of women as protagonists or even subjects in the medium itself. And while a gender-based exhibition might marginalize women even further, Telling Tales seems necessary as a slight corrective to the usual historical narrative.
The seventeen artists included here were chosen for their unique points of view and their idiosyncratic approaches to cartooning. All are free from the usual stylizations of comics, making stories that rely as much on line and mark as narrative and dialogue. Each artist has made an indelible mark on the medium, including Aline Kominsky Crumb, who helped revolutionize comics drawing with her scratchy line and brutal abstractions; Debbie Dreschler brings an unthinkably dense patterning to the medium; while Renée French's lush pencils convey meaning in each stroke. Younger artists, such as Lauren Weinstein and Amy Lockhart, have appropriated old genres, such as confessional and superhero comics, and used them for their own purposes. The larger story of these artists is swiftly evolving and Telling Tales will be just the first chapter of this long artistic narrative.
The gallery hours are Tuesday through Saturday 11:00 - 5:30 PM. For further information please contact Adam Baumgold at 212-861-7338 or abaumgold@aol.com
Telling Tales curator Dan Nadel is the proprietor of PictureBox, Inc., a Grammy Award-winning New York-based packaging and publishing company. PictureBox's recent releases include Nog a Dog (Marc Bell, editor) Me a Mound (Trenton Doyle Hancock) and The Ganzfeld. Nadel is also the author of Art Out of Time: Unknown Comic Visionaries 1900-1969 and is an assistant professor of illustration at Parsons The New School for Design.
---
August 3, 2006 / More →
God bless Alex Robinson, ever the bridesmaid, never the bride. Well, that's not actually true. I'm talking here about The Eisner's, the Oscars of the comics industry (but without the glitz and glamour). Both Box Office Poison (in 2002) and Tricked were nominated for Best Original Graphic Novel … hands down THE Big award of the night … but alas...
Well fuck em' is say, Alex! What do "they" know anyway!
Alex DID win the Eisner a few years ago, for Talent Deserving of Wider Recognition. And deservedly so.
(Following are the pages from Alex's sketchbook, while we sat at the banquet eating stale chips and guacamole. Bravo!)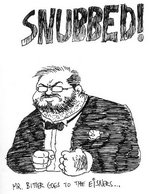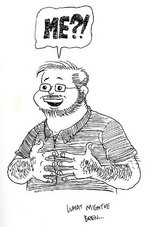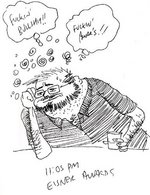 ••••••••••••••••••••••••••••••
In other news, James Kochalka is touring in support of his new album, so snap to attention, people!
"I'm going on a mini-tour to drum up interest in Spread Your Evil Wings and Fly. This tour will be acoustic-duo style James Kochalka Superstar... just me and my guitarist Jason X-12."
Fri 8/25 CAMBRIDGE, MA -- Middle East upstairs, 472 Mass. Ave. * w/ Neil Hamburger, Morgan Murphy, World's Greatest Sinners * JKS/X-12 on first @ 9pm!! * http://www.mideastclub.com
Sat 8/26 PHILADELPHIA, PA -- Tritone, 1508 South Street * other acts, set times TBA * http://www.tritonebar.com
Sun 8/27 NEW YORK, NY -- Cake Shop, 152 Ludlow St. (btwn Stanton & Rivington) * w/ Monsterface, Dream Bitches * show starts early !! 7pm * http://www.cake-shop.com/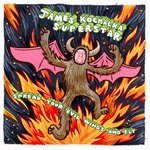 Rock!!
---
July 31, 2006 / More →
I didn't score nearly as many books as i usually do at San Diego ComiCon, but i did come away with a few assorted gems.
First and foremost, my most favoritest find, by far, was an unassuming sketchbook, found just across the isle in Sam Hiti's modest little booth. It's called Ghoulash, and holy shit is this some of the most incredible work to come out of the U.S. in a long long while.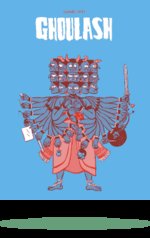 Actually, to call it a mere sketchbook is not accurate. While each image in the book is standalone, the renditions are fully realized, in a gorgeous lush style. There are many influences i see, including European ink-studs like the French Beaudoin and Blutch, and the Spanish Max. From North America i see maybe shades of Jay Stephens, Paul Pope, Mignola and perhaps even Bruce Timm.
But Sam's work is entirely his own, and the depth of his imagination is just huge; bordering on Kirbyesque even. At least visually. If there is one weakness to my mind, in Hiti's work, it's that he lacks the narrative focus (for now) to create a truly timeless piece of graphic fiction. (This is not dissimilar to Pope's work. And like Pope, the very prowess of his visuals can and does carry a weak story.)
His last big book, End Times: Tiempos Finales, is literally a visual tour de force, and yet ultimately it's just not very affecting as a narrative. A good story editor might go a long way in helping Hiti better understand the nuts & bolts of timing, story logic, etc.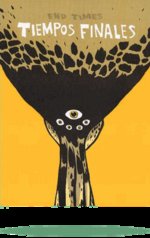 Still, i think Sam has the gift, and has the potential to become on the stars in the firmament of greats. I'd give my left pinky to publish virtually anything he touches. (Sam, do you have any need for a severed pinky finger?)
---
July 28, 2006 / More →
•Â Yeah, so San Diego absolutely rocked the house. (Except for the brutal heat and humidity. A 10 minute walk from hotel to convention hall worked me up into a sweaty lather.) If you want a full round-up, i'd wager Spurgeon most likely has links to the best one can find, over at Comics Reporter.
• The fine gentlemen from Regent Printing (Robert Conte and Stephen Bomgaard), who did a flawless job printing Lost Girls, took Chris, Melinda and myself out to dinner on the night i arrived in San Diego, to celebrate this momentous occasion. The company was fabulous, the filet mignon was perfect, but my hangover the next day was excruciating. Needless to say i got caught in the moment, drinking several margaritas, red wine, and port for dessert. Let the good times roll, eh?
• We ended up selling all 500 copies of Lost Girls (which were airmailed to San Diego from Hong Kong), and only gave away ONE single comp! (To Wildstorm maestro, and frequent Alan Moore editor Scott Dunbier.) Artist Melinda Gebbie was in attendance, and was gleefully signing books all weekend. Having been working in a virtual cave for years wrapping this project up, i think Melinda was genuinely surprised by the delightful response she received.
• Back on the food front, one of my favorite things about this con; had a fancy dinner one night with Jeffrey Brown at Sally's, on the promenade over by Seaport Village. (Where i bumped into Atlantis Fantasy World proprietor Joe Ferrarra, his lovely wife Dottie, and Paul Chadwick.) Ahi tuna, seared rare of course, melted in my mouth, but the bartender was totally out of his league when i asked for a Mint Julip. Ate dinner on Eisner's night with Aaron Renier (who WON the Eisner for Talent Most Deserving of Wider Recognistion!) at the fabulous Indigo Grill, up in the Little Italy neighborhood. Being a little off the beaten path, this is mostly a locals restaurant, but well worth the effort tracking down. The ribs and corn salsa are one of life's greatest simple pleasures. Plus, every girl on staff so very easy on the eyes.
Another great night of dining was with the "40-and-Over-Club"... myself, Renee French, and Garret Izumi. We grabbed a table outside at Seaport Village, found some grub, and had some seriously inspirational conversation. Renee is a natural storyteller, and her stories truly have to be heard to be believed. My lips are sealed. The more i get to know Renee, the bigger fan i become. And Garret, well, he's one of the first people i ever knew in the biz, and one my favorite people on the planet.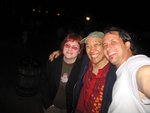 • I'm not a star-fucker by nature. I've waited tables and/or made cocktails for Tommy Lee Jones and Benicio Del Toro, as well as basketball legend Wilt Chamberlain. To me, they were just regular guys.
But over the weekend, i came back to our booth after a pee break, or whatever, only to find one of my absolute favorite comics author of ALL TIME standing in line to get Andy Runton's signature on some Owly books. Yes, that's right, it turns out that he and his lady are HUGE fans. Now, normally i'm not one to blithely introduce myself to a celebrity i'd love to meet, unless an opportunity naturally presented itself. (Like, say at a party or even at a signing.)
But after suffering from a painful 5-minute bout of anxiety trying to ascertain what i should do, i calmly realized that, hey, i am the publisher of this book after all, and so i introduced myself as such, professed myself as a big fan, and to my surprise struck up a nice 10 or 15 minute conversation. Both Grant and his partner were charming to the end. I remained cool on the outside, but was so excited, i really can't recall much of what we talked about besides All-Star Superman and rock-star artist Frank Quitely.
••••••••••••••••••••••••••••••
• Meanwhile, on an unrelated note, go here for a short interview with International Comics Man-on-the-Scene John Weeks.
John also started a new Comics non-profit called "Our Books."
• Also, feast your eyes on this smashing print Jeremy Tinder created for Lollapalooza. Sweet! (Jeremy's new book Cry Yourself to Sleep was recently given an excellent review by our good friend Greg McElhatten, over at iComics, so don't dally true believers, and get your ass on over there.)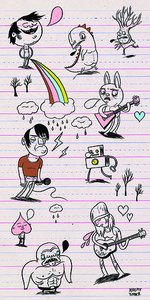 •Â This is way late, but cool as hell all the same. Staros picked these up for me when he attended Book Expo a few months ago. These are catalogs by Drawn & Quarterly and Fantagraphics. Made specifically for the book trade, they're not widely seen. Two beautiful catalogs by two of the most important publishers working today.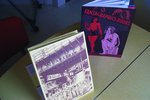 ---
July 19, 2006 / More →
Off in the morning to the greatest freak-fest on planet earth, and like every year, i'm giddy with excitement. What's not to love about fleets of fat Klingons, leather-skinned & way past their due-date, aging "models," hordes of pony-tailed sweathogs in their full-length black leather jackets, and 40 year-old men dressed up like Sailor Moon?
I've been doing this show on and off now since i first went down with my pal Steve Ryan in 1991, and we were pitching projects to the Kevin Eastman pipe-dream, the money black-hole known as Tundra. We went again in 1994, and i haven't missed a show since 1996.
Chris, Rob (Venditti) and Andy (Runton) are already there and set up. Many thanks, guys. I don't envy those cats; for some reason the organizers refuse to turn on the air-conditioning during set-up, despite the bazillion dollar per-square-foot rental space vendors pay for the luxury.
This year, however, we'll be displaying fewer of our backlist books in general, and more of the frontlist and brand new books. (Hope to freaking god that Jeffrey Brown's new book shows.) So set-up should be a little easier.
I'll be honest... i just don't know what to expect about the debut of Lost Girls. The artist, Melinda Gebbie will be there signing, all the way from Northampton, England, and the press so far has been great. But this book … at the risk of sounding like i'm talking out of my ass … is absolutely unique in comics history. Highly intellectual, deeply spiritual, hard-core porn? At $75 a pop? Keeping fingers crossed.
I hope i sleep tonight.
---
July 18, 2006 / More →
I'd seen this funky looking magazine/book at numerous stores for a while now, called Modern Arf, edited by Craig Yoe. Not know exactly what it was, and broke to boot, i passed. Luckily fate came to my rescue, in the form of Reading Frenzy proprietress Chloe Eudaley, who sold me a copy of volume one for half price, because it had a dinged cover.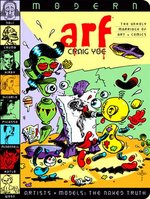 I just bought the second issue (both volumes are published by Fantagraphics) at Reading Frenzy, and i'm now a certified convert. This publication is a veritable treasure trove of cool comics weirdness. Yoe is excavating long-lost and forgotten gems that truly deserve the light of day. (With some perfectly suitable contemporary work sprinkled throughout, for zest.) He's the freaking Indiana Jones of Comics.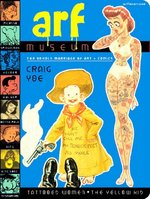 Arf also treads into the realm of sister media, like editorial cartoons, and fine-art illustration. A philosophy that i love, and one that gets overlooked, in the larger context of comics history. The focus and bent is not unlike that of another fine publication, Comic Art, but the difference is in the presentation. Where Comic Art might expend a great deal of energy and space talking about a given subject, Arf is more prone to just throw it up on its oversized pages in all it's inky beauty, with maybe one tiny text caption of explanation.
Kudos to Craig on curating one of my favorite new things in comics in a very very long time.
•••••••••••••••••••••••••••••••••••••••••••••••••
Meanwhile, i just finished reading easily the most succinct short essay on The Conservative Agenda, ever. In fact, i'd be interested to read a Conservative response to this. The title of the piece is Bush Is Not Incompetent. If politics or truth don't float your boat, just skip this.
---
July 15, 2006 / More →
How much booty does Aaron Renier kick all over town. (In his case, Brooklyn.)
Here is his newly designed cover for the French edition of Spiral-Bound, renamed Top Secret Summer (the sub-title of Aaron's book), because there was no real translation otherwise.
Masterful. Aaron, great work.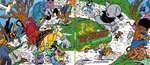 ---
July 12, 2006 / More →
Finally saw Superman Returns on Sunday night. Went with my old comic-geek fanboy buddy Steve Taylor, who, in the end, said he didn't like it! Ouch. Mostly because he wasn't into the religious allegory.
To be fair, there were some pretty long stretches in this baby where i was bored stiff. Example: Lex Luthor's Kryptonite/Crystal palace erupting off the east coast. Sure the effects were stunning and grand, but holy crap some of these scenes were coma-inducing.
Also, the weird connection to the first two flicks by Richard Donner, with several almost scene-for-scene reinterpretations, made this seem like watching Evil Dead, Evil Dead 2, and Army of Darkness all rolled into one movie.
As for the religious stuff, that was actually some of the best stuff. The allegory way beyond mere Christianity (or any world religion for that matter), into the larger realm of mythology, both classic and contemporary. The crucifix money shot of Supes drifting powerless in the atmosphere was almost worth the price of admission, on its own. The Hero's Journey, and all that.
The actors rocked, the look was lush and right on the money, the sets all fine and dandy. But for me, if there was any recent criticism of the movie that i would share, it's the almost disturbing devotion to the Donner films, which led to a lack of originality. It was perfectly executed, and yet something was lacking. Sort of like JLO.
In any case, i loved it all around. I really liked Kate Bosworth... a real surprise. Routh was solid, if not a little boyish now and then. Loved Spacey and Posie. I had a big grin on my face for most of the film, and that pretty much says it all.
•Â Then last night, i went with one of my interns, Chris to the pub/theater a few blocks away, to see the classic Deliverance. I hadn't seen this existential nightmare since i was a wee lad. (Literally, i remember being about 13 or 14 when one of my parents took us kids out with some other friends to a drive-in to see this.) I didn't remember much of this besides the banjo scene, and now i know why … it must have fucked me up in such a big way that i had to purge it from my psyche altogether, or leave me ruined at an early age. Mom, what were you thinking?!?!
Seriously, i'm amazed that this film isn't mentioned more often as one of the pantheon of greats. Just great storytelling all around, and a scary indictment of the human condition. Jon Voight turned in a brilliant performance, and actually conveyed such a realistic drunken scene, that i almost wouldn't doubt for a second that he was actually wasted off his ass when filming it.
I don't know much about the making of this (and now i want to), but it seems like it may have been one of those "journey" films, ala Apocalypse Now, where the crew and cast were living what they were creating.
And the hillybillies, well, yeah... oof.
---
July 8, 2006 / More →
Once again my buddy Gary Butler makes a strong personal recommendation to me, and yet again i have a new jones for more entertainment to dig on, when i simply don't have time enough in the day to think straight as it is.
Not long ago, you see, Gary sent me a really crummy bootleg of the recent retcon of Battlestar Galactica. About an hour in the disc started jumping erratically, and even skipping whole chapters; so much so it was unwatchable. I'm convinced now that Gary sent me the bum disc on purpose to prove how compelling this show really is. The very next day i went out and bought the Season One dvd set (which includes the mini-series as well), just so i could see how it the opening scene ends. Holy crapola, what a great twist!
Just got done watching the first regular episode, and i have to say that this is absolutely riveting television. Hands-down the best contemporary sci-fi on tv (well, along with Firefly, that is) since Next Generation, oh so long ago. I will admit i was very skeptical of this series when it premiered, if mainly because there has been zero science fiction that suited my tastes in years and years and years. (Again, excepting Whedon's Firefly, which is so singularly unique, i don't put it in the same category.)
I love the idea of the new model cylons, and especially the hot, sex-starved, god-fearing blondy, who gets under the skin of the bad guy, the scientist Dr. Gaius Baltar … the stand-in for the old bulb-headed bad in the original. (I'm guessing, anyway. I haven't seen that stuff in so long, and i can't recal for sure. I'd wager it hasn't held up too well. Although i'll ALWAYS love the old spaceships, and the cyclons themselves.)
The cast is superb, and just how Loren Greene carried the show in it's first incarnation, Edward James Olmos is beyond incredible in this role. Tough, responsible, warm, and a true leader. This guy is a rock. (Wish we had "real" leaders like this running the show.)
The President (something like the 43rd in command, after the home planets were decimated along with the old Prez and the next 40-odd in line), is played with aplomb by Mary McDonnell. Apollo and Starbuck, and even the deck-hands, all stand out. There's no dud on the crew. (Like the original annoying blond who used to stand next to Worf on Next Generation. Man, i was so happy to see her bite it. What was her name?)
But what really rocks me is just the verisimilitude of the show. Everything just looks and feels plausible, unlike shows like Babylon 5, Farscape, or Stargate, all of which have such a cheesy veneer to them. (I've never been able to sit through a single episode of any one of them, so i won't cast judgment... they're just not my gig.) And the scenario rings so much more true than any of Trek shows post-Next Generation.
I. Am. Hooked. Thanks, Gary!
• Read a few things over a 4th of July break spent at my mom-in-law's lake-house. Most note-worthy was the excellent Bob Haney interview in the most recent Comics Journal. Great stuff, from a grizzled old DC vet who passed away a few years ago. A hot-headed guy with a wonderful sense of humor, and not afraid to call a spade a spade.
•Â Also read volume one of the new Southland Tales prequel graphic novels, by Richard (Donnie Darko) Kelly. It's pretty bizarre, like i expected, and when the next volume comes out, i'll re-read this one again. Pretty original, if not entirely easy to follow. The art by Brett Weldele is simply gorgeous. And no, i'm not just saying this because Brett drew our own Surrogates. I just dig his stuff. People have compared his work to Ben Templesmith … a fair comparison, and another artist i like (30 Days of Night is killer) … but i think Brett can paint circles around Ben. He's got the same flair for color , mood, and atmosphere, but his line art and storytelling are both, well, better.
In any case, in spite of some negative reviews about the debut of Southland Tales at Cannes this year, this prequel piqued my interest, and has me really looking forward to the flick. After all, Donnie Darko was a big-time sleeper, and now it's a legitimate cult phenomenon.
•Â Lastly, i read the recent Modern Masters from the superb TwoMorrows press, spotlighting my old hero John Byrne. This was a great read, and the featured interview was one conducted by Jon Cooke, originally intended to run in an issue of Comic Book Artist. In his prime, Byrne was a god. And so inspired i went out and picked up the first four issues of his recent retcon of The Doom Patrol. His art was actually very nice, inked by Doug Hazelwood i think(?), and his story had some good ideas. But it just smelled and tasted so much like a late-80's - early 90's, by-the-numbers comic book, i just couldn't buy into it. (Especially when right afterwards, i pulled my Doom Patrol Archives off the shelf, and marveled at the goofy fun and the absolutely stunning art by Bruno Primiani. Why that guy isn't mentioned in the same breath as his Silver Age comrades is a freaking crime.)
Anyway, sorry John. That said, i will track down the first couple issues he did (again with a more detailed inker than himself) of Action Comics, penned by Gail Simone. We'll see. I'll let you know what i think.
---
June 29, 2006 / More →
•Â My friend, cartoonist Gregory Benton, lives in New York and recently participated in a fabulous gallery show (curated by cartoonist Jason Little) in the city called OPOLIS, at the Flux Factory, that essentially creates a miniature 3-D city, and also incorporates comics. This is a hugely ambitious show that i wish to god i could see in person.
•Â The site description reads:
OPOLIS presents Comix-Fluxture-as-city. Opolis is an imaginary city, located in the Flux Factory main space. Individual city blocks have been assigned to individual cartoonists and illustrators. These cartoonists have designed the buildings and environments that will fill the city blocks (an apartment building, a looming office skyscraper, a library, a public park…) with invented characters that are the citizens of Opolis.
OPOLIS is the third manifestation of Flux Factory's annual "Comix Fluxture" exhibit. These exhibits have brought cartoonists and illustrators into the gallery to create comics narratives that also function as installation art. The ongoing objective of the series is to create works of art to be read intimately…as a comic strip…but also contribute to an overall installation spectacle.
• If you live in New York, get your ass on over there!
Following is an email and photos i received from Gregory, reprinted with his permission. The comic strip that Gregory himself created for his "building" (which you can see in these photos), we'll also reprint in its entirety in the next update of our comix section on this site.
• If Gregory's name sounds familiar, then you may have read some of his comics goodness here on our own comix section. or it's because of a wonderful comic he did for Slave Labor a long long time ago called Hummingbird. It's lusciously drawn and a real wild read. Since then, he's been doing more painting than anything else, though he has been doing some funky-cool historical comic strips that none of us will get to see. Some lucky students will though. His comics work these days is full-color bliss. Here's hoping that one day we'll all be blessed to see more.
•Â Meanwhile, i'm leaving for a long weekend down at my awesome mom-in-law's fabulous lake-house, down by the Oregon Sand Dunes on the coast.
• Gregory Benton writes:
Finished up the building & comix I had been working on. The opening was excellent. Good crowd, great reception. I was interviewed briefly by the NY Press, if anything comes of that, I'll forward it to you. Info on the show can be found at www.fluxfactory.org.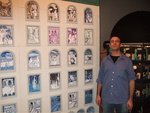 The building dimensions are 6' wide x 4'deep & 7.5' high. Medium: Styrofoam, acrylic enamel & Digography. As far as content, comix run on the two long sides (front & back) with paintings & sketches along the sides.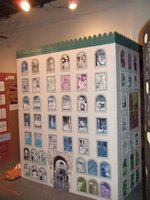 ---
June 26, 2006 / More →
The entire family here at Casa de Warnock has been sick like dogs. A freaky virus that has every one of us exhibiting different symptoms, in addition to a few shared. Add to this our old house (with NO air conditioning) and 100º days, and it's the outright Portland Misery Festival right here. Whoo hoo!
That said, i have been working with Chris to wrap up the new edition of From Hell and get it to the printer. So not all is lost.
I did read a new(ish) comic a couple days ago, and it's a doozy. I'm talking of course of Kevin Huizenga's OR ELSE Vol. 4, published by the great Drawn & Quarterly. And it's yet another gem, from one of the most under-rated cartoonist working today. Kevin is (or was... maybe he's moved?) part of a thriving comics collective in St. Louis, which includes a number of stellar talents, including Dan Zettwoch and Ted May.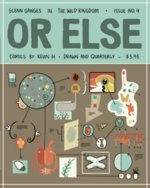 Where most reviewers focus on Huizenga's command of his formal skills, and how he applies them to the stories he tells, i'm actually more drawn into his work for his ability to capture small moments; his ability to convey a palpable mood and setting that feels like you've been transported right there. He's been doing this for years, going way back to his formative mini-comic, Supermonster.
In other news, i must say my inner geek is totally fired-up to find a postcard at MoCCA announcing the release of the long-awaited, previously defunct fantasy anthology edited by Jeffrey Brown, called Elfworld. The buzz around this book has been big for years, and knowing that it's coming out warms the cockles. It's being published by a newer outfit called Family Style.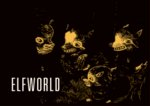 ---
June 21, 2006 / More →
Down two breezy games to none against the Mighty Mavericks, and down by 13 points in the third quarter in Game 3, the underdog Miami Heat, under the dominating will of Dwayne (the clear MVP) Wade, have won four in a freaking row to win the NBA Finals. And in Dallas no less.
I would have liked to have seen either team win (since the Suns weren't there), but in the end, the better team won. Miami stepped up their defense like were amped on crank, causing the normally in-control Mavs to scramble, lose their rhythm, and miss shots.
This has been the best Finals i've seen in years. (Though my favorite playoff series in the Modern Era was the Western Conference Finals a few years back between the Lakers and The Sacramento Kings.)
I loves me some hoops, but i'm breathing a heaping inhaler blast of relief right about now, knowing that i won't have to watch any more sports for at least a few more months. (Well, except for the World Cup.... and maybe Grand Slam Tennis.)
And moving onto some comics news, i must say what a surprise it was to take my weekly trip to one of my favorites comics websites, Ninth Art, only to read that this was to be their last issue. Andrew Wheeler was the guy i knew personally involved with the effort (though i did meet Antony Johnston at SPX a few years ago), but there were a lot of people who made this site what it was.
This last ish includes an interview with the quite talented Ed Piskor, whose comics grace the comix section on our own site, in collaboration with Underground legend Jay Lynch.
Also in this volume, their annual Lighthouse Awards, with the Publisher of the Year category going to the well-deserved Oni Press. (Two words. Scott. Pilgrim.)
What i loved about Ninth Art was that it had interesting, well-considered (if not stubbornly opinionated) content, excellent interviews and reviews, and most importantly, a Unique Voice. It had super simple design, but was more than effective. I HIGHLY recommend that readers traipse on over and check this out.
Kudos on a great run, folks. I'm truly going to miss ya. I hope that you're able to leave the site up for archival purposes, as did my last favorite, now-defunct comics weekly site, Savant. Best of luck with the next gig, for all of you.
---