hulk SMASH plenary executive!
January 27, 2006
Only a few responses have trickled in to my query on who cares about political discourse, and who doesn't. Maybe i should have included my email address. brett@topshelfcomix.com.
At any rate, my good pal Gary Butler (comics columnist for the horror mag Rue Morgue) wrote back:
"How about a compromise? Hulk vs. Alito in Battle-Suit Luthor armor?"
To which i say, coupled with a Dem filibuster... bring it, Alito!!
Gary also asks why i don't have a comments link-through on my site, where people can post replies. The truth is, i'm too busy to even validate writing a blog itself, let alone managing a comments section. I thought a post might take me 10 or 15 minutes to draft, and so far the average is over an hour per blog. I just don't have the time.
Part of what occupies my waking life is little Carter Grant. (See exhibit A.) As a stay-at-home dad of a 13 month old boy, with no day care whatsoever, plus a household to run while my lovely wife Lisa is at work, plus at least an hour or two spent with the family around dinner time, PLUS the demands of Top Shelf, well, you might guess that i have little to no time to spare.
Exhibit A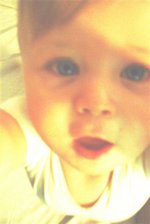 This is why, as much as i love sites like the Warren Ellis ENGINE forum... i simply can't; each time i log in merely to read a handful of threads, i look up and two hours have gone by. I don't understand where people find the time for this. What gives? Clones? Are they blogging on "company time."