January 6, 2015 / More →
Oh my, i really can't believe the love and support that is coming in for your loyal bartender.
On the news of iDW acquiring Top Shelf, i have to say that these cats are aces. I've known Chris Ryall since, i think the late 90s. I met Robbie Robbins a decade ago, tabling next to him at WonderCon, and he's just a swell guy... we could talk about beer all day. I've met Ted Adams, and he's boss too, and of course, the great Dirk Wood. So yeah, i'm real happy about what this entails. I don't know Scott Dunbier that well, but i sure love what he's doing there. Ditto Dean Mullaney, whose efforts on the Library of American Comics is capital "I" Important work. Swell people all around.
Much love for everyone at Top Shelf too, Chris Staros, Leigh Walton, Chris Ross, and Zac Boone. Former "warehouse guy" Rob Venditti. (Geez, what a crazy career there, yeah?) And most of all, the authors and cartoonists i've worked with all these years. Wow. I love you all!
As for me, anyone worrying about my future, rest easy. First, i still love comics, and like i told Eric Reynolds just this morning, many of the friendships i've made in comics over the years far transcend the industry itself. So i suspect you'll likely see me at more shows that y'all have in the last few years anyway!
And while i only started last week (hence, not a lot of backlog yet... yet!) i did launch my food & nature blog last week. It's been great... i'm back creating stuff again, which i haven't done in nigh twenty years! If you like food and/or you like nature, check it out.
It's across three platforms, with a destination website coming sooner than later.
Tumblr (the hub)
Great heaping amounts of love and margaritas all around... on the house!
Brett
---
December 24, 2014 / More →
Here's some really gorgeous artwork from our pal Ulf K. (We did distribution for his terrific book Hieronymus B.) He's got another website, called Mondgucker! I don't have a clue what that means, and i can't read the German on any of his websites, but his art speaks for itself. A contemporary master of la ligne claire, he's one of my very favorite cartoonists.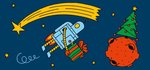 Meanwhile, another great friend of Top Shelf, Keith Knight, wrote and asked us to help spread the word...
"My Knight Life characters are quietly doing the 'Hands Up/Don't Shoot' gesture all week long. It's my little way of showing support to those protesting.
"It started on Monday: The Knight Life by Keith Knight, December 22, 2014."


"And my latest post on Medium, a quick rundown of a few of the toons that are in my police brutality slideshow, is a top ten pick with 115 recommends on the site, They Shoot Black People, Don't They?"
Y'all have a real nice Christmas now, y'hear?!
---
December 11, 2014 / More →
Check it!.. I've learned that cartoonist Luzz Lunney has started a Patreon campaign. If you're living under a rock and don't know Lizz's comics, head over to her own site or her Top Shelf page and dig in. Lots of comics on display here.
Her work is unabashed fun — lots of fart jokes! — drawn an an utterly charming style, reminiscent of Roz Chast, John Porcellino and James Kochalka. Here's a short list of strip names you can read for free from our old Top Shelf 2.0 venture:
Romantic Bison. The Unicorns of Keith the Wizard. Hairy Midget Elf. Rocketman. Dungaree Lion. Stuffed Bear. Sour Rabbit and Crispy Duck. The Truth About Dinosaurs. Watermelon Boy. Depressed Cat.
Brilliant!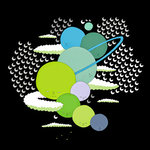 Serious, i cannot recommend Lizz's art and comics enough.
Check out more about Lizz, in this documentary by Sara Jackson.
---
Jess Smart Smiley created some new background art for the website. It's boss!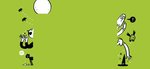 Jess' art is so terrific. As a fan of of vintage 50s and 60s illustration, i can only guess that Jess is as well.
His first Top Shelf effort is Upside Down: A Vampire's Tale.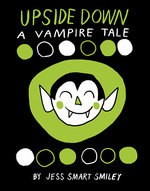 And here's a cover (which may or may not be the final) for his follow up volume, Upside Down: A Hatful of Spells.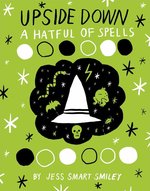 ---
Webmaster (and ace cartoonist) Nate Beaty built our terrific website to incorporate custom artwork from the various authors we work with. It's really quite genius. With these recent updates, i wanted to show off some of this art sans the business of the actual website to distract the eye.
So feast yourselves dear readers on some truly sumptuous eye-candy.
• Here's three rough sketches and a final by Molly Ostertag, who worked with Brennan Lee Mulligan on the forthcoming title, Strong Female Protagonist. I have to say, choosing one of these sucked… they all kick ass, and i wanted to see them all in finished form.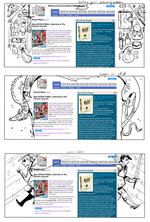 • Diana Thung turned in not one, but two sweet pieces for us. If you don't know Diana's outstanding comics, check out August Moon, and Splendour in the Snow, both gorgeous graphic novels with delightful storytelling.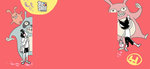 • Here's Sam Henderson's wonderful characters Bear and Man, in a typical sight gag. Sam's Scene But Not Heard is a delight.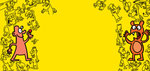 • Rob Harrell, whose Monster on the Hill is a fan favorite in this household (my 9-year old loves it!), did us a solid with this choice piece.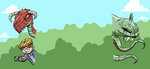 • And finally, for sheer art wizardry, it's hard not to love Eric Orchard's stunning work on Maddy Kettle. I mean, well… wow. Here's Maddy and her pals, cloud cartographers Harry and Silvio, plus a couple bonus illustrations of those misunderstood Spider Goblins.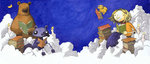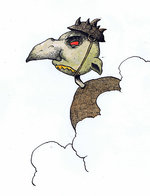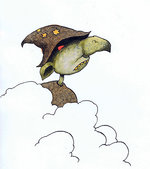 ---
Here is terrific Alan Moore interview that Alan David Doane conducted back in 2004. Great stuff.
Meanwhile, our Massive $3 Sale ends tomorrow! There are so many reasons one might consider buying some of these incredible books; to support your favorite author(s) and/or to support your favorite publisher. But really, because our entire line is yours to be had for CHEAP! Tightwads rejoice!
There are many overlooked and underrated diamonds in this sale.
Boy in My Pocket, by Dean Haspiel.
More adventure/romance/love story fun starring Billy Dogma and Jane Legit.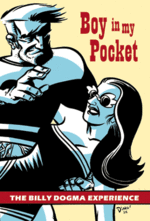 Jennifer Daydreamer. (Eponymous.)
Dreamy, lushly drawn, modern fairy tales.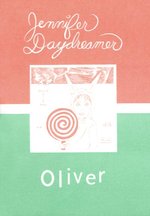 Lower Regions, by Alex Robinson.
Quite possible Alex's least known book, and arguably his most straight-up fun.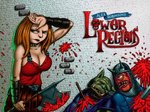 Van Helsing's Night Off, by Nicolas Mahler.
Mahler's cartooning is pure comics, and pure genius.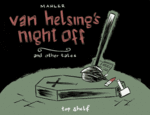 ---
The epic, astounding, spectacular Top Shelf $3 Sale is winding down. Here's another Hidden Gem for your perusal. Actually, it's three books that comprise Steve Lafler's mind-bending Bughouse Trilogy. That's three books (Bughouse, Baja, and Scalawag) which normally retail for $38, and they can be yours for a mere $9, plus shipping.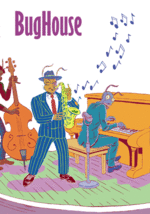 I met Steve very early on in my publishing career, and he's become a very dear friend. (He even put up myself, my kid, my sister and my niece at his pad in Oaxaca, Mexico a few years back! Muchas gracias, el Steveo!)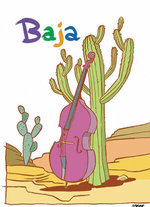 The Bughouse Trilogy covers lots of ground, including Bee Bop Jazz, addiction, psychedelic tripping, and the creative process... this is the stuff of Life!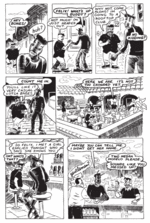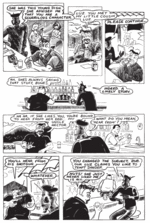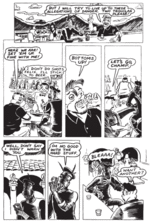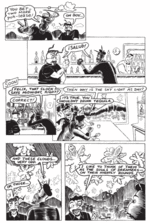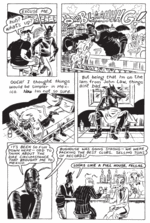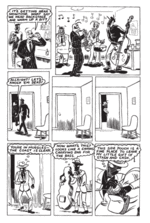 ---
The Great $3 Sale continues, though there is now less than one week left. And here's the thing… there's a lot of amazing feature length graphic novels that can be yours for only a buck a pop! Hot diggity, jump on this!
A few favorite hidden gems of my own.
Cicada, by Josue Menjivar. A devastating and beautiful rumination of love and loss, that aches with humanity. Josue's comics are slices of the human condition, stripped down to the bones.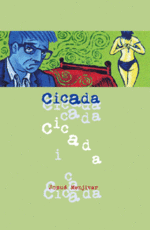 Banks/Eubanks, by Tom Hart. More heart-wrenching despair, by one of comics' foremost minimalists. Matt Fraction, in a review said, "Hart's subtleties, humanity, and gentle-yet-uproarious humor [are] compelling and satisfying." If you don't trust me, trust Matt Fraction!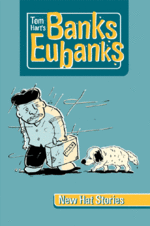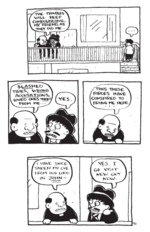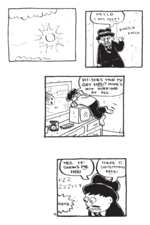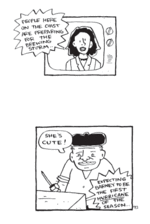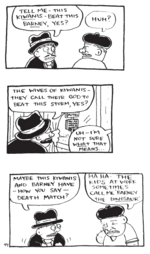 Beach Safari, by Mawil Witzel. Truly one of my very favorite comics, that toes a strange line between an anthropomorphic rabbit, and a bevy a beautiful young women, all basically just frolicking on a beach. Words cannot describe how gorgeously drawn and delightful this book is.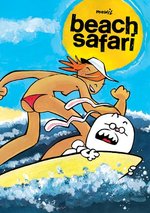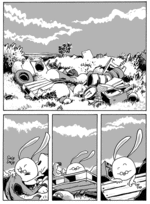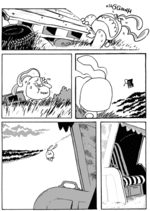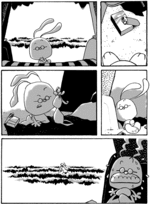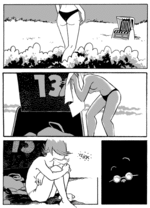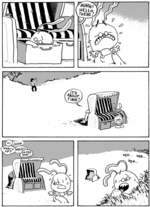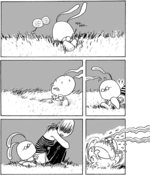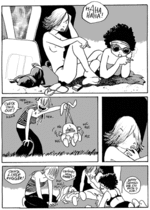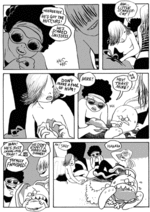 ---
Y'know, it's just not in this bartender's nature to toot his own horn. I've always believed that to a great extent, the work we shepherd into the world, in conjunction with amazing craftsmen, cartoonists, and storytellers, should speak for itself. And i still still do.
Be this whole $3 Sale?... are you kidding me? Who the f*ck has sales this awesome? This discounted? This cheap? Brand spanking new front-list tiles are HALF OFF! Seriously?
And then we have some absurdly cost effective deals for you, our dear fans and readers. Essex County and Infinite Kung Fu, for 10 bucks each! That's almost a thousand pages of incredibly well-conceived and produced comics for $20... that's 2 cents a page, people!
And how about our $3 titles... Jeff Lemire's heart-wrenching Underwater Welder. THREE dollars!
How about this underrated GEM: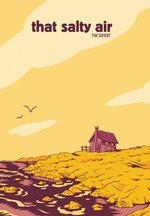 That Salty Air, by Tim Sievert. Tim had made a rough version of this book as a school project while attending MCAD. (Minneapolis School of Art and Design.) I was blown away, when Kevin Cannon (Far Arden and Crater XV) showed it to me years ago, and when i asked Tim if he could expand it into a more-or-less feature length book, he knocked it out of the park. At turns tender and sweet, other times harsh and brutal,That Salty Air is a stellar example of the type of book we've longed to produce at Top Shelf; filled with heart and subtext, diving into and explore what it means to be human. I cannot recommend this book enough.
A few other people felt the same...
"An amazing, strong, well-paced graphic novel about relationships and what we must be do to keep them on course while we are submerged in the complexities of life."
—Booklist (starred review)
"A confident debut that portends more good things to come from this creator ... Sievert has fused tragic loss with imagination ... It's a beautiful thing."
—Web Behrens, Playboy
"A deeply felt parable for the author, and one that can touch anyone faced with the inexplicability of loss." —Paul Gravett, Author of Graphic Novels: Stories to Change Your Life
"An example of comics at their most literate and intelligent."
—Kevin Church, Comic Book Resources
---
August 25, 2014 / More →
Here's Bill Kelter's guest article on Politico July 31, 2008.
Will it be the Rust Belt governor who eats chili dogs with the guys at the John Deere factory or the rock-ribbed senator with a quarter-century of statesman's gravitas? The quadrennial pageant is upon us, and for all the hoopla, you'd think our vice presidential hopefuls were auditioning for the second-most-powerful job in the country.
Would that it were so. The old saw goes that Americans vote for president, not vice president, and history bears that out. Voters gave George H.W. Bush the White House in 1988 in spite of his still-mystifying VP choice of Dan Quayle. The junior senator from Indiana accepted his nod like a child receiving a puppy on Christmas morning — and then gaffed his way to having his head handed to him by Texas Sen. Lloyd Bentsen in one of the most memorable live television moments since Alexander Butterfield divulged the Oval Office taping apparatus.
With rare exception, the American vice presidency has long been our national afterthought, a place where naked ambition goes to die — and a heartbreaking 8 feet from the finish line.
The office has been so ill regarded that, for the first 176 years of its existence, America went without a sitting vice president for an astounding total of 37 years.
Given the rickety caliber of many of the men to hold the office, it isn't surprising that, until the ratification of the 25th Amendment in 1967, the country placed so low a priority on how its unexpectedly departed vice presidents were replaced.
Everyone knows the story of Vice President Aaron Burr being indicted for murder in two states for the dueling death of Alexander Hamilton, but few of his successors proved to be men of appreciably greater character or capability.
Thomas Jefferson chose for his second vice president former New York Gov. George Clinton. Clinton had been circling the drain for eight years before he became Jefferson's VP. He was hard-pressed to complete his gubernatorial farewell address in 1795 because he had "been so long in dealing in speeches that I found it extremely difficult to draft one for the last session without committing plagiarism." New Hampshire Sen. William Plumer said of Clinton: "He is old, feeble and altogether uncapable. ... He has no mind, no intellect, no memory."
Nonetheless, Clinton was selected again for the second slot by Jefferson's successor, James Madison, and in 1812 became the first VP to die in office.
Madison followed his puzzling choice of the ancient Clinton with the brittle Elbridge Gerry and, in 1814, earned the distinction of being the first and only president to have two of his vice presidents die in office.
Gerry's successor, Daniel Tompkins, under President James Monroe, was beset by personal financial difficulties and was so frequently inebriated that he couldn't attend to his minimal duties. Noted one Senate observer, "He was several times so drunk in the chair that he could with difficulty put the question."
President Abraham Lincoln's disgruntled first vice president, Hannibal Hamlin, abandoned Washington and returned to his native Maine, ultimately enlisting in the state's Coast Guard. While Lincoln was putting himself in harm's way visiting Gettysburg and Antietam, America's second-highest officeholder was serving his riven country on plebeian kitchen duty.
Richard Nixon passed on Ronald Reagan and Nelson Rockefeller to tap unknown first-term Maryland Gov. Spiro Agnew as his running mate. A Washington Post editorial called the selection "the most eccentric political appointment since Caligula named his horse a consul." Agnew was driven from office when it was disclosed that he had carried into the White House a kickback deal made with a Maryland building contractor, accepting bundles of money in meetings with his liaison at his office in the Old Executive Office Building.
There were well-intended picks who wouldn't have survived a modern vetting. President Franklin Pierce's vice president, William Rufus DeVane King, brought to the office his purported longtime romantic relationship with the man who would become the nation's only bachelor president, James Buchanan. The foppish and flamboyant King was referred to in Washington as "Buchanan's better half," "his wife" and "Miss Nancy." To applaud Pierce's choice as a pioneering stand for diversity would be giving him too much credit, and in any event, he overlooked the crucial issue of King's health: King was dead of tuberculosis before he could even take his seat in Washington.
Some of the best picks have known how far beneath their pay grade the office was. Theodore Roosevelt made plans to enroll in law school, as he was certain he would have little to do in his official capacity. President Woodrow Wilson's VP, Thomas Riley Marshall, quipped as he neared retirement, "I don't want to work. I wouldn't mind being vice president again."
The nominees' VP picks are going to fall very soon, but like the proverbial tree in the forest, don't be surprised if they don't make a noise, no matter how many of us are waiting to hear it.
---
August 22, 2014 / More →
I posted an article titled "A Shared 'Vice'" on my Tumblr blog, Chez Brett.
"It's their boyish enthusiasm that engages you first. Despite being nearly into middle age, they have a youthful zeal that's infectious–no matter how oddly directed it turns out to be..."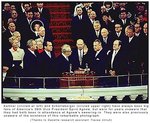 The same article can be read on the Veeps blog here.
Also posted, Bill Kelter's post on vice president nominee from the past, Sarah Palin.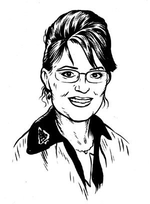 Finally, since Alison Hallett is leaving the Portland Mercury, i thought this might be a good time to pull out her interview with Bill from August 23, 2012. They talk about Joe Biden and then nominee with Mitt Romney, Paul Ryan. As the mid-term elections loom closer, we're no doubt going to start hearing more about potential presidential tickets. Here comes the circus!
---
August 14, 2014 / More →
The last in our three part series on Wayne Shellbarger's courtroom sketch art. Excerpted from Kevin Bohahnis' cover feature article on Wayne in Courtroom Sketch Artist magazine.
"Wayne would go on to enjoy the apotheosis of his career in 2009 with his unprecedented selection to sketch his own trial—"like getting to pull the switch on your own electric chair" he marveled in a 2010 interview for the documentary, Veeps: Profiles in Insignificance and the notoriety for his subsequent misdemeanor conviction for the attempted assassination of the Vice President-elect."
Wayne is traveling from San Francisco to Portland in just a couple short weeks, and will be in attendance at our Veeps movie premier at Cinema 21, as part of the Portland Film Festival. Learn more and buy tickets here. Come on out and rub elbows with the courtroom sketch artist tasked with sketching how own trial!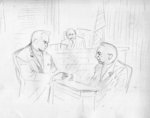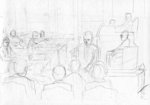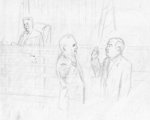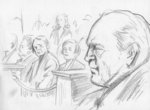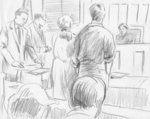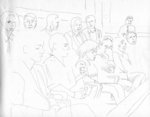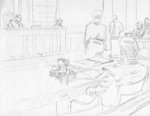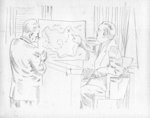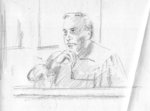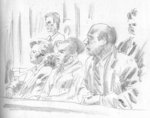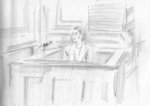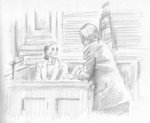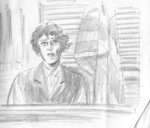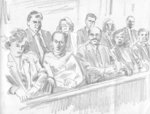 ---
August 13, 2014 / More →
As promised, here are more of Wayne Shellabarger's terrific courtroom sketches.
(Read the first installment in this 3-part series here.)
From Kevin Bohahnis, writing in Sketch Art Monthly magazine"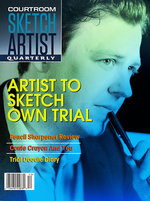 "Wayne achieved even greater renown within the courtroom sketch art community in 1999 when a hardware store owner in Omaha appealed his 1998 conviction of fraud and elder abuse on the grounds that his depiction by the courtroom sketch artist for the Omaha World Herald had made him "look like Liberace" and unfairly biased the jury of 9 men and 3 women against him. Though he didn't know Wayne's name, he gave clippings of Wayne's previous sketches to his attorney and asked that he petition the judge to assign Wayne to sketch his appeal. The judge denied his request, but this was the first and only known motion of its kind in the history of American courtroom sketch-related jurisprudence."
---
August 12, 2014 / More →
Wayne Shellabarger, the graphic mastermind behind the portraits in Veeps: Profiles in Insignificance, has unearthed some of his courtroom sketches.
(Excerpted from Sketch Art Monthly.)
"Wayne made his mark early in courtroom sketch art. He was just 22 when he was tabbed to sketch the trial of a "Mayor McCheese" from a Cos Cob, Virginia McDonaldland who assaulted four teenagers who had been taunting him and trying to steal his sash and pince-nez. In a courtroom reveal that made national headlines, the "Mayor" turned out to be a 3-time Tony Award-winning Shakespearean actor who had crumbled under the duress and humiliation of moonlighting anonymously as fast food and minor league sports mascots to make his exorbitant monthly alimony payments."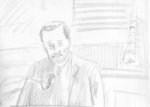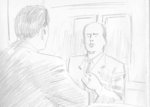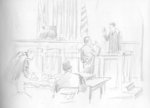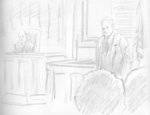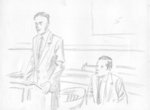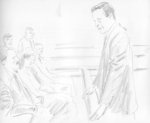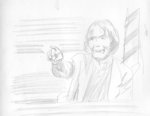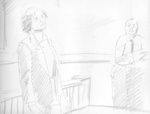 Wayne Shellabarger, on how he got into courtroom sketch art: "That Perry Mason episode was there for me, every day, and in some ways, became my mother." (Excerpted from the film of the same name.)
Tomorrow we'll take a look at more from Wayne's weathered sketchbook.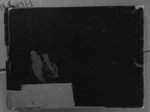 To learn more about the venerable and, unfortunately, dying art form of courtroom sketch art, check out this excellent video.
---
---