Merry Christmas!
December 24, 2014
Here's some really gorgeous artwork from our pal Ulf K. (We did distribution for his terrific book Hieronymus B.) He's got another website, called Mondgucker! I don't have a clue what that means, and i can't read the German on any of his websites, but his art speaks for itself. A contemporary master of la ligne claire, he's one of my very favorite cartoonists.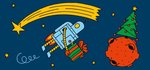 Meanwhile, another great friend of Top Shelf, Keith Knight, wrote and asked us to help spread the word...
"My Knight Life characters are quietly doing the 'Hands Up/Don't Shoot' gesture all week long. It's my little way of showing support to those protesting.
"It started on Monday: The Knight Life by Keith Knight, December 22, 2014."


"And my latest post on Medium, a quick rundown of a few of the toons that are in my police brutality slideshow, is a top ten pick with 115 recommends on the site, They Shoot Black People, Don't They?"
Y'all have a real nice Christmas now, y'hear?!