More Courtroom Sketch Art
August 13, 2014
As promised, here are more of Wayne Shellabarger's terrific courtroom sketches.
(Read the first installment in this 3-part series here.)
From Kevin Bohahnis, writing in Sketch Art Monthly magazine"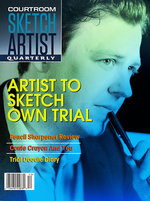 "Wayne achieved even greater renown within the courtroom sketch art community in 1999 when a hardware store owner in Omaha appealed his 1998 conviction of fraud and elder abuse on the grounds that his depiction by the courtroom sketch artist for the Omaha World Herald had made him "look like Liberace" and unfairly biased the jury of 9 men and 3 women against him. Though he didn't know Wayne's name, he gave clippings of Wayne's previous sketches to his attorney and asked that he petition the judge to assign Wayne to sketch his appeal. The judge denied his request, but this was the first and only known motion of its kind in the history of American courtroom sketch-related jurisprudence."