October 15, 2014
Webmaster (and ace cartoonist) Nate Beaty built our terrific website to incorporate custom artwork from the various authors we work with. It's really quite genius. With these recent updates, i wanted to show off some of this art sans the business of the actual website to distract the eye.
So feast yourselves dear readers on some truly sumptuous eye-candy.
• Here's three rough sketches and a final by Molly Ostertag, who worked with Brennan Lee Mulligan on the forthcoming title, Strong Female Protagonist. I have to say, choosing one of these sucked… they all kick ass, and i wanted to see them all in finished form.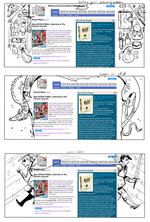 • Diana Thung turned in not one, but two sweet pieces for us. If you don't know Diana's outstanding comics, check out August Moon, and Splendour in the Snow, both gorgeous graphic novels with delightful storytelling.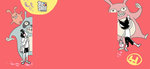 • Here's Sam Henderson's wonderful characters Bear and Man, in a typical sight gag. Sam's Scene But Not Heard is a delight.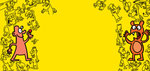 • Rob Harrell, whose Monster on the Hill is a fan favorite in this household (my 9-year old loves it!), did us a solid with this choice piece.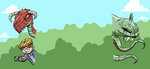 • And finally, for sheer art wizardry, it's hard not to love Eric Orchard's stunning work on Maddy Kettle. I mean, well… wow. Here's Maddy and her pals, cloud cartographers Harry and Silvio, plus a couple bonus illustrations of those misunderstood Spider Goblins.