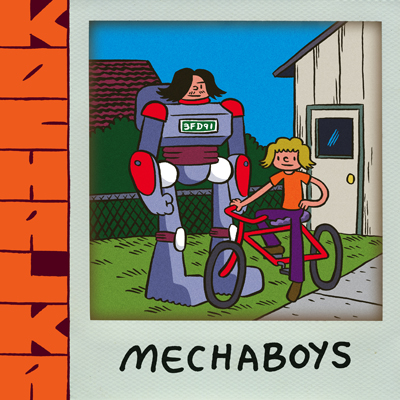 "Mechaboys feels like the return of an old friend... like the Linklater movie Dazed & Confused mixed with a garage-built robot battle suit. Pure Kochalka magic!" — Atomic Books
"Kochalka includes the standard high-school plot points—party in the woods, gym class rope-climb, an obnoxious bully, secret crushes, crass teenage repartee—but he deftly keeps it cliché-free." — Booklist
"A paean to awkward, high-drama teenage years, Mechaboys gains relevance from its deliberate echoing of school violence, while distancing its plot from the real-world horror of school shootings with its superhero comic book/cartoon elements." — School Library Journal's Good Comics for Kids
"Almost every panel or page could be framed and hung on a wall, or printed on a T-shirt." — Slings & Arrows
"The former cartoonist laureate of Vermont has made a triumphant return with his finest work since Monkey vs. Robot and the original run of SuperF*ckers." — Page 45
The key to success on prom night? Wearing the right suit.
Two lovable dirtbag teens, tired of being bullied, build a robot battle suit to take revenge on their entire high school. But they never expected to become… kind of popular?
Welcome to the love-child of Superbad, Carrie, Mean Girls, and Transformers. Experience the thrill of keg parties, gym class, bear attacks, first kisses, cafeteria trays, and car crashes… but with mechanical enhancement! It's an action-packed dark-comedy teen-romance for the ages, from Eisner-Award-winning cartoonist James Kochalka (American Elf, Johnny Boo, Glorkian Warrior). -- a 192-page softcover graphic novel with flaps (b&w interiors), 7" x 7"
Reviews
---
Related Titles