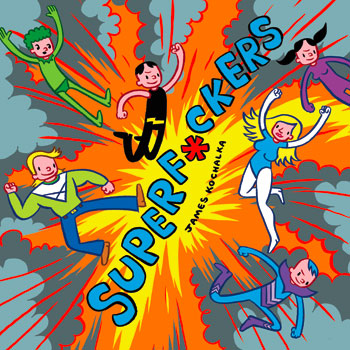 NOW AN ANIMATED SERIES!
Catch all 12 episodes and more on Cartoon Hangover.
"James Kochalka draws beautiful music." -- Nicholas Gurewitch, creator of The Perry Bible Fellowship
"[Kochalka] brings the joy back to comics." -- Frank Miller, creator of Sin City and 300
"Easily my favorite comic James Kochalka's ever done." -- Brandon Boyer, BoingBoing Offworld
"Sure to solve the oncoming energy crisis, Kochalka is an unrelenting force the world will find hard to deplete. ... SuperF*ckers, his unexpectedly adorably profane comic, refuses to leave any stick in the mud in a bad mood." -- Hi-Fructose
"Endearingly infantile... surprisingly poignant." -- The AV Club
"Probably the perfect superhero book, as it appeals as much to people who love superhero books as it does to people who absolutely hate them." -- J. Caleb Mozzocco, Las Vegas Weekly
"Secretly James Kochalka's best comic? Nah, that's not a secret." -- Joe "Jog" McCulloch, Comics Comics
SuperF*ckers collects all four fan-favorite issues of James Kochalka's beloved series, plus the all-new Jack Krak one-shot! Foul-mouthed, filthy-minded, and completely oblivious, these young "heroes" do everything BUT fight crime – they're too busy getting high, hazing the new kids, playing video games, scheming to be team leader, and designing new costumes.
A hilariously rude look at what super-powered teens would really be like, presented with Kochalka's signature sweetness and charm, SuperF*ckers is an over-the-top super-sitcom with its mind in the gutter and its heart on its sleeve. -- A 144-Page, Full-Color FLEXI-Cover Graphic Novel (8.5" x 8.5"), For Mature Readers (16+), Diamond: JAN10-1113
Reviews
---
Related Titles