Kim Dwinell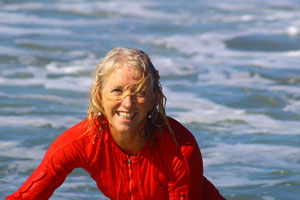 Kim Dwinell likes stories more than the beach. Almost. Maybe it's a tie. She first had a career as a beach lifeguard, and then a career in animation, and now combines her two loves in her first graphic novel series, Surfside Girls. She also teaches Animation at CSU Long Beach. When she's not in the classroom or at her desk, she might be running a 10K or out on the ocean in her boat or on her board. She lives on a tree-lined street in sunny Southern California with her husband, son and Springer Spaniel.
Reviews & Interviews
by Kim Dwinell
Splash into a new adventure with Sam & Jade in the graphic novel series that inspired the Apple TV+ show! Past and present collide with land and sea as the girls leave the mainland and strive to save the animals!
How did girls do anything dressed like this? Sam is cranky -- the Surfside Days …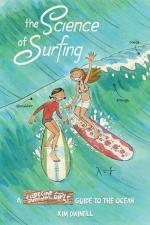 by Kim Dwinell
Soon to be an Apple TV+ series!
"This fun book contains lots of cool marine biology and oceanography tidbits for budding surfers… and future scientists! Surfing is an amazing way to enjoy the ocean, and the more you know, the better a guest you'll be to the wonderful creatures that live …
$9.99 (US)
$5.99 (US) DIGITAL
Details
ISBN 978-1-60309-494-8 - Diamond: MAR210453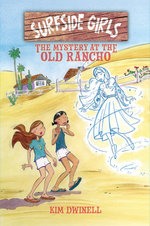 by Kim Dwinell
Soon to be an Apple TV+ series!
Sam and Jade are back! Get ready for more ghostly mysteries, beautiful beaches, cute boys, and wild adventures in this delightful full-color graphic novel.
When one of the ghosts from Danger Point gets… spooked, it's time for Sam and Jade to bring out the …
$14.99 (US)
$9.99 (US) DIGITAL
Details
ISBN 978-1-60309-447-4 - Diamond: FEB190753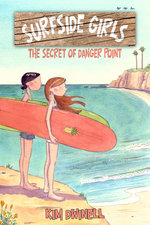 by Kim Dwinell
Now streaming on Apple TV+!
Silver Award Winner — PubWest Design Awards
"I loved this book! Surfside Girls is exactly what I wish all my summer vacations had been like. Now if you'll excuse me, I'm off to the beach!" — Janet Lee, Eisner-Award-winning artist of Return of the Dapper …
$14.99 (US)
$9.99 (US) DIGITAL
Details
ISBN 978-1-60309-411-5 - Diamond: APR170634