but I voted for you!
August 3, 2006
God bless Alex Robinson, ever the bridesmaid, never the bride. Well, that's not actually true. I'm talking here about The Eisner's, the Oscars of the comics industry (but without the glitz and glamour). Both Box Office Poison (in 2002) and Tricked were nominated for Best Original Graphic Novel … hands down THE Big award of the night … but alas...
Well fuck em' is say, Alex! What do "they" know anyway!
Alex DID win the Eisner a few years ago, for Talent Deserving of Wider Recognition. And deservedly so.
(Following are the pages from Alex's sketchbook, while we sat at the banquet eating stale chips and guacamole. Bravo!)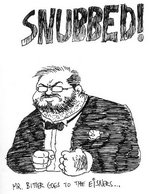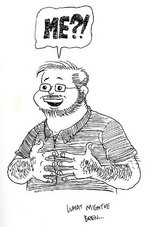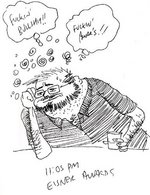 ••••••••••••••••••••••••••••••
In other news, James Kochalka is touring in support of his new album, so snap to attention, people!
"I'm going on a mini-tour to drum up interest in Spread Your Evil Wings and Fly. This tour will be acoustic-duo style James Kochalka Superstar... just me and my guitarist Jason X-12."
Fri 8/25 CAMBRIDGE, MA -- Middle East upstairs, 472 Mass. Ave. * w/ Neil Hamburger, Morgan Murphy, World's Greatest Sinners * JKS/X-12 on first @ 9pm!! * http://www.mideastclub.com
Sat 8/26 PHILADELPHIA, PA -- Tritone, 1508 South Street * other acts, set times TBA * http://www.tritonebar.com
Sun 8/27 NEW YORK, NY -- Cake Shop, 152 Ludlow St. (btwn Stanton & Rivington) * w/ Monsterface, Dream Bitches * show starts early !! 7pm * http://www.cake-shop.com/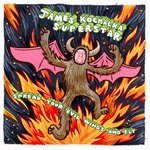 Rock!!