san diego booty
July 31, 2006
I didn't score nearly as many books as i usually do at San Diego ComiCon, but i did come away with a few assorted gems.
First and foremost, my most favoritest find, by far, was an unassuming sketchbook, found just across the isle in Sam Hiti's modest little booth. It's called Ghoulash, and holy shit is this some of the most incredible work to come out of the U.S. in a long long while.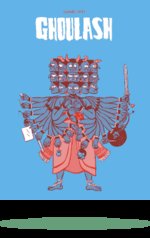 Actually, to call it a mere sketchbook is not accurate. While each image in the book is standalone, the renditions are fully realized, in a gorgeous lush style. There are many influences i see, including European ink-studs like the French Beaudoin and Blutch, and the Spanish Max. From North America i see maybe shades of Jay Stephens, Paul Pope, Mignola and perhaps even Bruce Timm.
But Sam's work is entirely his own, and the depth of his imagination is just huge; bordering on Kirbyesque even. At least visually. If there is one weakness to my mind, in Hiti's work, it's that he lacks the narrative focus (for now) to create a truly timeless piece of graphic fiction. (This is not dissimilar to Pope's work. And like Pope, the very prowess of his visuals can and does carry a weak story.)
His last big book, End Times: Tiempos Finales, is literally a visual tour de force, and yet ultimately it's just not very affecting as a narrative. A good story editor might go a long way in helping Hiti better understand the nuts & bolts of timing, story logic, etc.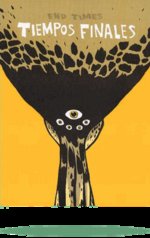 Still, i think Sam has the gift, and has the potential to become on the stars in the firmament of greats. I'd give my left pinky to publish virtually anything he touches. (Sam, do you have any need for a severed pinky finger?)