woof! woof!
June 26, 2006
The entire family here at Casa de Warnock has been sick like dogs. A freaky virus that has every one of us exhibiting different symptoms, in addition to a few shared. Add to this our old house (with NO air conditioning) and 100º days, and it's the outright Portland Misery Festival right here. Whoo hoo!
That said, i have been working with Chris to wrap up the new edition of From Hell and get it to the printer. So not all is lost.
I did read a new(ish) comic a couple days ago, and it's a doozy. I'm talking of course of Kevin Huizenga's OR ELSE Vol. 4, published by the great Drawn & Quarterly. And it's yet another gem, from one of the most under-rated cartoonist working today. Kevin is (or was... maybe he's moved?) part of a thriving comics collective in St. Louis, which includes a number of stellar talents, including Dan Zettwoch and Ted May.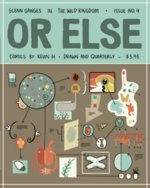 Where most reviewers focus on Huizenga's command of his formal skills, and how he applies them to the stories he tells, i'm actually more drawn into his work for his ability to capture small moments; his ability to convey a palpable mood and setting that feels like you've been transported right there. He's been doing this for years, going way back to his formative mini-comic, Supermonster.
In other news, i must say my inner geek is totally fired-up to find a postcard at MoCCA announcing the release of the long-awaited, previously defunct fantasy anthology edited by Jeffrey Brown, called Elfworld. The buzz around this book has been big for years, and knowing that it's coming out warms the cockles. It's being published by a newer outfit called Family Style.