March 16, 2008
• Digging into my to-read pile, i pulled out some absolute gems. (I'm all for reading critical reviews, but as limited as my time is, i'd rather be a booster for the good stuff... so sue me.)
So i met ink-slinger Shannon Gerard at TCAF (Toronto) this last Summer, and picked up her three issue run of a comic book called Hung. Number one was pretty good, but it seemed fairly developmental; maybe unsure of what it wanted to be.
But by issues 2 & 3 Shannon had developed considerably, and found a style that in my humble opinion is sublime. These two issues are powerful, touching, and painfully human. The photorealistic pencil art is terrific, and formally, she understands how to use a "comics" page to wonderful affect.
These comics come VERY highly recommended, and can be found at Shannon's website, which is a marvel of tasteful design in and of itself.
Oooh, Shannon just responded to my email to her, with this: "...It's so great when someone who knows what he is talking about likes my work!
"And it is always meaningful to me when people connect with the human part of the stories. It's really amazing how many people end up telling me their own stories in return. Sigh.
"Yeah, my goodness but I am embarrassed by Hung 1 now, but I think that is a good thing. Better than never evolving. I have a couple hundred copies of that book that I didn't know what to do with, so I have started screenprinting another story over top of them. It's about older relationships-- some early loves that came along which I just wasn't ready for and blew it-- well the early drawings seemed like a good metaphor for that. And piling up two layers of drawings and writing is working out pretty nicely. Images attached.
"By September I am really hoping to bind the three comics together with the new overprinted #1 serving as a #4. I'll also include some interstitial stories and a nifty hand printed cover and sell the lot as a paperback in a limited edition."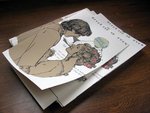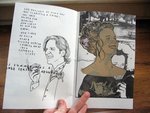 • Bryan Lee O'Malley is a comics god. No, really. Scott Pilgrim #4 kicked my ass, and this is possible one of the greatest comic book series of all time. O'Malley makes an old fart like me (42 years old) not just enjoy & understand a comics narrative using extremely youthful themes and references, but he makes me feel welcome to the party as well. This is serious hard to pull off. Man, i look at "youth" culture today, and for the most part, i just don't give a shit. But in Scott Pilgrim, he taps into universal ideas and human experiences, all the while spinning the craziest yarn. I know there's a lot of comics elite who look down on this comic, and they can all kiss my ass.
Published by my sometimes pals at Oni Press. (Sometimes because they're near-impossible to reach.)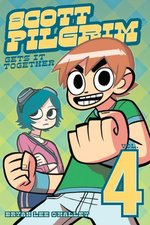 • Hate Annual #7 made its way into my hands from The Pile. Bagge just keeps aging oh so well. I love how Buddy and crew are aging. Besides being just fucking funny as hell and true to character, there's a naturalism at work in the development of the family. I'm looking forward to watching wee Harold grow up, big time! Hate is published by — duh... Fantagraphics.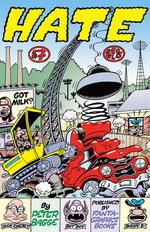 • What is groovy as heck. Beatnik banter. Sexy teen superheroes. Double entendres and erotic visual cues. An patently absurd lot, but remains charming and fun. John F. Kennedy. Alien worlds with pop-art deco on Dali-painted architecture. Fabulous bad-guy mods. Shapeshifters, and an anti-war theme.
Hint: It's written by DC legend Bob Haney. (In fact, i think this was his last published work, but i could be wrong.) Pencils by Jay (Sin) Stevens and inks by Mike (Madman) Allred. And for the icing on the cake, a sweet Nick Cardy cover for dessert.
Why, the Teen Titans Lost Annual of course! Loved this!! Love it love it love it!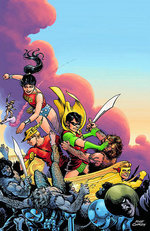 • On the lit front, i've also just finished the first novel i've read since last Summer. Willy Vlautin, lead singer and songwriter for the incredible band Richmond Fontaine, delivers a devastating portrait of a young woman, trying to escape her past, and reinvent herself in his second novel Northline. It's not a new story. What Willy brings to the table though is a gut-wrenching authenticity and a straight forward writing style that gets under the skin. His last book, The Motel Life had a story and characters that to this day stay with me, and Allison from Northline will likely do the same.
The edition have is from his British publisher Faber & Faber, and again, as with The Motel Life, feature superb production and great art from Nate Beaty.The U.S. edition from Harper Perennial is slated for a May release, and also sports of pretty cool cover.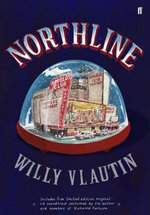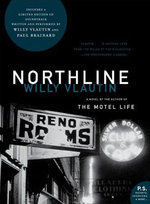 • Here's a nifty how-to page by Corey Barba. His new YAM book has almost been put to bed, and will head to the printer shortly.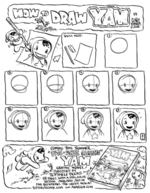 • Oh, and this sounds awesome! I've been wanting to visit Minneapolis for forever and a day. One of these days...