comics lifestyle...
February 13, 2008
a new update from John Weeks in Cambodia, at his fabulous Comics Lifestyle blog.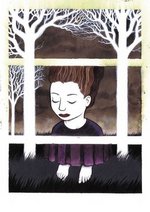 • Craig Thompson hits yet another one out of the park. (Of course.) Here is this year's Stumptown Comics Fest poster. Take note: Stumptown has moved up from it's early Winter time frame, to April 26 and 27, filling the void of APE's Spring engagement.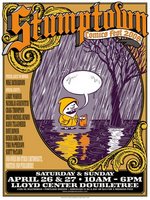 • Here's an insanely cool image i lifted from the Comics Alliance website, drawn by Eric Tan, for a benefit for The Hero Initiative, organized by Golden Apple Comics. All part of an event called Under the Influence: A Tribute to Stan Lee.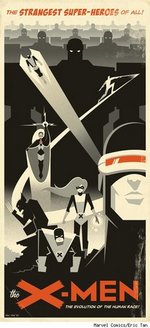 • Sadly, i heard through the grapevine that John Anderson's Comics Alliance website is now defunct. You can find stuff still archived there, and i really hope these stay available. Our little world of comics is so small, that a site like this that contributed a great deal to our community in such a short period of time should live on, at least in archival form. Big ups to John and all the contributors to the site, including Kevin Panetta, Ian Sattler, Greg Bennett, Wayne Beamer, et al.
• Scott Campbell continues to produce astounding work.
Here is his "alternative" cover art for the upcoming dvd release of King of Kong,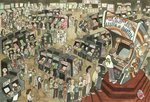 This motherfucker can draw, baby!! Check out his blog for more happenings.
From the same deranged group of killer cartoonists, here is Nathan Stapley's cover for the new issue of the anthology Hickee.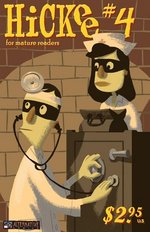 • Issue #3 of Marc Mason's Comics Waiting Room is now live, and worth a visit!
• Tom Hart's Hutch Own comic strip is fucking AWESOME! So much so, i heartily recommend it for nothing less than a Harvey nomination!! Check out this sampler page he made, to see more.


Tom writes, "Here you'll see some recent developments like the Rockabilly Kid, Rebelville, Hutch Owen in France, the Dalai Lama goes commercial and the outsourcing to India and China of the writing of TV shows... And also what is currently running and begins today - a long story about a furry mascot ("The Unpajamable Snowman") that morphs into a couple different types of monsters, then goes and wrecks the white house and... well, that you'll have to read in real time."
Download the Harvey Ballot here.
• Clearing out server space as well as my over-crowded desktop.. more random stuff...
Here's another old Christmas card from Center for Cartoon Studies. I think it's by Rich Tommaso.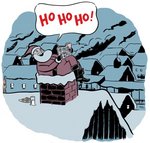 Pencils of an old pin-up (is that Big Barda?) from Dean Haspiel.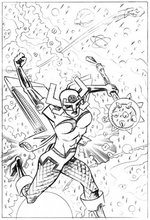 A beautiful cover for a Spanish-language edition of Dylan Horrocks' seminal Hicksville.