April 16, 2008
James Kochalka is expanding his American Elf archives in a big way. 2008 marks the 10th Anniversary of James' massive daily diary comic strip undertaking! And while, yes, i'm the publisher of this work, believe me when i tell you, this is some of the most profound comics work anywhere.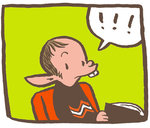 • David Chelsea's most recent 24-Hour comic, titled "Now Open the Box" (and which we'll be posting right here on our revamped webcomics section in a couple weeks or so), is based on a New York Times column for which he provided an illustration, by "Modern Love" author Lori Jakiela.
• Finished reading Comic Foundry #2. (The Spring 2008 issue.) Boy i really really dig this mag. I hope their efforts to gain mainstream newsstand acceptance succeed. The feature interview with Matt Fraction was pretty good. In fact, it made me go back and start over reading the first Iron Fist trade paperback that i'd picked up on good buzz, and honestly couldn't get into. (See review below.)
I do like the staccato nature of the contents — understanding the limited attention span of most Americans — but i'd like to see at least a couple more meatier features; whether that be interviews, series overviews, or what have you.
• Sat down then and read the new Immortal Iron Fist tpb mentioned above, titled "The Last Iron Fist Story." First, what i didn't like AT ALL, and the reason i couldn't get into it on the first attempt; Fractions use of voice-over narrative is not just not good, it's horrible. Especially the way that he starts a sentence at the top of one page, and doesn't finish it until 2 pages later or more. Of course, he's not as bad as Jeff Loeb, who uses this cliched narrative device to horrible affect, but really, this is an old comics convention that i think for the most part has served it's purpose, and — except when truly important to the story at hand — should be left alone. (I wonder if this is part of the advice that Ed Brubaker imparted to Matt, as alluded to in the aforementioned Comic Foundry interview.)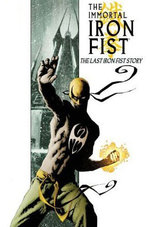 That said, i dove in and suffered through the narration, and i can happily say i'm glad i gave this book a second chance, Because overall it kicks some serious ass. The story itself rocks, and utilizes flashbacks to good effect, while the dialog is snappy and fun. I don't know enough of the Iron Fist backstory to know if this is a major ret-con, but it read so clearly that i didn't care.
And the art by one David Aja is simply amazing. Fluid and stylistic, with clear storytelling (something so many of today's HOT artists are clueless about — and shame on their editors for not correcting this), this is one relative newcomer that i'll totally be keeping my eye on. I read recently that a new writer/artist team is taking over on this book soon; i can only hope that Matt, Ed, and David have a chance to wrap up their storyline with a definitive conclusion. (And that the whole run eventually winds up in one of the bitchin' oversized hardcovers Marvel has been doing with popular books.)
• This sounds cool as heck! I wish i was in Seattle this Thursday.
Thursday evening at 7:00 PM, Fantagraphics Bookstore & Gallery's resident curator Larry Reid will speak at the Frye Art Museum, 704 Terry Avenue in Seattle. Reid will present a slide lecture on the topic "WEIRDOS: Seattle's Alternative Comics Culture in the Context of R. Crumb's Underground." If you have yet to see the phenomenal Crumb exhibition at the Frye, this represents one of the last opportunities to view this comprehensive collection and explore Crumb's considerable influence on comics in the Northwest. Admission is free. Reid assures us that you'll get your money's worth. More info at 206.622.9250.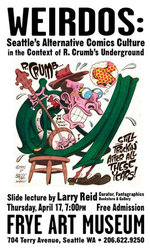 • Finally, here's James Kochalka's brand new cover art for a repriint of his kid's book Pinky & Stinky.