jeff lemire loves the capes!
March 13, 2008
• Here's some terrific Kirby Love, in a pin-up featuring Kamandi, Sandman, OMAC, and The Demon. Thanks for sending this my way, Mr. Jeff Lemire.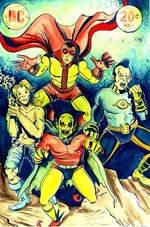 • Wish i could attend this event!
From the desk of Eric Reynolds at Fantagraphics.
"THE FUN NEVER STOPS!" WITH DREW FRIEDMAN:
FANTAGRAPHICS BOOKSTORE & GALLERY IN SEATTLE, OPENING MARCH 27.
"Drew Friedman isn't just a brilliant artist. He takes you to a place. He takes you back in time. He makes you smell the stale cigarettes and cold brisket and you say thank you for the pleasure." — Sarah Silverman
Drew Friedman is among the most notorious illustrators and cartoonists in America. According to Entertainment Weekly, "He holds a marvelously warped lens up to crusty politicians and debauched celebrities. A good-natured misanthrope with an obsessive style and a sardonic tongue, Drew Friedman is one of the country's sharper political artists." Freidman will appear in Seattle for the first time at Fantagraphics Bookstore & Gallery for a book signing and exhibition of his original artwork on Thursday, March 27 from 5:00 to 8:00 PM.
"The Fun Never Stops!" exhibition features 17 portraits meticulously rendered in Friedman's singular style. Included are political figures such as "McCain as Popeye," "John Kerry's Inauguration," and "Really Rich Rudy" as well as pop culture icons like Frank Sinatra, Woody Allen, and Alfred E. Newman. In addition, Fantagraphics Books produced a limited edition silkscreen print featuring George W. Bush as Slim Pickens in the apocalyptic finale to "Dr. Strangelove." Friedman's portraits are alternately savage satires or reverential renderings – and frequently both, as in his series of "Old Jewish Comedians," recently published in two volumes by Fantagraphics Books.
Friedman's illustrious career has included comics work published in Art Spiegelman's RAW, R. Crumb's Weirdo and MAD Magazine, and frequent illustrations in National Lampoon, the New York Times, the New York Observer, among countless other publications. He was the recipient of the 2001 Rueben Award for newspaper illustration. Friedman's work has been collected by Seattle's Fantagraphics Books in The Fun Never Stops!: An Anthology of Comic Art 1991 – 2006, Old Jewish Comedians, MORE Old Jewish Comedians, and Warts and All.
Opening Reception and Book signing
Thursday, March 27, 5:00 – 8:00 PM
Fantagraphics Bookstore & Gallery
1201 S. Vale St. (at Airport Way S.)
Seattle, WA 206.658.0110