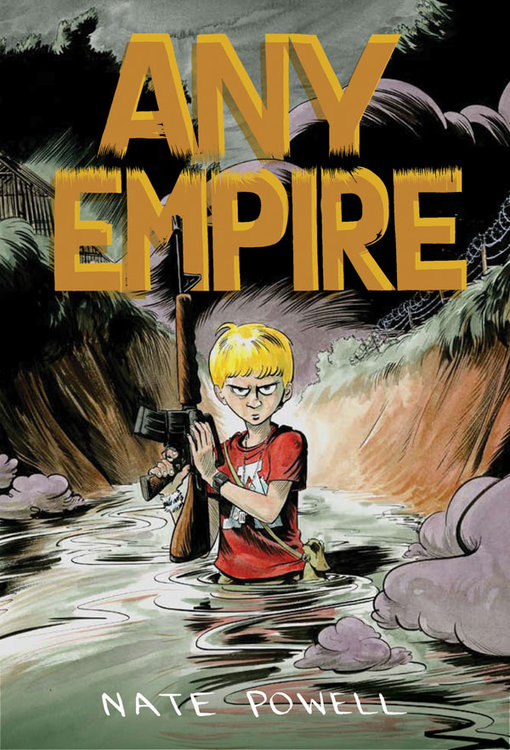 Named one of the best graphic novels of the year by Booklist, The AV Club, Comic Book Resources, Complex, and Graphic Novel Reporter!
"The most prodigiously talented graphic novelist of his [generation] ... Powell's exceptional visual-storytelling gift transforms a potentially obvious antiwar parable into a ravishingly beautiful, emotionally resonant, thoughtful, and provocative work of art." -- Booklist (starred review)
"Vivid and imaginative... The timely, innovative storytelling and captivating artwork should particularly appeal to fans of Craig Thompson's Blankets and David Small's Stitches. Highly recommended for both adults and young adults." -- Library Journal (starred review)
"Any Empire by Nate Powell is everything a graphic novel should be, and few are. Spare, to the point dialog, fluid and effortless visual storytelling devoid of pretensions, and a story with characters that stick with you. I very rarely read graphic novels because I usually can't get past the first few pages. but Any Empire drew me in from the start and didn't let up." -- Larry Hama, author of GI Joe comics since 1982
"At times poignant, at at others surreal, Any Empire is an engaging, never preachy work about childhood, centering on those secret currents that define our youthful rivalries and the games we play." -- MTV Geek
"We've all experienced the world's endless cycle of innocence shattered, and Powell renders it all in lovely chiaroscuro... he crafts memorable and heartfelt characters that linger in the mind and scar the heart." -- Under the Radar
Nate Powell, hailed by the London Times as "a writer-artist of genius," is back.
His new book, Any Empire, is a vivid examination of war and violence, and their trickle-down effects on middle America. First, a group of small-town kids find themselves bound together by geography, boredom, and a string of mysterious turtle mutilations. Years later, with Army tanks rolling through the streets of their hometown, these young adults are forced to confront painful questions of privilege, duty, betrayal, and courage.
Any Empire recalls aimless summers of Nancy Drew and GI Joe, treehouses and army surplus stores... but when fantasy starts to bleed into reality, whose mission will be accomplished? -- a 304-page deluxe hardcover graphic novel, 6.5" x 9.5", Diamond: MAY11-1196
ENLIST TODAY IN THE NEXT GREAT BOOK FROM THE AUTHOR OF SWALLOW ME WHOLE, 2009 EISNER AWARD WINNER FOR BEST GRAPHIC NOVEL!
Video trailer below, featuring music by the bands Tracker (who were responsible for the Blankets soundtrack album) and Universe (featuring Nate Powell himself)!
Reviews
---
Related Titles