July 3, 2011 / More →
over at Comic Book Resources.
• Greg Ruth rocks a sweet, FREE download called Logs I Have Known.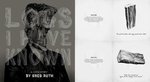 As a budding tree geek myself, as well as a big fan of Greg's awesome lush artwork, this is kind of blowing my mind.
• My pal Mike Baehr up at Fantagraphics sent me this screen-grab, from Conan O'Brian. He wrote, "Just caught this on my DVR. Every episode has a jokey episode title -- I don't know if this was a deliberate Kochalka reference, but it's pretty cool!"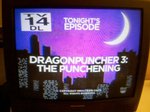 ---
June 30, 2011 / More →
a tres chic short film about him and his work. If you haven't read it yet, folks, Lucille is a wonderfully compelling and emotionally resonate graphic novel.
---
June 20, 2011 / More →
has a super fun blog post called Color Chart of Yore, explaining the relatively simple color charts used in the comics i grew up with, and commenting on the abuse of color in contemporary comics.
• I recently set up my friend Barbara [copy-writer deluxe, film buff, and furniture refurbisher] with a set of Top Shelf Kids Club comics and Owly plushie to give to her daughter Hayden. These adorable pics attest to her response, and can i just say, make the hard days in this industry worth it all.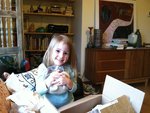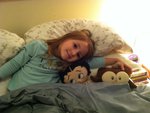 ---
June 16, 2011 / More →
is launching a new publishing house called Retrofit, "specifically to publish short, cheap, stapled ALTERNATIVE comics a la Drawn and Quarterly in the 90's." They're going Kickstarter to get this off the ground... learn more here.
Contributing authors include: James Kochalka, Colleen Frakes, Pat Aulisio, Josh Bayer, Corinne Mucha, Joe Decie, Tom Hart, Liz Baillie, Chuck Forsman, John Martz, L. Nichols, Nathan Schreiber, Noah Van Sciver, Ian Harker, Jason Turner, Sally Madden, Brendan Leach
---
June 12, 2011 / More →
is schedule for a September release, is featured on the Babeland website. That's awesome. Jennifer writes:
"Back story: I did this comic for my strip S'Crapbook on Only The Blog Knows Brooklyn. This one was about my reading at "Edgy Mom's Nite", which was organized in part by OTBKB (and where every scrap of paper I brought along--postcards, business cards, flyers, and minicomics--disappeared by the time I left!). The event involved some items from famed sex toy store Babeland, and OTBKB sent the comic to them, and they put it on their website. Ha!"
• Diana Schutz is interviewed by Patrick Rosenkranz at the Comics Journal. Diana and Bob Schreck are two of the most influential people in my comics career. Diana, you rule! XOXO.
• My pal Ben Saunders' new book, Do The Gods Wear Capes?: Spirituality, Fantasy, and Superheroes, is now up for pre-sale on Amazon.
And check out this swell Mike Allred cover!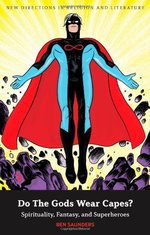 ---