Justin Eisinger
Justin Eisinger is Editorial Director, Graphic Novels & Collections for IDW Publishing, where he has spent more than twelve years immersed in graphic storytelling. Following a fateful encounter with March author and Civil Rights pioneer Congressman John Lewis, Eisinger turned his experience adapting television episodes and film for properties such as My Little Pony, Transformers, and Teenage Mutant Ninja Turtles towards bringing engaging non-fiction stories to readers. Born in Akron, Ohio, Eisinger lives in San Diego, California, with his wife and two dogs, and in his spare time publishes North America's only inline skating magazine.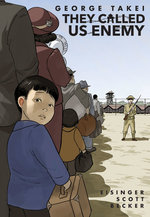 by George Takei, Justin Eisinger, Steven Scott, and Harmony Becker
A New York Times Bestseller!
Winner of the 2020 Asian/Pacific American Award for Young Adult Literature!
Named one of the Best Books of the Year by Amazon, NPR, New York Public Library, School Library Journal, Publishers Weekly, Kirkus Reviews, IGN, and Forbes!
Selected by the LA Times Book Club …
by Harmony Becker and Justin Eisinger and Steven Scott and George Takei
The New York Times bestselling graphic memoir from actor/author/activist George Takei returns in a deluxe hardcover edition with bonus material! Experience the forces that shaped an American icon -- and America itself -- in this gripping tale of courage, country, loyalty, and love.
George Takei …
Details
ISBN 978-1-60309-470-2 - Diamond: FEB200687