Justin Eisinger
Justin Eisinger is Editorial Director, Graphic Novels & Collections for IDW Publishing, where he has spent more than twelve years immersed in graphic storytelling. Following a fateful encounter with March author and Civil Rights pioneer Congressman John Lewis, Eisinger turned his experience adapting television episodes and film for properties such as My Little Pony, Transformers, and Teenage Mutant Ninja Turtles towards bringing engaging non-fiction stories to readers. Born in Akron, Ohio, Eisinger lives in San Diego, California, with his wife and two dogs, and in his spare time publishes North America's only inline skating magazine.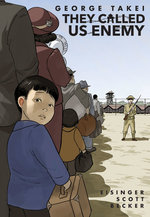 by George Takei, Justin Eisinger, Steven Scott, and Harmony Becker
A New York Times Bestseller!
Named one of the Best Books of the Year by Amazon, NPR, New York Public Library, School Library Journal, Publishers Weekly, Kirkus Reviews, IGN, and Forbes!
Selected by the LA Times Book Club — check out their discussion guide!
In a stunning graphic memoir, …