Harmony Becker
Harmony Becker is an artist and illustrator. She is the creator of the comics Himawari Share, Love Potion, and Anemone and Catharus. She is a member of a multicultural family and has spent time living in South Korea and Japan. Her work often deals with the theme of the language barrier and how it shapes people and their relationships. She currently lives in Columbus, Ohio.
Reviews & Interviews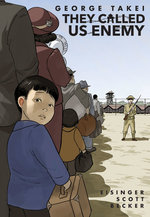 by George Takei, Justin Eisinger, Steven Scott, and Harmony Becker
A New York Times Bestseller!
Selected by the LA Times Book Club — check out their discussion guide!
In a stunning graphic memoir, actor/author/activist George Takei revisits his haunting childhood in American concentration camps, as one of 120,000 Japanese Americans imprisoned by the U.S. …