January 3, 2009 / More →
Just when a couple feet of snow melted from the last storm, the West Coast headquarters here in Portland got dumped on again last night. Then, driving around today i was pelted by a brutal shower of hailstones. Yeesh!
So, in any case, as per usual this time of year, it's been a slow week. Not much to report, except that almost twenty years after the fact i felt obligated to finally watch the highly touted television show Twin Peaks. (Spurred by my budding interest in episodic entertainment, rooted in a desire to create/oversee various iterations of web-specific content.) I'm roughly halfway done, and to be honest i was expecting to loath this. Well hellfire, anyway, but i love this so far! All of the noise i heard at the time about it being weird for weird's sake is downright wrong. Granted, it may have been complex for its time, but if anything, it may have been a blueprint for the currently hot trend of meta-television. That is, shows that take an entire season (or more) to tell a story. Kyle MacLachlan as the unflappable Special Agent Dale Cooper is a freaking hero for the ages. The rest of the cast, and the characters they play are spot-on. Plot unfolds at rapid pace, as the whodunit rolls along, all the while characters making growth from episode to episode. What really boggles, however, and something i don't associate with David Lynch, is the heart and triumph of the human spirit that shines through. Wow. Ahead of its time.
• Meanwhile, Top Shelf veteran David Yurkovich has recently self-published volume 2 of his superhero rumination Altercations. Altercations volume 1 was the very first book i ever read in the Yurkoverse, and i became an instant fan, thereafter publishing two collections of (remastered) previous material. It's terrific to see this finally complete, and i'm stoked to read it. If you like you men-in-tights flavored with a serious dose of humor and weird, check this out. Available at Indy Planet or by way of his own site, Sleeping Giant.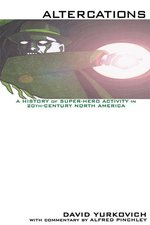 • And here is a bitchin' Batman illustration nabbed from Lukas Ketner's blog. This guy can draw. DIg this, and spread the good word.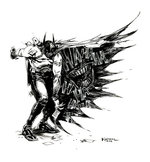 • I'm out. Y'all have one hella kick-ass 2009!
---
December 24, 2008 / More →
Randy Meyers' Top Ten Graphic Lit books for 2008, at Contra Costa Times.
• Some recent holiday cards.
Center for Cartoon Studies sent their new holiday card, courtesy of James Sturm, art by Chris Wright.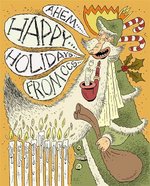 Bill Kelter and Wayne Shellabarger. Read about the genesis of this timeless piece at the Veeps blog.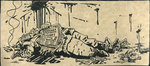 • Top Shelf alumnus Rich Koslowski is interviewed at Newsarama!
• Stripburger News!
The 48th issue of Stripburger features two special sections.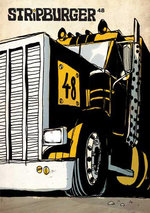 The first one introduces us to Dongery, a group of comics artists from Norway (Bendik Kaltenborn, Flu Hartberg, Sindre Goksoyr and Kristoffer Kjolberg).
The second sections reveals one of the youngest comics scene in Europe - that of Latvia (Anete Melece, Kaspars Groshevs and Ingrida Picukane). Also in the focus of this issue is Marco Corona, perhaps one of the most intriguing Italian cartoonists at this moment. Corona was interviewed by Paola Bristot.
Stripburger no. 48 also boasts an unusually high percentage of Slovene authors. Domen Finzgar makes his debut in this issue, while Damijan Sovec returns after a long absence with a series of travel comics. Other highlights of the issue include works by Olive Booger (France), Janek Koza (Poland), Tea Hvala (Slovenia), Gasper Rus (Slovenia) and the duo of Matej Lavrencic and Koco (Slovenia), to name just a few of them.
• B.ü.L.b comix, a non-profit making publishing house for independant graphic novels and comix based in Geneva, Switzerland, has just launched version 2.0 of the website and thought you'd be interested to visit it.
---
December 17, 2008 / More →
Top 100 People of 2008 list! Big ups, Alex!
• James Kochalka interviewed by Giant Robot, for his third Little Paintings show.
• Libby Egan took this snap while in Minneapolis over the Summer. Top Shelf love is everywhere!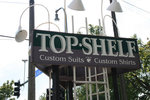 Thanks, Libby!
• A bitchin' Wolverine piece from Matt Kindt. Damn, i work with some kick-ass peeps.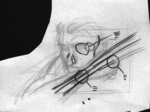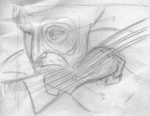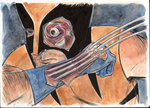 • Here's a first round of cover comps for the collected Essex County Trilogy, by Jeff Lemire, and designed by Jeff and Matt Kindt.


• More new Soap Lady art from Renee French.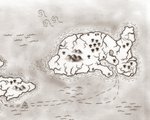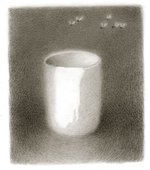 • Man, i sure won't miss THESE ass-holes.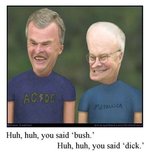 ---
December 9, 2008 / More →
i highly recommend attending the re-opening of Guapo Comics. They moved a couple blocks away, and are back in business. But wait, there's more!... This Saturday, Guapo Comics & Coffee celebrates the re-opening at their new location, along with a graphic novel release party for local cartoonists Jesse Reklaw (The Night of Your Life), Nicole Georges (Invincible Summer volume II), and Theo Ellsworth (Capacity). Joining them will be Julia Gfrörer, John Isaacson, and Sean Christensen for multimedia cartoonist readings, live drawing, and a comics social. Experience cutting edge comics on the crossroads of the strange yet personal -- the everyday fantastic -- what can only be described as the funhouse mirror of your lucid deja vu re-enacted for your pleasure. Plus an art show, book signing, beer, and cookies.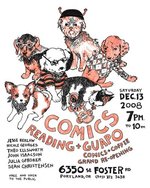 ---
December 7, 2008 / More →
Topic of discussion — his brilliantly conceived and executed Library of American Comics. Terry and the Pirates, Little Orphan Annie, and Scorchy Smith have all seen gorgeous treatments (arguably the best ever) and starting soon, Dean will take over the Dick Tracy reprint series, and enlarge its size, bringing it up the the Terry book dimensions.
We live in a new Golden Age of classic comic strip reprints people (see also: Popeye, Peanuts, Dennis the Menace and Jules Feiffer from Fantagraphics; Walt and Skeezix from D & Q; Little Nemo, Little Sammy Sneeze, and Walt and Skeezix Color Sundays, from Sunday Press). We should all be thankful.
• I really dig the tiny little boutique here in Portland called Tender Loving Empire. Not only do they sell lots of nifty hand-made crafts and shit, but they create and produce cool stuff as well. AND they are a commercial screen-printing outfit as well.
You could do worse than visit their store (or the website, if you don't live in Portland), while you gift-shopping for your hipster friends.
Art by Andrew Sloan.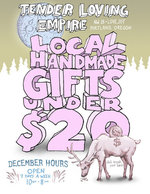 Two books come especially highly recommended: Mike Bertino's Pinwheel, and the anthology Shitbeems On The Loose, featuring the likes of Luke Ramsey, Mike Bertino, Drew Beckmeyer, Ron Rege jr, Brent Harada, Hector Serna, jr., Thomas Crawford, Rusty Jordan, Matt Furie, Dave Nuss, RobynJordan, and Grant Reynolds.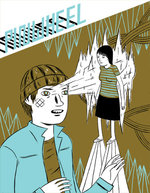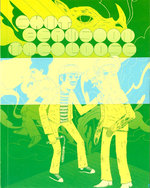 • And another new drawing for the forthcoming, revamped Soap Lady reprint.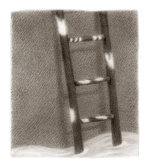 • LOVE it!!

---
December 2, 2008 / More →
sometime in 2009.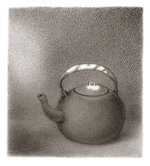 Tom McLean has left the Bags & Boards blog for Variety dot com. Bummer. But he's keeping the name and blogging on his own now, free from the constraints of his corporate masters. Whoo hoo! Tom knows his shit, people, so bookmark this site pronto. His links list alone is a marvel.
• Super-wonk Bill Kelter is back to his blogerific ways on the Veeps blog, after a brief post-election hiatus. And he delivers the goods, as always.
• NPR: Five Hefty Tomes to See You Through Your Turkey Coma. Almost a week late, but cool to see three of five NPR picks being Top Shelf fare: From Hell, Blankets, and Box Office Poison.
---
November 25, 2008 / More →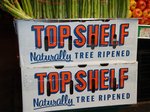 • Top Shelf 2.0 contributor Stef Lenk is part of a launch party to celebrate her new comic, Tea Time #2.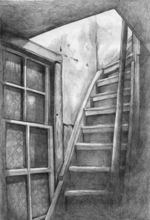 LAUNCH! TeaTime 2 and Brick Literary Journal 82: high literature, visual oddities, and gratuitous drinking at Mitzi's Sister.
1554 Queen Street West, Toronto, Ontario
Wednesday the 3rd December (doors at 7.30)
There will be readings and excellent company and drinks and books for sale too. As always, friends, strangers, and those appreciative of oddities are all welcome.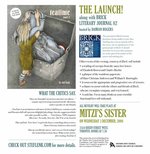 ---
November 15, 2008 / More →
These were snapped on my camera at San Diego this last Summer.
(Matt. Creature from the Black Lagoon.)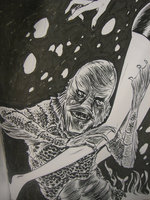 (Matt. Seven Soldiers of Victory.)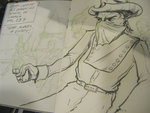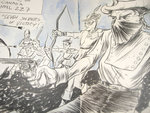 (Matt. Starman.)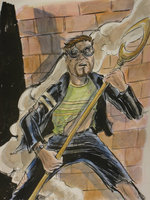 (Matt. Mitch Pistolwhip.)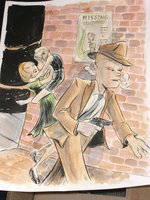 (Matt. The Bride, from Kill Bill.)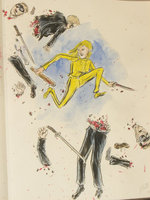 (Matt. Havoc, from The X-Men.)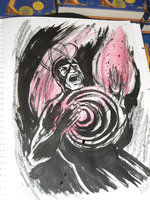 (Jeff. Steeplechase, from The Surrogates.)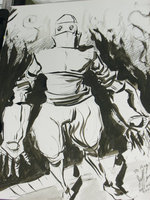 (Jeff. Tin Tin.)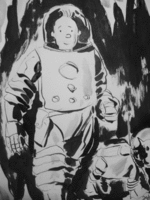 (Jeff. Deadman... Jeff gave me this one! Whoo hoo!)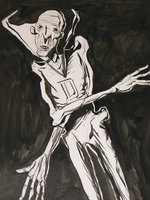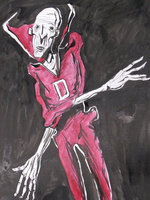 • Bwana Spoons' new Cosmos Killer toy!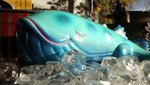 • Max Estes is having a Christmas Sale at his website, Made By Max.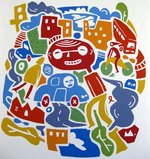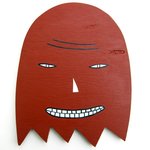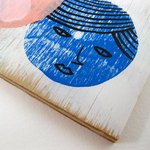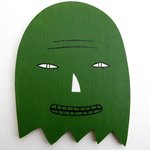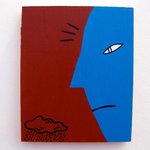 ---
November 11, 2008 / More →
Giant Robot L.A. That's correct y'all.
Little Paintings 3 at GR2
November 15 - December 10
Reception: Saturday, November 15, 6:30 -10:00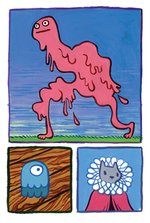 Giant Robot 2. 2062 Sawtelle Blvd. Los Angeles, CA 90025. gr2.net. (310) 445-9276
Indie cartoonist James Kochalka is well known for having a raw, humorous, and powerful style and prolific pace; he draws one diary strip a day for his Web site, and still manages to create an ever-growing catalog of graphic novels. His range extends from the autobiographical (American Elf) to kid-friendly (Johnny Boo) to serious (The Cute Manifesto) to raunchy (SuperF*ckers) to iconic (Monkey vs. Robot). His comix work has won four Ignatz awards and one Harvey award. He is widely regarded as the inventor of the daily-diary comic strip, and has inspired countless younger artists.
The Burlington, VT-based artist has also released several CDs with his band, James Kochalka Superstar. His song "Britney's Silver Can" was named one of the 100 best songs of 2006 by Rolling Stone, and his song "Hockey Monkey" was used as the theme song for the Fox television sitcom The Loop.
For Little Paintings 3, Kochalka is supplementing his acrylic 2" x 2" paintings on 3" x 3" paper with a few that are comparatively large. "There are a few that are 4" x 4" and some that are 6" x 6". Still little compared with the rest of the paintings of the world, but they'll feel giant in the context of my world," he says. Some recurring themes include royal cats, adventurous blobs, and tumors, happy apples, and crazy worms.
The multitude will not be framed but are quite suitable for framing. "I'm kind of against posters. I think people should have real art made by real human hands in their homes" Kochalka says of his small and affordably priced paintings.
A reception from 6:30 to 10:00 on Saturday, November 15 will include a special performance of music composed by the artist on his Game Boy.
• Going back to APE, the weekend before the election (Whoo hoo OBAMA!!!)..., San Francisco was great fun (especially tending bar at Isotope — damn, i got myself pretty hammered),
Here's Wayne Shellabarger and Bill Kelter pimping their amazing new book Veeps.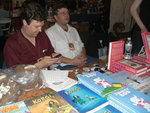 And here's the loot i brought home. (Sadly, no time yet to read most of it.)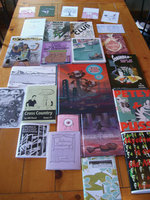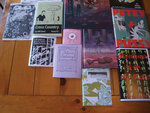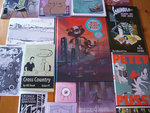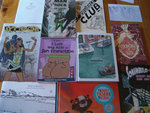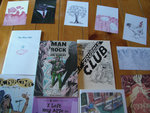 But what made the weekend for me, was my little man Carter, and his Halloween appearance as Batman. This photoset shows his transformation.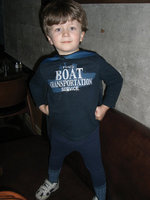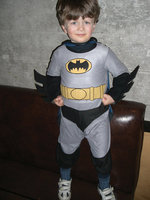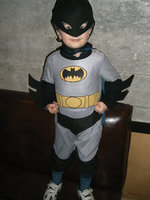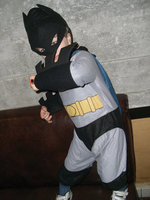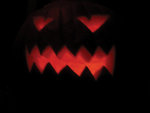 • Meanwhile, this weekend just past Top Shelf exhibited (Leigh manned the table most of the weekend, since i was on Kid Watch) at the annual Portland book fair called Wordstock. A quick observation... Portland is widely (and justifiably) known as a book-loving city. The organizers promoted the heck out of this event. Flyers, posters, and exhibition catalogs have been anywhere and everywhere for the last six weeks. Heck, they even got the likes of John Hodgman, Lynda Barry and Alison Bechdel to come and read. And yet, the place was a ghost town virtually all weekend. Yes, the big-name panels were well attended, but the isles were barren. What gives?
In any case, i had fun in spite of myself. And i FINALLY picked up the stunning Local deluxe hardcover by Brian Wood and Ryan Kelly. I'd read most of the issues as they were (slowly) coming out, but had yet to read the last three. Just finished these tonight after i tucked Carter into bed. Holy crap, this is such a terrific book. From concept, to execution. From content to packaging. Simply magnificent! Highly recommended.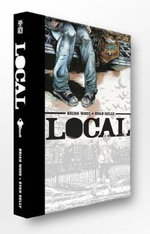 • This is quite possibly the coolest fanboy shit i've EVER seen. (I used to be lead tenor in the high school jazz choir, AND a massive fanboy of all the movies referenced in this video — except for E.T. God, i hate that flick.)
• Finally, more Kochalka. Here is an early rough for James' cover for the 2009 Top Shelf Free Comic Book Day (FCBD) comic book, and then his final. Well done, James!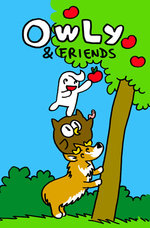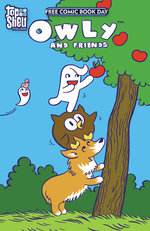 ---
October 31, 2008 / More →
Heading to Alternative Press Expo this weekend? Top Shelf's West Coast dream team, Leigh Walton and Brett Warnock, will be at tables 320-322 all weekend, together with the following creators:
--Jeffrey Brown (SULK #1 starring Bighead & Friends!)
--Renée French (THE TICKING, MICROGRAPHICA)
--Robert Goodin (THE MAN WHO LOVED BREASTS)
--Bill Kelter and Wayne Shellabarger (VEEPS: PROFILES IN INSIGNIFICANCE)
--Nate Powell (SWALLOW ME WHOLE)
--Liz Prince (DELAYED REPLAYS)
And don't forget to come by Isotope on Saturday night for Top Shelf Happy Hour at 8pm, leading into the Isotope Award for Minicomics! Brett Warnock will be shaking up the tasty drinks, while Nate Powell rocks a live art jam with Joshua W. Cotter! You can't miss it!
See you there, everybody!
---
October 28, 2008 / More →
10 Years of his incredibly influential American Elf daily diary strip. Wow, that's freaking cool as hell. Big ups to you, James!
• Jeff Lemire appears on the podcast Comic Geek Speak.
• Occasional Top Shelf freelancer Chris Ross had this to say, regarding his type decision on our awesome new book Veeps:
Veeps is set in a typeface called Adobe Caslon Pro. From my research, I found that Benjamin Franklin, in addition to being a ladykiller drunk, and perennial not-veep, was a printer. He had two favorite typefaces: Baskerville (http://en.wikipedia.org/wiki/Baskerville), which many typesetters of the day called "illegible" and a typeface called Caslon. And it was Caslon that Franklin chose when he typeset the mass-produced "Declaration of Independence." The unique properties in Veeps are the ligatures, which I've jumped up to eleven to reach for the hyperbolic nature of the text. It's noticeable as being archaic and boosie, but once you finish the introduction, you definitely get in on the joke. This specific typeface, Adobe Caslon Pro, is the closest and most complete recreation of the typeface that I could find. When I read Bill's words, and saw Wayne's portraits, and saw what Brett had in mind with the decorative elements, this whimsical voice of you three (plus the specter of Staros) came out, Borg-like. It sounded like Caslon.
• Speaking of Veeps, check out this extensive interview with Bill and Wayne by Tim O'Shea.
• And just to add some color to this post... YAM author Corey Barba does more than cute kid's stuff. He's also done some racy adult entertainment (with the Fantagraphics porn line Eros, for example). Here's a boss little image titled Lipstick Bikini.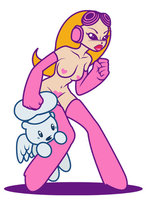 ---
Alex Robinson's video interview with Jonah Weiland is up on Comic Book Resources. I got to attend this interview and suck down some suds on the infamous CBR Party Yacht in the San Diego Marina. Now THAT's the way to do San Diego!
• So, here's a piece by Eric Powell, and two by Jim Rugg, which was supposed to run in a reprinted edition of Doug TenNaple's Top Shelf graphic novel Creature Tech. Oh, but wait, Doug took it away from Top Shelf, in spite of the fact that Chris did a mighty tight job story-editing the book into the kick-ass version it ended up being. Sadly, these images will now never see print. I'm going to have to style Eric and Jim with some Top Shelf swag next time i see them.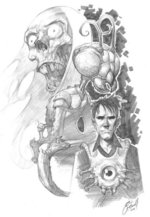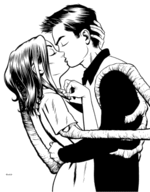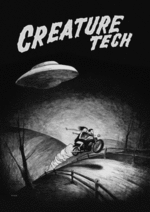 • Nate Powell is interviewed at my favorite podcast, Indie Spinner Rack!
• Nifty new piece by David Chelsea.


• Tom Hart, Matthew Thurber and Lauren Weinstein are in a show of original art together called GODDESS, MOUSE and MAN at the brand new 92nd St Y Tribeca.

• Finally, i must mention my favorite new comic in a long time. I'd heard some folks talking about this at the San Diego Con, so i picked it up on a whim. Matt Furie's Boys Club might be something of a guys comic, but holy crap, it is awesome. Containing the mostly 1-3 page self-contained adventures (?) of four slacker, 20-something roommates, the first issue was self-published, while the second issue was picked up by Buenaventura Press. On paper this comic shouldn't be anything more than stupid poop jokes. But there's something very real about these characters. At various points in my life i've lived with, or been any one of these cats. Matt uses lots of fun formal techniques to add odd layers to his humor. Ultimately, i'm having a hard time describing this. Needless to say, both issues come highly recommended.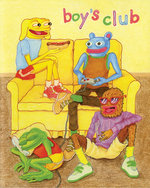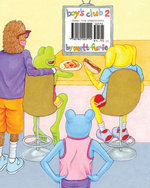 ---
October 14, 2008 / More →
WHAT'S THAT UP IN THE SKY?!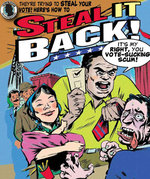 It's Bobby Kennedy and Greg Palast releasing the flaming hot full-color investigative comic book, STEAL BACK YOUR VOTE!
Pow! Zap! No more joking with our rights, Mr. Rove!
Click here and get the 24-page investigative comic book by Greg Palast and Bobby Kennedy: STEAL BACK YOUR VOTE.
With the full story of the investigation you'll soon see in Rolling Stone magazine - illustrated by razor-sharp pencils of Ted Rall, Lukas Ketner and Lloyd Dangle.
SIX ways they're STEALING your vote - and SEVEN ways to STEAL IT BACK.
(C'mon - 'fess up - do you really know what to do if they hand you a 'provisional' ballot?)
Make a $100 tax deductible donation at StealBackYourVote.org and we'll send you 25 to pass out to troublemakers of your choice.
And, for every $100 donation, we will give away another 400 to voters to vulnerable voters in swing states. We just sent eight cases to Santiago Juarez. Santiago's working with young Hispanic voters of New Mexico.
Can you help us send him more? Or donate $75+ and get a half dozen comix plus the DVD (signed), The Election Files, my BBC reports on the vote snatchers.
Pick up 10 copies of the guide for a donation of $50. We send'm right away by priority mail.
Get five hundred copies for your local school or group for a $1000 donation at www.palastinvestigativefund.org/print-copies-of-steal-back-your-vote.
Or give us the donation, we'll send'm to a church designated by our co-sponsor Jesse Jackson's Operation Rainbow/PUSH.
Thanks to your prior generosity, we're offering the printing plates FREE of any fee to us to any magazine or weekly that wants to insert comic. (You want to reproduce the guide on a mass scale - you got it. Contact zach (at) gregpalast.com)
Or you can download the comic for a donation of a penny or more (more, PLEASE), at www.StealBackYourVote.org.
Spread this link! Pow! Zap! Take that, Katherine! Steal Back Your Vote is a project of the not-for-profit non-partisan Palast Investigative Fund.
WHAT'S THAT UP IN THE SKY?! It's our Super Sponsors! Voto Latino, Operation Rainbow Push, Air America Radio, Juan Gonzales of Democracy Now! and other crusaders for Truth, Justice and the American Way.
Contact us at interviews (at) StealBackYourVote.org.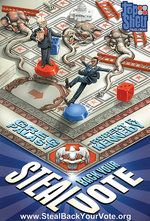 ---
October 10, 2008 / More →
Getting caught up, finally. Even though the change of venue has changed the dynamic of the old locale, this is still one of my favorite comics festivals North America has to offer. Hands down. Special props to my great friend Greg Bennett, who helped pull me out of a special kind of tailspin. I love you, m'man!
Here's a smattering of what i picked up at the show. No time for even bullet reviews... needless to say, i read this stuff at the airport and on two planes back home. In keeping with my tendencies towards dreaded "Team Comics" boosterism, i won't waste my time or yours talking about lame books, instead focusing on the good shit. So if you read about it here, that means it comes recommended.
Inside, by J.P. Coovert. Published by One Percent Press.
Teeny Bikini #5, by Rob Ullman. (Self-published.) Image below is a terrific print he made for the show, titled Stir Crazy.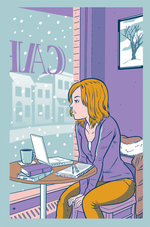 Papercutter #8. Edited by the great Greg Means. Published by Tugboat Press. (Also just finally read Papercutter #7... easily my favorite anthology being published today. Kramers what?)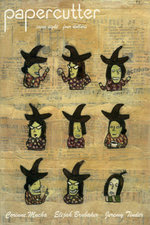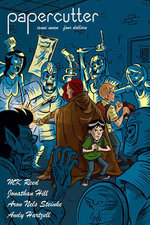 Do Not Disturb My Waking Dream #2, by Laura Park. (Self-published.) It's only a mtter of time until Laura is hailed as one of the greatest cartoonists in the history of the United States. She deserved won the Ignatz Award at the show for Outstanding Artist. Whoo hoo!
The Quest for the Missing Girl, by Jiro Taniguchi. Published by Ponent Mon. STUNNING! (Have i ever mentioned how much i love this author, my favorite manga cartoonist of all time? Oh, i have?) Special thanks to Deb, whom i met for the first time at the show.
:01 First Second: Great Graphic Novels for Everyone. This is a little mini-comic done by Editorial Director Mark Siegel.
The Factoids, by Dan Zettwoch, Ted May, and Kevin Huizenga. Published by U.S.S. Catastrophe?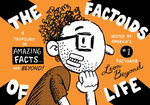 Dharbin #1, by Dustin Harbin. (Self-published.)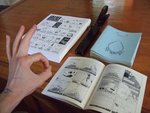 Fight or Run, by Kevin Huizenga. Published by Buenaventura Press.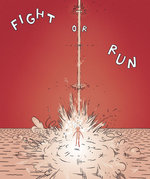 Bets Are Off, by Nate Powell / flipbook / Cakewalk, by Rachel Bormann and Nate Powell. (Self-published.)
Mesmo Delivery, by Rafael Grampa'. Published by AdHouse. (This is so freaking amazing!)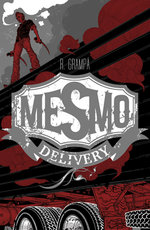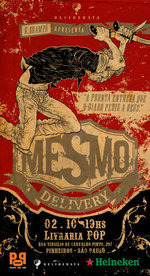 Fierce Ease, by Miriam Libicki. (Self-published.) I'm so into Miriam's incredibly beautiful drawn essays.
• Bwana Spoons has a spectacular new print available at Grass Hut!

• Here's an early rough by James Kochalka for the 2009 Top Shelf Free Comic Book Day comic.

• From the classified dossier on (Veeps authors) Bill Kelter and Wayne Shellabarger, a photo has turned up with them in attendance at the swearing in of LBJ... seriously, these guys are such wonks! (And there's Jackie Kennedy, no less!)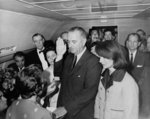 • McCain / Palin? Oh sweet Jesus help us all.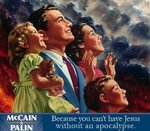 ---
September 29, 2008 / More →
in the new Diamond Previews.
Page 202: Tiger! Tiger! Tiger!, by Scott Morse. Published by AdHouse. The cover here says all you need to know.

Page 292: The Quest for the Missing Girl, by Jiro Taniguchi. Published by Potent / Fanfare. I think Taniguchi is probably the most underrated manga master in North America. The storytelling is sublime, and his art is transcendental.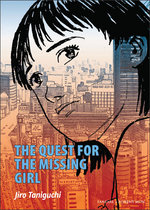 The following message is not a part of Previews. I lifted it from the web, because it is awesome.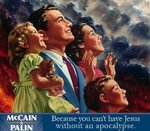 ---