Eddie Campbell

Eddie Campbell is best known for his collaboration with Alan Moore on the epic graphic novel From Hell. He's also known for creating the irreverent and wine-soaked series Bacchus, which revives the Greek gods in a sprawling, unpredictable, and enormously entertaining thousand-page epic; and the award-winning autobiographical series Alec, which has earned him the reputation as one of the great raconteurs in the medium of comics. His other collaborations include The Birth Caul and Snakes & Ladders (also with Alan Moore), two moving and personal poems adapted into the comics form, and The Playwright (with Daren White), a dark comedy about the sex life of a celibate middle-aged man. Married and a father of three, Eddie writes and draws from his home in a quiet suburb of Queensland, Australia.
Reviews & Interviews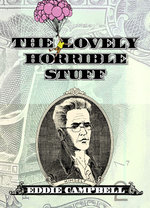 "Campbell is one graphic novelist who has the potential—both creative and intellectual—to reach beyond the typical audience and into the wider world of essayists traditionally inhabited by the likes of Bill Bryson or Christopher Hitchens. Coupled with personable artwork that often seems like …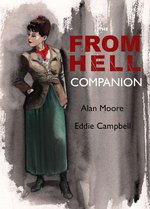 by Eddie Campbell and Alan Moore
Co-Published by Top Shelf and Knockabout.
"A man-behind-the-curtain look at a seminal graphic novel... an indispensable reference." -- Kirkus Reviews
"The From Hell Companion doesn't ruin the magic trick that Moore and Campbell pulled off; if anything, it makes their achievement seem all …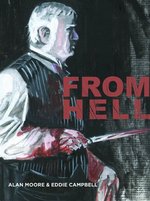 by Eddie Campbell and Alan Moore
Winner of the Eisner, Harvey, and Ignatz Awards for Best Graphic Novel.
A New York Times Bestseller!
"Remarkable." -- Leo Carey, The New Yorker
" … dark, fearsomely complex …" -- Douglas Wolk, Publishers Weekly
"My all-time favorite graphic novel … an immense, majestic work about …
by Eddie Campbell and Alan Moore
Also available, a special HARDCOVER edition of From Hell. Limited quantities available.
IN PRINT! (NEW PRINTING ARRIVED EARLY)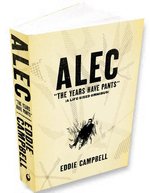 Winner of the 2010 Ignatz Award!
REVIEWS:
"This impressive collection—a high-water mark in the graphic novel's short history—confirms that no one else in the medium combines emotional truth, literary intelligence, and formal daring with such adroitness and elegance." -- Booklist …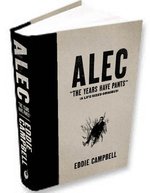 Also available, a special HARDCOVER edition of ALEC: THE YEARS HAVE PANTS. Diamond: JUL09-1082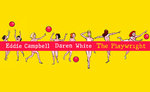 by Eddie Campbell and Daren White
REVIEWS:
"This quiet character study... succeeds on several levels, but its most potent component is the clearly recognizable and utterly naked humanity." -- Publishers Weekly (starred review)
"Campbell's watercolouring effects take his art into vivid new horizons ... [his] images skilfully …
"Bacchus mixes air hijacks and ancient gods, gangland drama and legends, police procedural and mythic fantasy, swimming pool cleaners and classics. It shouldn't work, of course, and it works like a charm. ... Eddie Campbell is the unsung King of comic books. ... The man's a genius, and that's an …
Alec is a brilliant and insightful romp through Eddie Campbell's own life, and it represents one of the best -- and first! -- works in the autobiographical-comics genre. In it, we witness Eddie's progression from "beer to wine," or to put it more accurately, his inevitable maturation through time. …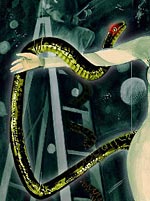 by Eddie Campbell and Alan Moore
The creative team of From Hell comes together again to produce a new work about the history of the earth, the moon, the universe, Oliver Cromwell, and the Pre-Raphaelites. English revolutionary Cromwell was dug up three years after his death in order to be executed. The Pre-Raphaelite beauty Lizzie …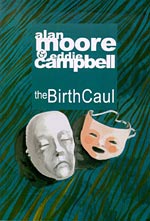 by Eddie Campbell and Alan Moore
It started life as Alan Moore's reading/performance piece in 1995 at the county courthouse in Newcastle-upon-Tyne, England, where it was sound-taped and subsequently released as a (very hard to obtain) CD. Recognized as Alan?s writing at its very best, the work is by turns autobiographical and …
$5.95 (US)
Details
48 pages, Comic Book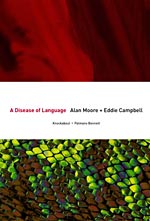 by Eddie Campbell and Alan Moore
The Birth Caul and Snakes & Ladders, Alan Moore's visionary, highly personal magic based performance art pieces as adapted by Eddie Campbell, are collected together for the first time ever in A Disease of Language. Along with an insightful and expansive interview with Moore conducted by Campbell, …