Steven Scott
Since publishing his debut comic book in 2010, Steven Scott has worked regularly in comics, most notably as a publicist. His writing has appeared in publications by Archie Comics, Arcana Studios, and Heavy Metal Magazine. As a blogger/columnist he has written for the pop culture sites Forces of Geek, Great Scott Comics, and PopMatters.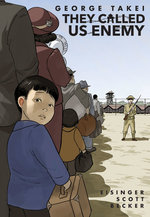 by George Takei, Justin Eisinger, Steven Scott, and Harmony Becker
A New York Times Bestseller!
Named one of the Best Books of the Year by Amazon, NPR, New York Public Library, School Library Journal, Publishers Weekly, Kirkus Reviews, IGN, and Forbes!
Selected by the LA Times Book Club — check out their discussion guide!
In a stunning graphic memoir, …