Steven Scott
Since publishing his debut comic book in 2010, Steven Scott has worked regularly in comics, most notably as a publicist. His writing has appeared in publications by Archie Comics, Arcana Studios, and Heavy Metal Magazine. As a blogger/columnist he has written for the pop culture sites Forces of Geek, Great Scott Comics, and PopMatters.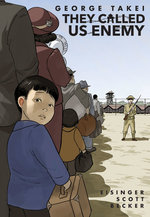 by George Takei, Justin Eisinger, Steven Scott, and Harmony Becker
A New York Times Bestseller!
An Amazon Best Book of the Year
A School Library Journal Best Book of the Year
A Publishers Weekly Best Book of the Year
A Kirkus Reviews Best Book of the Year
Selected by the LA Times Book Club — check out their discussion guide!
In a stunning graphic …