Steven Scott
Since publishing his debut comic book in 2010, Steven Scott has worked regularly in comics, most notably as a publicist. His writing has appeared in publications by Archie Comics, Arcana Studios, and Heavy Metal Magazine. As a blogger/columnist he has written for the pop culture sites Forces of Geek, Great Scott Comics, and PopMatters.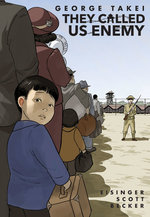 by George Takei, Justin Eisinger, Steven Scott, and Harmony Becker
A New York Times Bestseller!
In a stunning graphic memoir, actor/author/activist George Takei revisits his haunting childhood in American concentration camps, as one of 120,000 Japanese Americans imprisoned by the U.S. government during World War II. Experience the forces that shaped an American …