August 12, 2011 / More →
at Comics Alliance! Winner receives a copy of the book with an original sketch by Craig Thompson inside!! Contest runs until Tuesday, the 16th.
How cool is that?!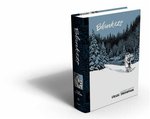 ---
James Kochalka will doing two appearances in Philadelphia on Labor Day weekend. Here's a poster Box Brown made for the event.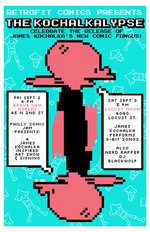 James also won the award for Best Cartoonist in Vermont, in the Seven Days paper.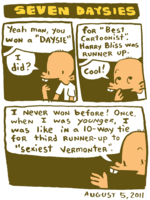 • Here's a clip of one of my favorite local bands. And even though the dumb-ass interviewer calls it surf music, they're pretty much a straight-up roadhouse style blues band. I was there (in fact, if you close you can see me when they pan the audience) and danced my butt off.
• Finally, i have to gibe some props to one of the most under-rated cartoonists working in comics today, my old pal Chris Cilla. I recently read his feature-length mind-fuck of a book, The Heavy Hand, published by Sparkplug Comics. To be honest, i'd be hard pressed to tell you "what it's about." Needless to say, it left a lingering impression on me. Weird is the best way to put it. And gorgeously drawn too. Heard it from Chris himself just today that Zak Sally's La Mano will be releasing a collection of Chris' long out of print mini-comics run called The Diplomat. If you like indy comics, you owe yourself to check out the fine work of Chris Cilla.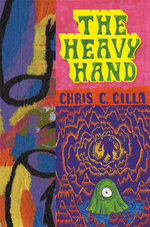 ---
August 4, 2011 / More →
blogging again!! (Thanks to Tom at The Comics Reporter for the heads up.)
Seriously comics-lovers, Eddie is one of the smartest, most erudite raconteurs about art, literature and comics that our beloved medium has. He's always worth reading.
And if you've never read his work (besides Shame On You!), we've got some gems right here for you.
Alec: The Years Have Pants.
This is arguably the most sublime autobiographical comics ever created.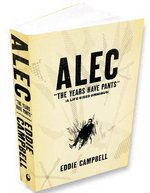 The Playwright. (With Daren White.)
Witty and poignent, with perhaps Eddie's best art to date.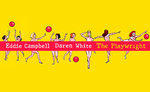 And of course, the inimitable From Hell. (With Alan Moore.)
Who the heck is Alan Moore, anyway. Of course, i kid... From Hell is without question one of the highest achievements in the history of comics. A transcendental masterpiece.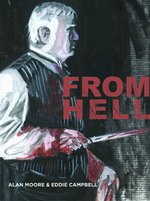 ---
August 1, 2011 / More →
and now, back to the day-to-day, Sigh...
This little blog update is all-Kochalka.
Here's the beautiful little piece James drew that was made into a bookplate give-away at ComicCon last weekend. His entire family was in attendance.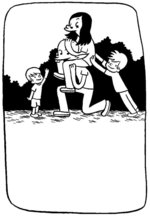 And here's a little number James dug up on Comic Art Fans. From a joint appearance with James and Craig Thompson at ComicCon in 2004, and drawn on the title page of the anthology they each appeared in, Happy Endings, edited by the great Diana Schutz.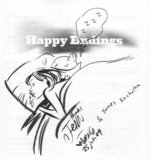 ---
July 27, 2011 / More →
has started a new art blog called The Daily Pocket Book on Facebook. I'm a huge admirer of Gregory's work, and it's awesome to see a place online where i can check his stuff out. Big ups, G!!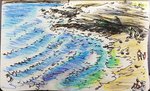 • David Walker and the guys at the Cort and Fatboy podcast spill some Top Shelf love!
---