April 14, 2013 / More →
Yeah, that's right... James is all over the place. I'm most excited about James coming to Portland in the next couple weeks as a guest of the Stumptown Comics Fest. (He's even going to do a mini workshop & reading with my son's 2nd grade class! Yay!)
There's two new episodes of SuperF*ckers! at Cartoon Hangover.
If you've never read the comics the cartoon are based on — and you don't offend easily — there is no better time that the present to rectify the matter. Buy the collected edition pronto!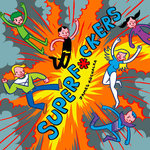 • Here's a link to James' most recent miniature paintings at a recent Giant Robot show had called 'Facial Recognition' (with Matt Furie and Mark Todd).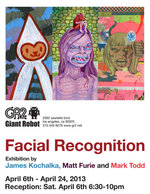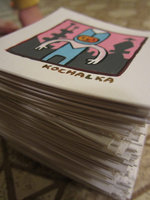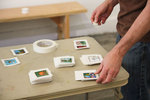 ---
April 3, 2013 / More →
That was rough, our website being down for so long. But, we are back, and all y'all have probably seen the press release from Chris (your friend through comics) Staros about Jeffrey Brown's forthcoming book, A Matter of Life.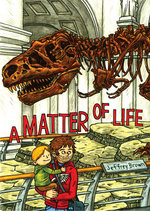 Meanwhile, i just got wind that Nate Powell is selling original art by way of his new Etsy store. This is original art by a master cartoonist, illustrator, and writer, folks; his brushwork is decidedly Scrumpdillyicious, and worth so much more than what he's asking.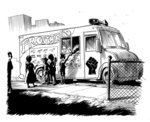 O.k., and just to toot this horn again, can i tell you how much i love this show poster by Maryanna Hoggatt for her Animal Battle show coming up in less than a month? It reminds me of one of my favorite authors ever, Richard Scarry.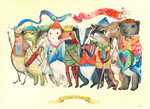 ---
A little Christmas love from our great friend and cartoonist Gregory Benton. Thanks, G!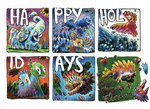 ---
Lizz Lunney is the BEST! Not only does she produce wonderfully odd, funny, cute & charming comics and stickers and postcards and stuff, but she always sends out THE best promotional holiday gift package ever. And damn, how gorgeous is this cover to her new mini, At the... End of Your Garden.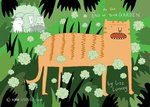 ---
December 7, 2012 / More →
Old pal John Weeks has been busy! He's made his new issue of Quick Draw available on many digital platforms. John is one of those awesomely wonky comics brains we should all be paying more attention to. Here's what he has to say:
"I've released QuickDraw #6 as an early holiday tidbit for 'Free Comics Friday', in English and Khmer. If Amazon and the iBookstore are going to hold such a large amount of the playing field I'm going to suit up and get in their face. (I'm using the site 'BookBaby.com' as a one-stop shop for digital distro.)
"Very keen to get some translated Khmer comics online, this first foray is a test run for translated Khmer comics.
E-Comics aren't terribly lucrative, but they seem like a good angle coming from Cambodia where shipping overshadows print costs."
---