January 25, 2006 / More →
I've been following the Supreme Court nomination process for Alito for several weeks, and it's been a disturbing ride. This guy's record is a laundry list of judgments in favor of powerful interests, at the expense of the common person. Almost certainly he'll pass the Senate vote.
Watching C-Span right now, and listening to some of his judgments is downright frightful. Really, some freaky decisions. Do some googling on it... scary. This guy will certainly tip the balance on the Supreme Court heavily to the right, and the sad thing is that very few people in this country are even paying attention.
Too bad the Dems are such wussies, and don't have the cajones to do anything about it but whine. No filibuster. Spineless chumps. The current incarnation of the GOP is pure evil, they are riddled with scandal, leaving wide openings to the Dems to swoop in and provide an alternative, but... they suck. (Man, i'm glad my wife is an Australian citizen. I scolded friends for threatening to leave the country after the '04 elections, but if things keep getting worse, i might think they're onto something.)
My main concern is Alito's support of expanded Presidential powers. Hello Big Brother, good-bye civil liberties.
Bummer.
---
January 24, 2006 / More →
Yes, people, it's that time of year. The air miles start piling up. The long road-trips on the odometer. The junk food. The drunkenness. Rabble rousing with the peers. Laughing at the ponytailed mullets and full-length, black leather trench coats. I LOVE convention season!
Oh, and there's the comics. Between Chris Staros, Rob Venditti, and myself we'll be hitting upwards of 20 conventions this year. Chris and Rob do the bulk... since they live in Atlanta, they can hit up all the east coast shows, most of which they drive to.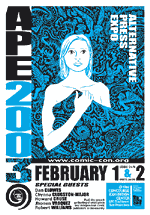 Smaller shows we can separate out one man at a time to represent Top Shelf, while others … big guns like Chicago, San Diego, SPX, and MoCCA … demand a staff. We're a few shows down from some previous years, but we've whittled them down to the one's that are either "must-attend" shows, because of their history, and/or conventions that can turn a profit. (Comics conventions do take in almost a third of our gross income, after all.)
We hear a lot of grief from some in the retailer community who claim that we're "stealing" money from them by attending conventions, more specifically by launching new books at them. Forgive me, but i beg to differ. The truth is that if Chris and myself had not been attending these trade shows so aggressively since the minute we started publishing (even before we teamed up to form what is now Top Shelf) … meeting the fans, making the connections, and pimping our wares… we literally wouldn't today have any books of whatever value for the retail community to sell. We simply would not have survived as long as we have, the cons are so key to us.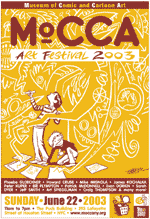 Moreover, for each one of the world-class retailers we have in this biz (to whom i'm eternally grateful and most of whom i'm pals with), there are fifty who have never even heard of Top Shelf, let alone ordered any of our books. These are the people who think that Neil Gaiman's Sandman is "alternative comics." And it's because we don't get the volume of support on our advance orders to often times even cover the print run on a given book, that we are obligated to launch certain books at conventions. This not only helps cover up-front costs, but i would posit that it ultimately helps retailers by building buzz around certain books. Buzz that might turn a one-time sale into a perennial seller.
To the retailers who know from good comics, i salute you. You know who you are. If you're scratching your head, wondering "who the hell is Top Shelf?," then i invite you to swing by our booth at any one of the following conventions and talk shop. We've got some pretty good stuff. And we're always makin' deals.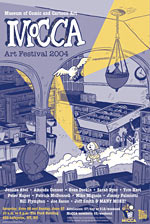 Here's a list of all the shows we plan on attending in 2006. topshelfcomix.com/news.php?type=2
Meanwhile, i'm gearing up for the first of two 10-hour drives i'll be making from Portland to San Francisco this year, for WonderCon, February 10-12. comic-con.org/wc/
I'm looking forward to this show. Last time i went was pretty fun. I got to meet Robbie Robbins at iDW, a swell guy, a hoops fan, and a heck of a designer. (Although i do believe recently he's been promoted.) Also, i shared a room with, and partied my ass off with, Charles Brownstein, the main man at the Comic Book Legal Defense Fund. Charles knows all the haunts, and is a tour guide supreme. cbldf.org/
After WonderCon i'll be driving up to Seattle for the Emerald City Con (April 1 & 2), then the following weekend (April 8 & 9) i'm driving back down to San Fran for APE. (Which i've been to since APE II, way back in 1996.) Said road trips behind me, i'll be flying to MoCCA, San Diego, Book Expo, and SPX. Last on the slate is the Stumptown Comics Fest, right here in Portland, sometime in October.
A great link to info you might need for almost any convention you can imagine:
comicbookconventions.com/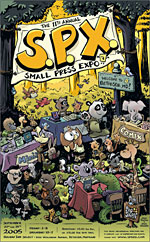 ---
January 22, 2006 / More →
After several years Ivan Brunetti returns with a fabulous new issue of his comic Schizo. This fourth issue has been a long time coming, and i'm here to tell you it is well worth the wait.
The cover here is a reprint of a strip Brunetti did in appreciation of one of his heroes, Charles Schulz, after Schultz announced his retirement. No coincidence either, i would imagine, since, while Schulz was never as nihilistic as Brunetti, both share many of the same themes throughout their work. As Brunetti puts it in the strip in question, "The hurt, the depression, the loneliness, the rejection... Schulz has generously laid his psyche bare."
Not since Crumb has an alternative cartoonist put it all on the line like Brunetti has is in oeuvre. The encouraging thing about this fourth issue for is, specifically that Brunetti has Gasp!, found his soul. There is a decided attempt to grow as a man, to reach for and realize who and what he is.
Indeed, the inside cover relates what seems to be a typical day for Ivan. Near the end we see him sitting in Buddhist prayer, followed in the last panel by a shot of him walking down a rainy street with a smile on his face. In a strip called "You Wanna Fight Me?" we see Brunetti assisting a group of kids who have lost their ball, after which he says to himself, "I want to be filled with boundless love for all things living. (I'm working on it.)" Bravo, Ivan!!
And while the self-loathing is still here, the seething raging hate for all of mankind seems to be on the want. Gone are the knives, guns, and assorted weapons of torture. Brunetti seems to be somewhat at peace with his fellow man, or at least quite a bit more tolerant. No more casting down on humanity, or the sadistic maiming, killing and/or torturing.
Also of note is a newfound appreciation and noticeable externalization of themes in a series of strips dedicated to the lives and work of various (in)famous literary greats, philosophers, and artists, as well as a handful of strips featuring nondescript painters and their process (whose muse seems more often than not to be a result of unrequited love), all of which reflect Brunetti's own worldview. It's this externalization which leads this reader to believe that Ivan seems to have made a great leap not just as a cartoonist, but as a man.
Last, Brunetti's line has taken on a new style in this more recent work... a thinner wispy line, reminiscent of his contemporary, the great Steven (Ribs!) Weissman. All very very good stuff.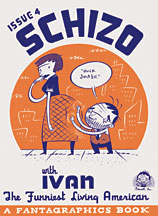 This oversized book is hard to miss, if a given retailer chooses to stock. Do yourself a favor and pick it up. If your retailer doesn't have it, ask him to get it for you. Otherwise, go to the source at Fantagraphics. www.fantagraphics.com
---
January 20, 2006 / More →
Oh man... did anyone see the best West Coast rivalry in basketball tonight in the Lakers / Kings game. Stellar performance by many (Kobe with 51 points? This guy cannot be stopped, damnit!), but crucial to the Sacramento was the play of Kenny Thomas.
L.A. is up by SIX with 35 seconds to go, badly timed errors by L.A. followed however, then Bibby and Miller drain threes to tie it up at the end of regulation, and kicked L.A.'s ass in O.T. First career triple double for Kenny Thomas (who i really like playing on this team... wasn't he in Philly forever?). Nice to see signs of life in Sacto... i've been a fan of theirs for years.
Gotta dig the hoops.
---
January 15, 2006 / More →
Welcome, dear reader, to the Top Shelf blog "Hey,Bartender." Not ones liking to be left behind in this mad digital world, i just felt it was time. No using being Beta while the world goes VHS. (Or is that... VHS while the world goes DVD?) Who out there remembers the 8-track cassette player?
In the Hey, Bartender blog you might find some Top Shelf news, but generally not. That after all, is what the news section is for. More likely you'll get convention reports, my thoughts on new comics happenings, reviews of comics, film, and cds and the like. There'll be a healthy dose of my son Carter too, i would imagine. (Really though, i'm not entirely sure what this might evolve into. Stay tuned.) If you've ever sat down over a few beers with me, you know i'm prone to ramble.
First things first, some thanks are in order. Kudos of the highest order are due to our webmaster, Nate Beaty, who is at this very moment typing away feverishly on my left flank. This guy really knows his shit. And he's a fabulous cartoonist to boot. You can find his work at www.brainfag.com. Also, big props to Aaron Renier for drawing the header image for this new section. Aaron's brilliant graphic novel Spiral-Bound is tearing up the charts, and he's at the moment working on a pirate story for Scholastic Books. Aaron also drew a phenomenal cover for, and feature story in Greg Means' smashing new anthology Paper Cutter. Check it out at www.tugboatpress.com. (Said website also beautifully designed by Nate Beaty.) And thanks to my lovely wife Lisa for editing this very first post. I love you, Lady.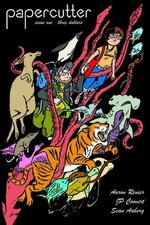 Also, besides a new batch of fine new strips in our comix section, may i direct your attention to another new feature on our site, Matt Kindt's stellar weekly comic strip called "Super-Spy." Matt is the creator of a few of my very favorite graphic novels that we've ever published, the two Pistolwhip books (with Jason Hall) and his epic spy story 2 Sisters. Welcome aboard, Matt!
Before i sign out on this first blog, i apologize for any weird tech issues that may arise in the future, when Nate is not sitting here at my side to answer my every question. I'm not a tech-moron, but neither am i particularly tech-savvy either. This is huge learning process for a 40 year-old dinosaur, so bear with me until i get the feel for this gig.
Peace,
Brett
---
/ More →
The world of comics lost a legendary champion today, when news broke that Rory Root died. I learned via Warren Ellis' email newsletter, who himself learned from Ed Brubaker. I'm pretty sucky at eulogies, but i can tell you that the Rory was one of the coolest guys i've ever known in this biz, and his store Comic Relied has been one of the top five stores in North America for as long as i've been reading them.
Rory, i love you man. Rest in peace, buddy.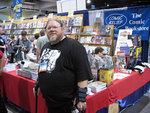 ---