on the road again...
April 6, 2006
Yeesh, i feel like i'm 60 freaking years old. Having a bum back really sucks, eh? Anyway, off yet again early in the morning, mi amigo Bwana riding shotgun. Being a ten-over the speed-limit driver, i can blast from Portland to San Francisco in ten hours. Then on Friday morning, i'm picking up a mini-van, so i can tool on south to Santa Cruz, for a signing at Atlantis Fantasy World with Alex (Tricked) Robinson and his wife Kristen, Renee (The Ticking) French and Jeffrey (Every Girl) Brown. It'll be an all-day affair, so i suspect i'll be pretty beat by the time we get back to the city. In fact, we'll most likely roll in too late to make the Last Gasp pre-APE mixer. I think it's at their warehouse; if you've never been, it truly is quite the experience to walk the isles.
APE itself is Saturday and Sunday. Should be fun, since we'll also have several other Top Shelf peeps showing up, including Jeremy (Cry Yourself to Sleep) Tinder, Aaron (Spiral-Bound) Renier, Liz (Will You Still Love Me?) Prince and Jennifer (eponymous) Daydreamer.
Saturday night should be a kick too, given that i'll be Guest Bartending at Isotope Comics in the early evening. I'm really looking forward to this, since i haven't given the old can a shake in a long while. Also, i haven't been to the new location yet (since they moved from the Sunset District); James & Kristen are some groovy folks, and i heard the new store rocks.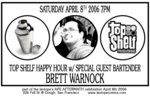 Swing on by, i'm making my favorite cocktail, la margarita!! Ai ai ai!
Coming home on Monday, and then … get this True Believers!! … i'm putting Lost Girls together and sending it TO THE PRINTER!!!!!!
Wrapping up the office now, followed by the Daily Show, and maybe i'll be able to drag myself to bed.
Later, kids.