May 22, 2013 / More →
In the Fall term of 2012 i began my first teaching gig at PNCA (Pacific Northwest College of Art) here in Portland, OR. I'm teaching it again for the current Spring term. The class is more or less a broad comics course — part of the non-credited Continuing Education program at the school — geared to towards newcomers to the medium, and how they might conceive, execute, rollout, and promote their work.
I wasn't sure what to expect when i first started. How could i? Not only have i never taught before (outside of tipsy barroom banter), i haven't taken any school courses myself in a very long time. The class size for both terms has been relatively small, and frankly, that puts me at ease. I'm not certain how i would need to alter my teaching style and the actual nature of the course itself if i had to accommodate a larger class. The smaller, more informal structure works to my own and the students' advantage, insomuch as i'm able to work directly with the students in helping them determine their goals, as well as actually making those goals come to fruition. The smaller class size also creates a tangible camaraderie amongst the students which further allows for peer-to-peer feedback and assistance.
Over the weekend of June 21-23 i will be co-hosting, alongside Ryan Alexander-Tanner a weekend long Graphic Novel Intensive workshop. Here's what we came up with for a description:
"Graphic Novel Intensive at Pacific Northwest College of Art, Portland, Oregon, Jun 21, 2013 - Jun 23, 2013. Join our 7th Annual Intensive Workshop and let us assist you in making your comic book aspirations a reality. Create a blueprint with clear, achievable goals for moving forward in your career, whether your interests are in self-publishing original narratives or doing collaborative work-for-hire.
"Ryan Alexander-Tanner, artist/writer of To Teach, in-house illustrator for Dave's Killer Bread, and Brett Warnock, Publisher at Top Shelf Productions, lead the Intensive, now in its seventh year. Guest presenters include Matt Bors, Kelly Sue DeConnick, Matt Fraction, Jöelle Jones and Katie Lane."
If you're new to the medium and/or aspire to learn more about the industry and create your own comics, this is a terrific opportunity to do so.
And here's the poster (rough & final) that Ryan made for the event: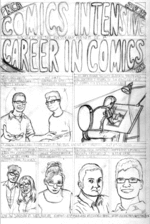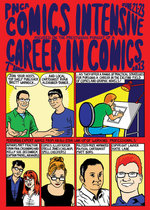 ---
April 14, 2013 / More →
Yeah, that's right... James is all over the place. I'm most excited about James coming to Portland in the next couple weeks as a guest of the Stumptown Comics Fest. (He's even going to do a mini workshop & reading with my son's 2nd grade class! Yay!)
There's two new episodes of SuperF*ckers! at Cartoon Hangover.
If you've never read the comics the cartoon are based on — and you don't offend easily — there is no better time that the present to rectify the matter. Buy the collected edition pronto!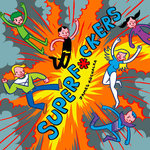 • Here's a link to James' most recent miniature paintings at a recent Giant Robot show had called 'Facial Recognition' (with Matt Furie and Mark Todd).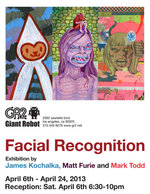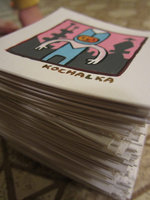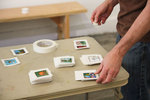 ---
April 3, 2013 / More →
That was rough, our website being down for so long. But, we are back, and all y'all have probably seen the press release from Chris (your friend through comics) Staros about Jeffrey Brown's forthcoming book, A Matter of Life.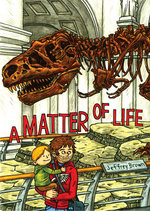 Meanwhile, i just got wind that Nate Powell is selling original art by way of his new Etsy store. This is original art by a master cartoonist, illustrator, and writer, folks; his brushwork is decidedly Scrumpdillyicious, and worth so much more than what he's asking.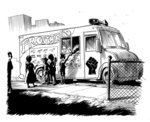 O.k., and just to toot this horn again, can i tell you how much i love this show poster by Maryanna Hoggatt for her Animal Battle show coming up in less than a month? It reminds me of one of my favorite authors ever, Richard Scarry.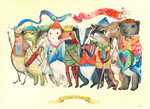 ---
A little Christmas love from our great friend and cartoonist Gregory Benton. Thanks, G!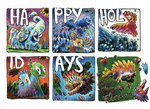 ---
Lizz Lunney is the BEST! Not only does she produce wonderfully odd, funny, cute & charming comics and stickers and postcards and stuff, but she always sends out THE best promotional holiday gift package ever. And damn, how gorgeous is this cover to her new mini, At the... End of Your Garden.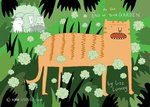 ---