October 30, 2011 / More →
"This map will be handed out to kids who attend the Halloween party at my son Eli's school. It lists the various activities, some of them kinda abstractly...
For instance, 'silly winds' is a ping pong ball race where you blow the ping pong balls with a straw."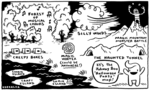 • Here's a sweet new piece from Gregory Benton!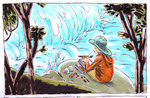 • Snow pummeled New York as i write this, so Jennifer Hayden's UNDERWIRE launch party tonight at Bergen Street Comics in Park Slope has been postponed. The party has been rescheduled for Saturday, November 12, at 8:00 p.m.
Jennifer writes:
"Many thanks to hosts Tom and Amy Adams, whose beautiful store, Bergen Street Comics, is located at #470 Bergen Street, between Fifth and Sixth Avenues. Just steps away from the 2/3 Bergen Street subway stop. You can also take the 4/5/B/Q trains to Atlantic Avenue, or the D/M/N/R trains to Pacific Street.
"There'll be beer, bubbly, and books! And you can meet a couple of real-live characters from my comix: my husband Steve and my daughter Charlotte. We'll also be serving Charlotte's favorite drink: Shirley Temples! And live music will be provided by Steve Hayden on his electric guitar, with possible accompaniment by me on my electric fiddle..."
An Underwire review from Under the Radar magazine:
"Jennifer Hayden's Underwire is so fucking inspiring. If that naughty word put you off, avoid this web-comic collection. It is filled with salty language while relating the intimate observations of a woman in her late 40s. Hayden's drawings of flawed and wonderful characters from her life are naive, but so very sweet. If Underwire looks like it's drawn by someone who might also write and illustrate children's books, that's because it is. The central character is the author herself, and she's a joy. She's bawdy, messy, raucous, and entirely human — as likely to sit around with her friends, slamming wine and gossiping, as she is to lament over her son leaving for college. She draws and thanks goddesses a lot (you might too, if you were a cancer survivor!), but she's also a witty sweetheart who loves her kids and enjoys banging her husband. One criticism is that her end panels come too abruptly, but that adds to the realism a bit. Oh, messy life! Hayden is seriously fun, alive, and inspiring — as an artist, a writer, a woman, and a human being. Brava!" —Kate Mercier
• In other news, just wanted to point out that our friends at Sparkplug will be tabling at several festivals in the next couple months: MIX on November 5th and 6th, Short Run Small Press Fest on November 12th and Brooklyn Comics and Graphics Fest on December 3rd. Look for more updates about these events in the next couple weeks!
---
From Hell is now available in digital form, ready to impress people looking over your shoulder as you peruse comics on your iPad, Kindle, or Nook. Check it out at iTunes and Comixology!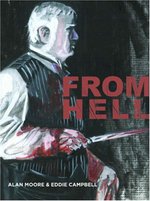 • Harkening back to yesteryear, Mark Arsenault returns to the comics fold with a newly minted Wow Cool!! No lie folks, there used to be a time before internet was widely used (gasp!), when the Wow Cool and (John Porcellino's) Spit and a Half catalogs were the only game in town where one could find and order mini-comics by your favorite comics creator or zinester. Self-publishers take note -- this could be huge.
• Oh how i love Naomi Klein... a gorgeous rabble-rouser...
Anyway, here she waxes eloquent about Occupy Wall Street, and how this might could possibly hopefully be a real game-changer. The super-elite in corporate and political power don't give a flying f*ck about you or me, people. Just sayin'...
---
This bartender is back from a somewhat extended holiday, having traveled down into Southern Oregon and Northern/Central California for lots of camping, as well as my annual pilgrimage into San Francisco for APE. (Alternative Press Expo.) I won't lie, kids, traipsing through old-growth redwoods is hard to beat...
Anyway, i didn't get too much loot from the show this year, but i did happen across a few illustrators whose work is pretty damn fine, including Helen Chau, Marian Dilan, Aggie Cheung, and Kelsey Short.
Helen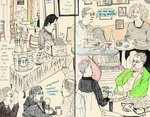 Marian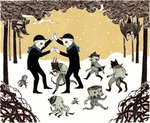 Aggie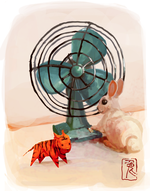 Kelsey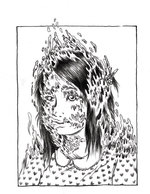 And of course, big up to James and Kirsten at Isotope Comics for letting me do my margarita-mixin'... i think i finally figured out why i seem incapable of not getting blotto doing this, but i'm pretty sure i shouldn't write about it here. ; )
• Meanwhile, here's a little film Kagan McLeod put together for the Infinite Kung Fu Launch Party Featuring Hop Fu.

• Finally, with Craig Thompson's Habibi out now, and most likely breaking new sales records, Eddie Campbell trotted out this older review he wrote for Craig's outstanding Carnet de Voyage.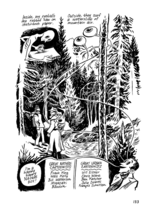 ---
September 17, 2011 / More →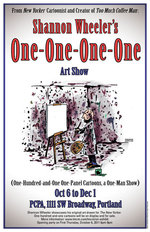 ---
---