July 25, 2011 / More →
is having a Kickstarter campaign for the new Superstitions issue of Crap Hound, and could use your support.
• Haven't had much time to read as of late, but of what i have read, here's what i can recommend:
-- The Death of Elijah Lovejoy, by Noah Van Sciver. A chapter that Noah excised from his forthcoming Abe Lincoln book. I can see why he cut it out in context of the larger narrative, but this is at the same time a terrific standalone story. [Read more here at Comix Talk.]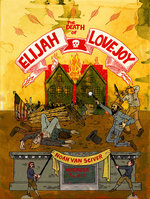 -- Goodness, by Mel Stringer. Sweet little mini with delicious pencil chops. Fine cartooning.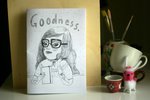 -- Papercutter #16. Edited by Greg Means, with contributions from Nate Beaty, Joey Allison Sayers, Liz Prince, and Alexis Frederick-Frost. Once again, my absolutely favorite anthology. This one's got a couple dark stories that really got under my skin.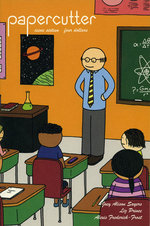 -- The wonderful Anne Koyama did a comics swap with me, and two books i finished were the anthology Root Rot, edited by Anne and Michael DeForge, and Cat Rackham Loses It!, by Steve Wolfhard. Both heaps of fun and candy for the eyes.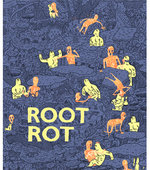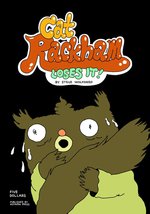 • Finally, there's Dan Clowes' recent Mister Wonderful. To be quite honest, Clowes is one of those creators who, to me seem preternaturally deft at the medium. A master if you would. And as such, there's this little itsy bitsy part of me who kind of wants to see a big fat turn drop one day, if only to show me that he's human. No such luck. Brilliant comics. (And sadly, as an absolute dork around girls i crush on myself, i can relate to the protagonist.) It's a quick read, but worth your time.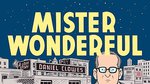 ---
July 21, 2011 / More →
and i'm not there! How weird. I've been in attendance 14 years in a row, as well as 91, 94, and 96. In any case, Top Shelf is there in full force, so make sure to swing by our booth and say hello to everyone there.
• Anyhoo, here's a terrific chalk-talk Nate Powell gave at Pulaski Tech College about comics storytelling. I love how much of a Michael Golden nerd Nate is. Good stuff!!

• And here's a new episode of Dusty McCord's Dumb Geeks. (Reminder, Dusty did our final edit of the Veeps movie, directed by me.

---
July 14, 2011 / More →
lots of cool stuff, so much to see and do...
Kagan Mcleod has crafted the most bitchin' comic book trailer i've ever laid eyes on, and everyone is (justifiably) raving about it.
• Wayne Shellabarger (Veeps co-author, with Bill Kelter) to a snap today at the Oakland Public Library. Some Matt Kindt love!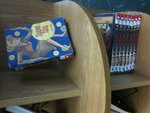 • Direct from the Brewmasters at Cartoon Brew, "Chief Serenbe" by Evan Curtis. This is wicked cool animation. I really dig the Kerouac reference. Truly outstanding.
"Cartoon Brew's Student Animation Festival continues today with the third film in our line-up: Chief Serenbe by Evan Curtis from the Savannah College of Art and Design. This stop motion short really stood out to us as we were watching the entries. The film isn't conventionally narrative, but engages the viewer by taking us into the world of a drifter. It is a surprisingly emotional piece of work and manages to create a distinctive sense of time and place. Curtis's cinematic approach and use of depth of field makes us forget the star of the film is just a small toy."
Chief Serenbe from Cartoon Brew on Vimeo.
• Wait... what?! Jennifer Hayden is making jewelry from her comics... she guessed it, a first for Top Shelf.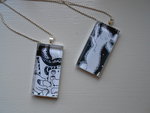 • Hey folks, our pal Conch over at KBOO's Words & Pictures program is airing his interview with Portlanders Jesse Reklaw and Lisa Magnum today (Thursday), two swell folks and part of the comics cognoscenti here in Portland.
"Thursday July 14th from 11:30 to noon, Words & Pictures welcomes local comics artist, publisher, and promoter Jesse Reklaw, creator of the long-running dream-chronicle strip Slow Wave. Jesse will be joined by Lisa Mangum, publisher and co-editor of Gazeta, the international comics anthology, and they'll talk about the new comics certificate program that they're launching this month at the Independent Publishing Resource Center.
"Words & Pictures airs the second Thursday of each month from 11:30am to noon (PDT) on KBOO Radio, 90.7fm. KBOO's real-time webstream via iTunes or Abacast. More info and links to recent Words & Pictures audio archives."
---
July 10, 2011 / More →
"Chips in Space," from my friend and old University of Oregon prof Ken O'Connell.
Ken writes, "It is based upon 512 chips of color. Each corner of the cube is a primary red, yellow and blue and cyan, magenta and yellow, and then black and white to form the eight corners.
"My friend, Terry Beyer, was a programmer in the computer science department and did all the programming on an Apple II computer."
Some great music, too.
---
July 3, 2011 / More →
over at Comic Book Resources.
• Greg Ruth rocks a sweet, FREE download called Logs I Have Known.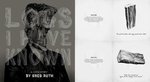 As a budding tree geek myself, as well as a big fan of Greg's awesome lush artwork, this is kind of blowing my mind.
• My pal Mike Baehr up at Fantagraphics sent me this screen-grab, from Conan O'Brian. He wrote, "Just caught this on my DVR. Every episode has a jokey episode title -- I don't know if this was a deliberate Kochalka reference, but it's pretty cool!"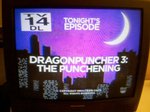 ---