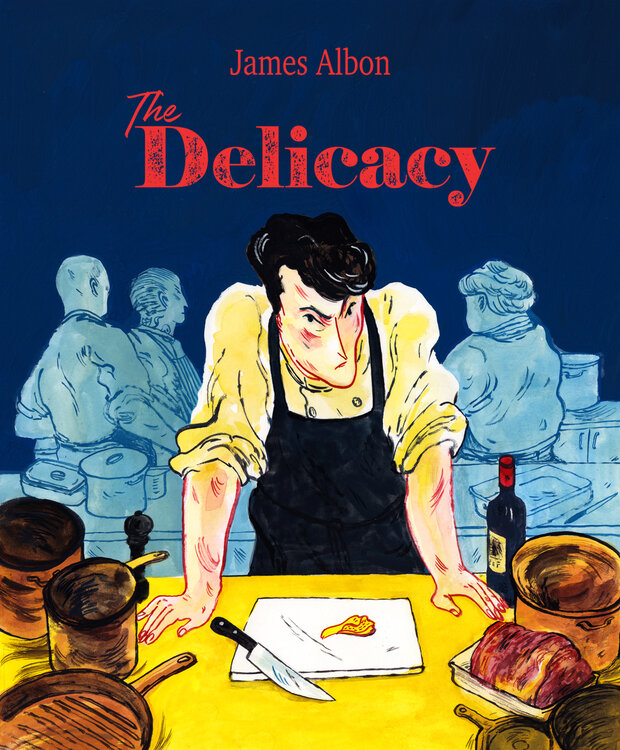 One of the American Library Association's Best Graphic Novels for Adults!
"A vivid, shrewdly observed satire of fine dining... a treat from start to finish." — The Guardian
"A tremendously entertaining moral fable that delights because it never quite goes where you think it will... all wrapped up in gorgeous full-colour art that is all thick lines and bold gestures." — The Herald (Scotland)
"I was absolutely floored by the twists and turns in James Albon's storytelling, and his illustrations are absolutely beautiful. As a former truffle dealer and mushroom forager, I highly recommend The Delicacy for anyone who loves great comics, good food, and suspenseful stories!" — Helen Hollyman, Editor in Chief, Thrillist
Rare and delicious fungi spell trouble for an ambitious restaurateur in this sumptuously painted graphic novel from one of Scotland's most imaginative young cartoonists.
Tulip and his brother Rowan have left the simple comforts of their remote Scottish island with a plan: to grow succulent, organic vegetables in an idyllic market garden, and to open a restaurant serving these wholesome culinary delights to the busy sprawl of London.
The world of fine dining seems impossibly competitive... until they discover a deliriously scrumptious new species of mushroom. The dish brings diners in droves, catapulting their small restaurant to success beyond their wildest dreams.
Now, pressured by the demands of a hungry city, Tulip is desperate to crack the secret of their new ingredient's growth. But just how much will he sacrifice to feed his own insatiable ambition?
-- a 320-page full-color softcover graphic novel with 3" French flaps, 7" x 8.5"
Reviews
---
Related Titles