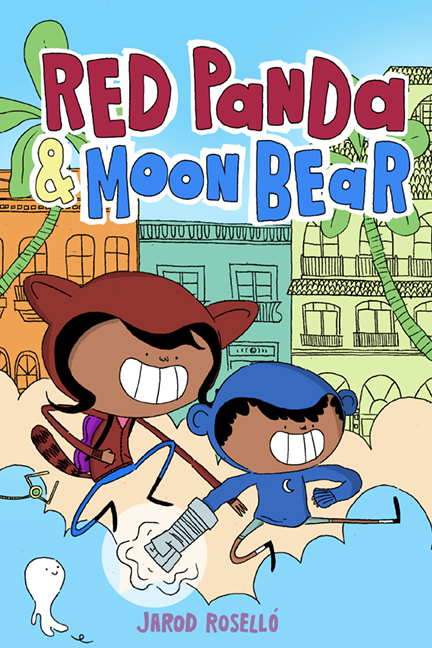 One of New York Public Library's Best Books of 2019!
One of Chicago Public Library's Best Books of 2019!
Selected for Seattle Public Schools' 2022 Global Reading Challenge!
Winner of the Nerdy Book Club's Nerdy Award for Graphic Novels!
Unanimous selection of the Texas Library Association's Little Maverick Reading List!
"Perfect for readers who like their superhero stories with a heavy dose of humor... The tale is heartwarming and silly, with Spanish interspersed throughout. The bright and cartoonish artwork is just as charming... Offering plenty of fun along with insightful commentary on topics such as environmentalism and the power of storytelling, this graphic novel is a must." — School Library Journal (starred review)
"Red Panda & Moon Bear is fun, wacky and heartfelt. Everyone can enjoy this adventure, but it will resonate especially with Latinx kids. I look forward to seeing more!" — Duncan Tonatiuh, author of Dear Primo and Separate Is Never Equal
"The worlds and ideas in this book are vibrant and fascinating to explore." — The Comics Beat
"A delightful book... This book is fantastical in the best kind of way, with cool sci-fi, fantasy, and superhero elements woven throughout 11 chapters. And I love RP and MB's sense of adventure and cleverness. I think that perhaps the highest praise I have for the book is that I read it with my three-year-old, and he did not want to put it down." — Graphic Novel Resources
Two Latinx kids battle supernatural threats to their working-class neighborhood with the power of science, magic, and some very special hoodies.
Red Panda and Moon Bear are the defenders of their community! Together, these brave siblings rescue lost cats, scold bullies, and solve mysteries, all before Mami and Papi get home. But lately… the mysteries have been EXTRA mysterious. All of RP and MB's powers may not be enough to handle spooks, supervillains, alien invaders, and time warps! It'll take all their imagination — and some new friends — to uncover the secret cause behind all these events before the whole world goes crazy.
In his first book for young readers, Cuban-American cartoonist Jarod Roselló presents a whimsical and tender-hearted adventure, packed with Saturday-morning action and glowing with Caribbean sunshine. -- a 192-page full-color softcover graphic novel with 3" French flaps, 6" x 9" (portrait)
Reviews
---
Related Titles