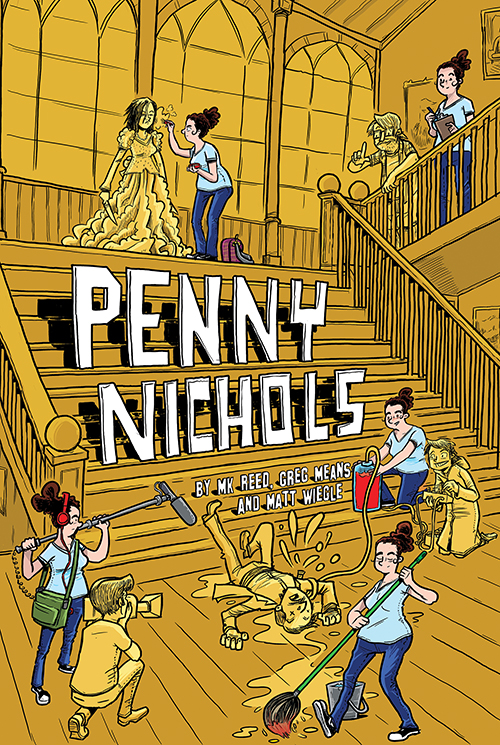 Winner of the Oregon Book Award for Graphic Literature!
Nominated for TWO Will Eisner Awards!
"This tongue-in-cheek tale about a very amateur effort to make a slasher flick is a hilarious ode to creativity, the can-do spirit and friendship." — Oregon Book Award citation
"Tremendous fun, as Penny Nichols quips her way through the chaotically creative world of independent horror film-making. A real joy from start to finish!" — Graham Annable, director of The Boxtrolls and author of Peter & Ernesto
"[A] smart, snarky ode to the joy of creation... Wiegle's fantastic, funny black-and-white art is the perfect match for the offbeat story; the characters are ingeniously figured with asymmetrical shapes and rubbery poses, and writing team Mean and Reed depict the film's visual excesses with wicked glee... Under the wonky humor, this comedy revels in the pleasures of finding fellow enthusiasts." — Publishers Weekly
Somehow, cynical Penny Nichols has gotten roped into helping make a ridiculously over-the-top slasher film. With a crew of flakes and oddballs, she's probably the only one who can save this stupid movie… but maybe it can save her, too. Now can somebody please stop that dog from licking the fake blood?
"I never wanted to be a teacher or lawyer. I never wanted to be anything, really."
Stuck working mind-numbing temp jobs, Penny Nichols yearns to break free from the rut she's found herself in. When, by chance, she falls in with a group of misfits making a no-budget horror movie called Blood Wedding, everything goes sideways. Soon her days are overrun with gory props, failed Shakespearean actors, a horny cameraman, and a disappearing director. Somehow Penny must hold it all together and keep the production from coming apart at the seams.
This hilarious graphic novel is a loving tribute to the chaos and camaraderie of D.I.Y. filmmaking, and the ways we find our future and our family in the unlikeliest of places. -- a 208-page softcover graphic novel with 3" French flaps (B&W Interiors), 6" x 9"
Reviews