Matt Wiegle
Matt Wiegle is the artist of the webcomic Destructor (with Sean Collins) and drew the Romeo & Juliet adaption for SparkNotes. He currently works as an industrial designer in Philadelphia.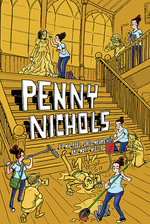 by MK Reed, Greg Means, and Matt Wiegle
Winner of the Oregon Book Award for Graphic Literature!
Nominated for TWO Will Eisner Awards!
"This tongue-in-cheek tale about a very amateur effort to make a slasher flick is a hilarious ode to creativity, the can-do spirit and friendship." — Oregon Book Award citation
"Tremendous fun, …
$19.99 (US)
$9.99 (US) DIGITAL
Details
ISBN 978-1-60309-448-1 - Diamond: FEB190752