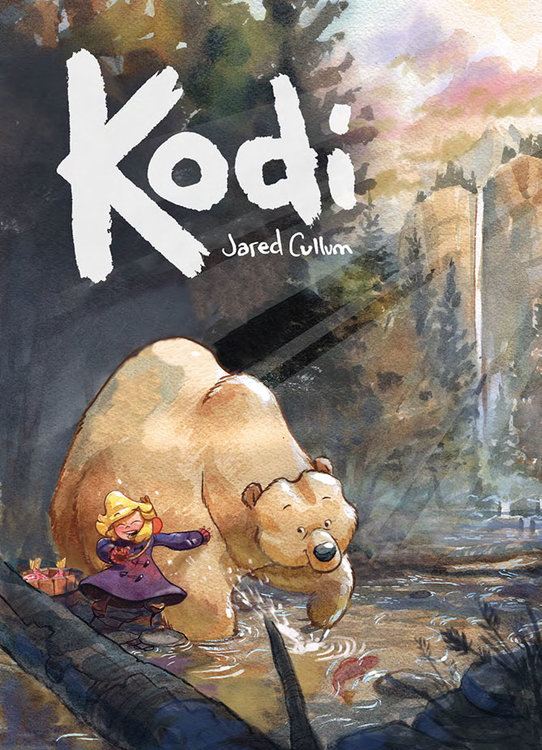 The gorgeous story of two friends separated by everything in the world — except love. Readers and animal-lovers of every age will want to relive this journey over and over again.
"Jared Cullum brings to Kodi a fresh watercolor style that's brimming over with personality. His characters come alive in their world, and they'll convert a casual reader into a devoted fan." — James Gurney, creator of Dinotopia
"Kodi is the perfect combination of an exciting adventure and a heartwarming tale of friendship. Jared's exquisitely painted pages bring his characters to life and invite you to get lost in the gentle embrace of this wonderful story. Even though Kodi doesn't say a word, Jared uses every brush stroke to delicately communicate his very real emotions. I absolutely love Kodi and you will too!" — Andy Runton, creator of Owly
"Cullum's rich watercolors... capture Alaskan wilderness and Seattle's urban grit with equal beauty and accuracy... Beautifully crafted, thoughtfully paced, and sweet as can be, this tale is ideal for reluctant and voracious readers alike, to be savored and shared between friends young, old, and in between." — School Library Journal (starred review)
"Each panel offers detail that merits close and appreciative examination. Lush, thoughtful watercolors breathe a stunning vibrancy into... the duo's winningly rendered friendship." — Publishers Weekly
"A great book for young readers, but also a sweet tale for adults... With words and art perfectly balanced, it shows how graphic novels, in skilled hands, can do things neither words nor pictures alone can achieve." — Anchorage Daily News
Katya and her Meema are spending another summer at their cottage in Alaska, when a chance accident leaves Katya face-to-face with the biggest creature she's ever seen… an enormous kodiak bear with a gentle heart and a knack for fishing. But when Katya must suddenly return home to Seattle, the two are torn apart, leaving Kodi to do whatever it takes to reunite with his fragile human friend. It's a wild journey packed with breathtaking views, brave new companions, and adventure around every turn. -- a 176-page, full-color softcover graphic novel with 3" French flaps, 6.5" x 9" (portrait)
Winner of the National Cartoonists Society's Reuben Award (Graphic Novels division)!
Nominated for two Eisner Awards!
Nominated for the Maryland Black-Eyed Susan Book Award!
Official selection of Hoopla's Fall 2021 Graphic Novel Book Club!
Watch Jared Cullum's stunning video trailer for Kodi!
Reviews