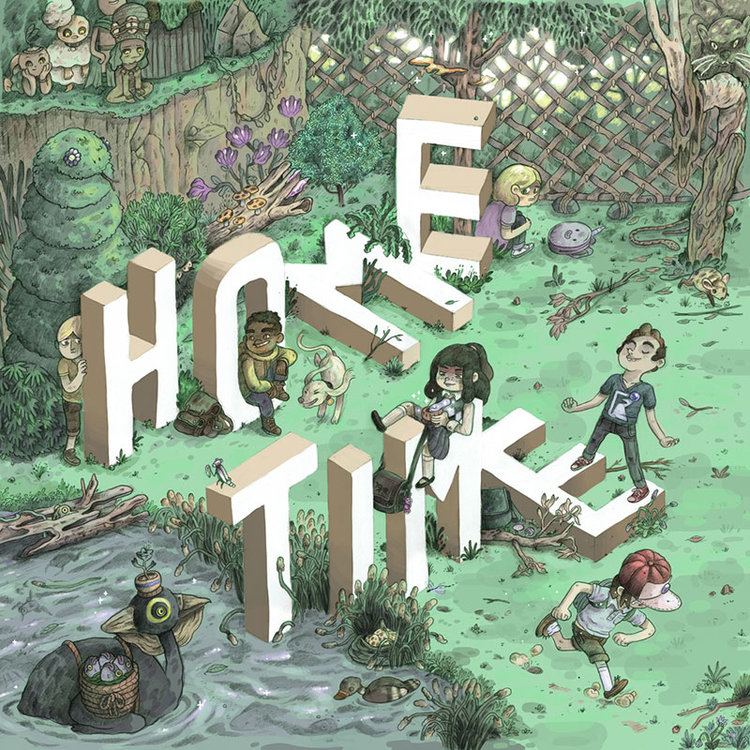 Winner of the Excellence in Graphic Literature Award, PubWest Design Award, and DINKy Award!
Finalist for the Eisner Award, Russ Manning Award, Mike Wieringo Award, National Cartoonist Society Graphic Novel Award, Readings Children's Book Prize, Aurealis Award, and Ledger Award.
"Beautifully realised, funny, smart, weird and surprisingly epic in scope, Home Time is also just plain brilliant." — Shaun Tan
"Campbell Whyte's debut graphic novel is cute, funny, scary, exciting, and cleverly constructed. The drawings are always a pleasure, each new art style blending seamlessly into the whole. I'm looking forward to the thrilling conclusion!" —
Bryan Lee O'Malley
"Exuberant... It's a richly imagined world, and Whyte immerses readers in it." — The New York Times
"[A] remarkably assured debut graphic novel... Illustrated in a variety of styles to capture the distinct voice of each protagonist, Home Time delves deep." — Comic Book Resources
"A highly original graphic novel adventure... it goes from curious to interesting to compelling to engrossing — the momentum keeps building to the point where we're on pins and needles." — Under the Radar
"[A] thoroughly entertaining and inherently compelling coming-of-age graphic novel... very highly recommended." — Midwest Book Review
"Whyte's world-building is as impressive as his ambitious story and his mastery of the half-dozen styles he wears... Built on a foundation of kids' fantasy classics, but with the specifics of its world unique and the psychological drama wild and unpredictable as the pre-teen mind, Home Time feels both comfortably familiar and refreshingly new and unusual at the same time." — School Library Journal's Good Comics for Kids
"With Home Time, Campbell Whyte has created an intoxicating and visually stunning Australian Narnia." — The Conversation
The last school bell has rung and it's finally HOME TIME!
Even though they're twins, Lilly and David don't agree on much… except that the last summer before high school is the perfect time for relaxing with friends.
But their plans for sleepovers, fantasy games, and romance are thrown out the window when the whole gang falls into a river and wakes up in a village of fantastic creatures.
Hailed as magical spirits, threatened by lizards, and trained in the mysterious arts of tea-brewing, these kids must find their way home — if they don't throttle each other first.
With a kaleidoscope of art styles, graphic novelist Campbell Whyte makes his spectacular debut, loosely but lovingly inspired by the fantasy worlds of the 80s and 90s. -- a 228-page full-color hardcover graphic novel, 9" x 9"
Reviews
---
Related Titles