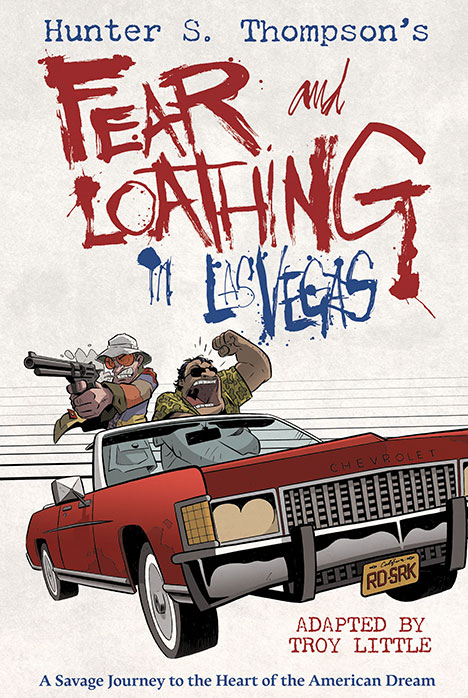 Winner of the PubWest Book Design Award.
Nominated for the Will Eisner Award.
"Troy Little masterfully captures the madness and essential humor that makes this book an enduring classic." — Darick Robertson (Transmetropolitan)
"I am super-into everything about this." — Kelly Sue DeConnick (Bitch Planet, Captain Marvel, Pretty Deadly)
"Pre-ether binge reading material. Glorious madness, as mercilessly demented as its original counterpart. The Good Doctor would look on this and raise his highball glass in hearty approval." — John Layman (Chew)
"Little's cartoonish sensibilities make him the ideal artist to adapt Thompson's gonzo ur-text... perfectly portraying literature's most ridiculous road trip." — GQ
"Cartoonist Troy Little reimagines [the] gonzo tour-de-force in a new graphic novel adaptation... buzzing with manic energy." — The Village Voice
"[Little's] talents make him perfectly comfortable with the elastic expressions required to recreate the exploits of Thompson and his companion, Dr. Gonzo, as they slingshot between mania, paranoia, rage, and despair... the graphic-novel aspect adds layers to Thompson's prose." — Quill & Quire (starred review)
"Sheer expressiveness... captur[es] the sense of immediacy and paranoia that saturated the original's long, bad trip… it's a vivid insight into one of the most fascinatingly creative and unwaveringly troubled writers of his generation." — Publishers Weekly
"Raoul Duke and his Samoan attorney, Dr. Gonzo, come screaming into Las Vegas, searching for the American dream, destined to find only its charred remains... [Troy] Little fits the sensibility of the original comfortably into comics form." — Booklist
"A delightful read, cherishing each hallucinatory detail of the original book." — Under the Radar
"An outstanding interpretation of Thompson's gonzo masterpiece." — Gonzo Today
"Little has done the unimaginable and he has done it superbly. His graphic novel perfectly captures the outrageous spirit of Thompson's seminal work without pulling any punches." — Comics Beat
"This is the first time Thompson's writing has ever before been re-imagined as a graphic novel – and Little does it serious justice. The cartoonist's energetic style adds a new edge to the full throttle epic, depicting the story faithfully via Thompson's own words." — Hero Magazine
In proud partnership with the Hunter S. Thompson Estate, Top Shelf Productions is pleased to announce Fear and Loathing in Las Vegas, a delightfully bonkers graphic novel by Eisner-nominated artist Troy Little adapting Thompson's seminal book of the same name. Join Thompson's alter ego Raoul Duke on the mother of all Vegas benders, as he and his attorney, Dr. Gonzo, cover a motorcycle race, crash a drug-enforcement convention, and rack up obscenely large room-service bills, all while dosed to the gills on a truly spectacular assortment of mind-altering substances.
Troy Little's faithful adaptation will capture the full gonzo experience in a glorious full color graphic novel. Little is previously known for the Xeric-award-winning graphic novel Chiaroscuro and for his Eisner-nominated series Angora Napkin, both from IDW Publishing. Now, his irrepressibly energetic cartooning brings a new level of manic energy to Thompson's rocket-fueled narrative.
"Buy the ticket, take the ride." Fear and Loathing in Las Vegas comes to a store near you this fall! -- a 176-page full-color hardcover graphic novel, 6" x 9"
NEW PRINTING PUBLISHED JANUARY 2016!)
Reviews
---
Related Titles