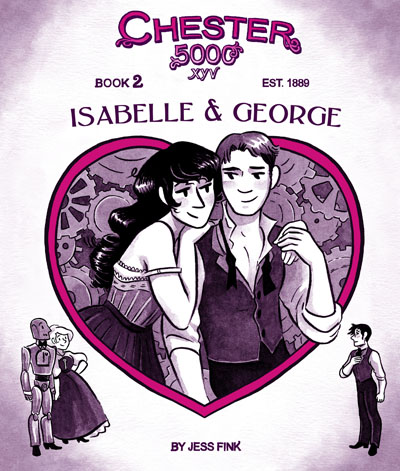 Winner of the Ignatz Award for Outstanding Series!
Praise for Chester 5000:
"A woman-friendly, couple-friendly book destined to become a perennial in sex-positive toy and book stores." — The Comics Journal
"Delightfully playful... a genuinely beautiful piece of erotica evidently drawn with love." — Page 45
"Fink's storytelling is as likely to pluck on your heartstrings as get you all steamed up." — The Guardian
1889: an age of industrial revolution and sexual frustration. Isabelle is a lonely orphan, reprimanded at every turn by her strict matron. George is an inventor on the cusp of a brilliant discovery. Together they find love, but in an age of violent mechanization and military secrets, can their passion survive?
After the smash success of CHESTER 5000's first volume (the tale of a Victorian woman and her robot lover), beloved webcartoonist Jess Fink returns with another triumphant story of boundary-breaking love, sex, and technology. Discover the origins of your favorite characters along with all-new thrills. All the drama and adventure of the silent film era is here, enlivened with modern whimsy and erotic charm. -- a 184-page hardcover graphic novel (with greyscale/black & white interiors), 6.7" X 7.75", ADULTS ONLY (18+)
Reviews
---
Related Titles